In this post we showcased 20+ best portfolio WordPress themes for October 2012. These unique layouts are attract the crowd and captivate your visitors attention.
Radioos
Radioos WordPress theme is a classic and simple portfolio theme, perfectly made to showcase amazing projects you did.
QuickStep – Responsive One Page Portfolio Theme
QuickStep is a clean and minimal one page portfolio theme. It uses CSS3 to responsively adapt to different screen widths so it looks good on any device.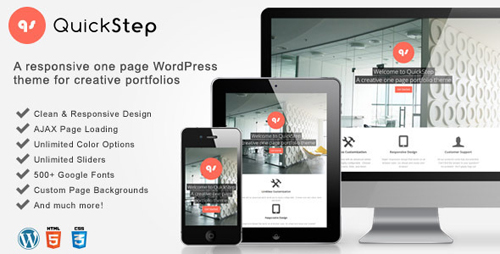 Black Pearl – Responsive WordPress Theme
Wall – Responsive theme for WordPress
he Wall theme features a new content display system with amazing visual effects. The Wall display is ideal for Portfolio display, gallery display, visual blog display as well as video display
Studio44 WordPress Theme
Studio44 is a dynamic and effective WordPress Theme design for creatives that need to showcase their digital art works. The theme features a massive and bold slider on the front page. Projects can be filtered by categories and you can blend different featured image sizes.
Nevon Responsive Business Portfolio Theme
Nevon Theme is clean,flexible theme with fully responsive design (Fits all popular mobile devices and tablets). Uses the power of HTML5 and CSS3 . Easy to install with our special One Minute Install system.
Kollection: 3D Folding Portfolio Theme
A feature-rich, easy-to-use responsive WordPress theme built on the popular Super Skeleton theme system (with a community of over 10,000 users).
Pinster – Full Width Portfolio WP Theme
Pinster is a super awesome WordPress Theme for displaying photos, videos and galleries, with a sexy blog and simple customization options. With Pinterest similar functions and styling your new Portfolio/Blog is going to look ace!
The Artist – Clean Responsive Portfolio Theme
The Artist is a super awesome portfolio theme. It's very clean, sleek and modern design. With the admin panel and page builder in this theme, you can discover unlimited possibilities of what the theme can do.
Matrix – Responsive WordPress Theme
Matrix is a responsive, intuitive tile-based theme which is inspired by Metro design. The tiles can be made 'live' to display more information on the screen without occupying more space.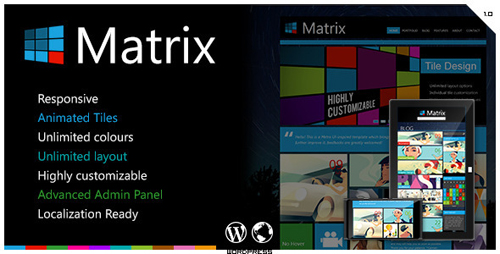 Pregame – Responsive, AJAX, Html5, Portfolio theme
Pregame WordPress theme is a clean, unique and fast way to share your portfolio work on the web. You can even turn this theme into a blogger style theme with the masonry homepage layout option available inside the admin panel
Empyer – Premium Photography Theme
Empyer is a simplistic yet creative fullscreen background theme. perfect for photography and portfolio websites but can be used for business as well.
Clique – AJAX Responsive Portfolio WordPress Theme
Clique is a Premium AJAX Responsive WordPress theme that provides a powerful way to showcase your best work – perfect for any creative or digital agency. With powerful meta options and features, Clique will take your website to new levels of awesomeness.
Wildfire – Responsive Portfolio Theme
Show off your work with this easy-to-customize and fully featured WordPress Theme.
Stoodio – A minimal theme for lovable content
Stoodio is the ultimate solution when it comes to downloadable lovable content. With it you can share your images, videos or songs with your visitors. Let them like your content or even download stuff from your server.
Identity – Responsive WordPress Theme
Identity is a fully responsive portfolio theme, perfect for creative people and agencies.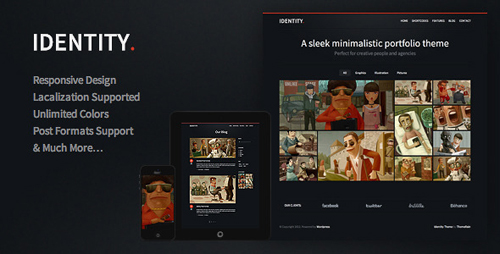 G – Responsive Portfolio WordPress Theme
G is Responsive minimal wordpress theme perfect for photography and video portfolio.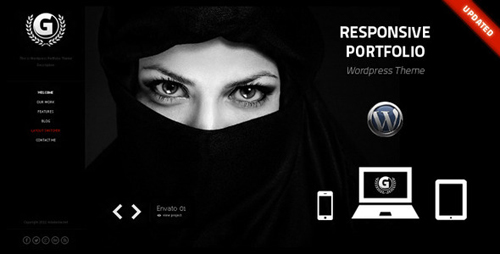 Celestino – Clean and Creative Portfolio Theme
Celestino is a clean and powerful portfolio theme with a great 1170 pixel responsive layout based on the Bootstrap grid.
The Mask – Premium WordPress Theme
The Mask is a Premium Responsive WordPress theme. It's fresh modern look with a bunch of features will make your website a standout.
iFolio – Clean WordPress CMS Portfolio Theme
iFolio is fully responsive website, which uses latest CSS3 HTML5 techniques and suits perfectly for Portfolio and Photography websites.
DELTA – AJAX Portfolio Responsive WordPress Theme
Delta is a super modern Portfolio/Blog WordPress theme perfect for any professional or agency. It comes with a unique AJAX portfolio (optional) that will allow visitors to browse your portfolio posts without having to leave the main portfolio page.
Stella Studios Responsive WordPress Template
Stella was designed to be a portfolio site/blog but because of its versitility it can be used for just about any industry.
Litho | WordPress Theme for Visual Enthusiasts
Litho is a grid-based fullscreen portfolio WordPress theme with stunning looks and functionalities. Create custom galleries by selecting specific categories such as your portfolio, posts, pages, Instagram and Flickr to create either all-in-one galleries or a category specific gallery.