In this WordPress Plugins round-up we have selected 15 premium Facebook plugins for WordPress. With the help of these WordPress Facebook Plugins you can easily integrate various Facebook features into your WordPress blogs like; Facebook Friends Inviter, Facebook Traffic Pop, Facebook Subscribers, Facebook Like n' Share, Facebook Like Box and many many others.. Have a look at the below Premium WordPress Facebook Plugins…
You might want to take a look at the other Plugins
Facebook Like to Download for WordPress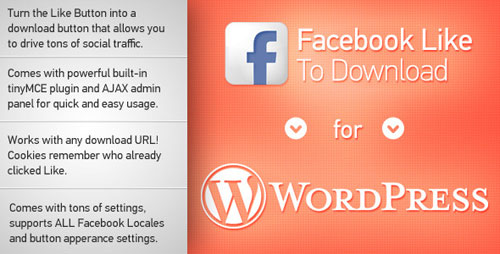 Facebook Like to Download for WordPress is one of my favorite WordPress Facebook plugins as it allows the users to turn the Like  button into a social media traffic blasting download button. This unique plugin and idea is an all new way to give your users their content, and increase your social traffic ten fold.
Facebook Friends Inviter for WordPress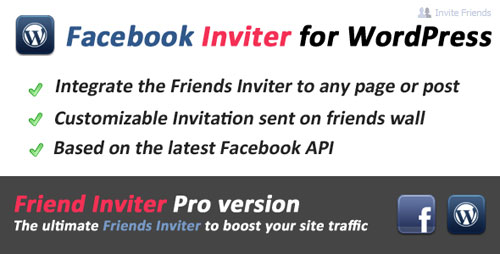 This Premium WordPress plugin enables you to integrate a Facebook Friends Inviter into your WordPress blog. The Friends Inviter can be integrated using a single shortcode into any post or page. You can define the message that the invited users will automatically receive on their Facebook wall.
Facebook Traffic Pop for WordPress
Facebook traffic pop is one of the best selling WordPress Facebook plugins in CodeCanyon. Facebook traffic pop is a popup plugin that will allow you to have your users like your pages, instead of trying to get them to click ads.
Facebook Auto Like for WordPress
Facebook Auto Like for WordPress and allows you to quickly and easily add hover-over Like buttons to your images on the fly making them instantly "Like-able" on Facebook. Even better, the hover effects are silky smooth, cross browser, and come with multiple overlay images!
WordPress Facebook Plugin – Post Planner
Facebook post planner allows word press users to schedule tasks list, the date and hour of publishing. You can also select what to post on Facebook; either post or pages and even custom post types.
Facebook Subscribe for WordPress
Facebook Subscribe for WordPress brings you full control and support of Facebook's New Subscribe Button social plugin. FB Sub for WordPress is the only plugin offering full shortcode + template tag support for WordPress.
WordPress Facebook Plugin – Quiz Application
Quiz application is a WordPress Facebook plugin with various features such as unlimited number of questions, see players results on administration, sharing option on Facebook and invite friends to play the quiz option.
Facebook WordPress Plugins – Exit Through Facebook Like
Facebook Likebox Slider for WordPress
Facebook like box slider is a WordPress social slider plugin that will allow you to achieve the easiest way to get more fans, more traffic, more shares and popularity.
WordPress Facebook Plugins: Walleria
Facebook Walleria is one of the best WordPress Facebook plugins that embeds a number of Facebook Objects into your website. It uses the Facebook Graph to pull information about Albums, Photos, Feed, Comments, Events and presents the information on your website in a sleek style.
WordPress Facebook Plugins, Comments and Dialogs
This Facebook Plugins for WordPress is the ultimate and most advanced plugin to integrate Facebook Plugins, Dialogs and Facebook comments into your blog or website. It's using WordPress shortcodes to make it very simple to add a Facebook plugin or dialog into any blog post or page.
Facebook WordPress Viral Tool
This Facebook plugin for WordPress enables you to add some Facebook functionalities to your WordPress blog or website, including the Facebook connect functionalities such as connecting with Facebook and creating a WordPress account using Facebook.
Facebook Page Themes via WordPress Admin
Custom Facebook Page Themes will implement a Facebook Template via WordPress administration. All you have to do is use the provided link to set up your Facebook page with. All content and images adding and editing is done via WordPress administration.
FB Page Integrator – WordPress Plugin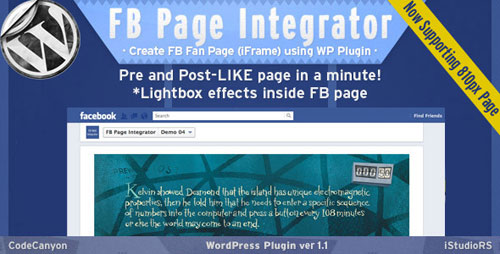 FB page integrator is a WordPress plugin that will allow you to create pre and post LIKE content for Facebook Fan Pages (iframe) using WordPress. This plugin support unlimited Facebook Fan Pages on single installation.
WordPress Like Locker – Like to Read Plugin
Like Locker is a WordPress plugin that will allow you to wrap your post content in a "Like Locker" which will require the user to like the post first before they able to view the content.
Exit Through Facebook Like is a plugin that raises popup box once user clicked any external links in your posts/pages or comments.Popup box suggests user either to Like your webpage on Facebook for immediate redirection to target link or to wait some time to be redirected.