Introducing a handpicked selection of contemporary home-building WordPress themes tailored for construction businesses and designers. In today's dynamic online landscape, establishing a robust online presence is imperative.
Leveraging meticulously crafted templates and plugins ensures seamless and impactful communication. Recognizing that a website serves as the focal point for construction companies to showcase their achievements and offerings.
We've undertaken thorough research to streamline your quest and showcase exceptional choices. These building WordPress themes provide customization and management features to guarantee that your website stays current and engaging.
Best Construction & Building WordPress Themes
In this compilation, we aim to present you with a curated selection of the finest building WordPress themes available for your website. When scouring the web for a suitable WordPress theme for your home-building website. You'll likely encounter an overwhelming number of options and some of the following themes can be used in AI Website Builders.
1. Constructo – Construction WordPress Theme
Constructo specializes in creating websites tailored to construction companies. This theme is one of the best building WordPress themes. Our package includes 11 one-click installable demos, WPBakery Page Builder (formerly known as Visual Composer), Revolution Slider, WooCommerce compatibility, and a feature-rich admin panel. This versatility allows it to be adapted for various business types. Furthermore, our dedicated support ensures you have all the assistance you need for success.
This WordPress theme is designed to fulfill a specific purpose, particularly catering to the construction field. It incorporates essential features for effectively showcasing a company's online presence in an aesthetically pleasing manner. This theme is not only fully responsive but also versatile, making it suitable for various purposes. Furthermore, it is SEO-friendly, ensuring better visibility on search engines
2. Qwery – Business WordPress Theme for Construction
Qwery is an advanced WordPress theme that boasts an extensive collection of over 100 unique demos, designed to cater to various industries. Including roofing companies and many others. This excellent theme is also included in the list of building WordPress themes. It offers a wide array of pre-designed templates tailored to diverse niches like Ecology, Accounting, Bike Repair, Air Conditioning, Personal Stylist, Pest Control, Glasses, Military, Plastic Surgery, Cryptocurrency, SEO, Design, Photography, and more.
This theme is fully responsive, optimized for SEO, and compatible with major web browsers. Powered by the user-friendly Elementor page builder. It simplifies the process of creating custom web pages without the need for coding. Qwery also provides a variety of portfolio layouts for visually appealing presentations and seamless integration with the WooCommerce plugin. Ensuring smooth online sales of products and services.
3. Wilmër – Construction Theme
Wilmër is the ultimate toolkit for creating top-tier websites, just as professional tools are essential for constructing buildings and infrastructure. This theme is known as a masterpiece among home-building WordPress themes.
Whether you're looking to build a website for your construction company, architectural studio, property development firm, or real estate presentations. Wilmër has everything you need to get the job done with excellence.
Creating a powerful website is a breeze with Wilmer, a WordPress theme tailored for construction projects. With its professional features and thoughtfully crafted layouts, Wilmer simplifies the process of displaying your work and attracting clients.
4. Real Factory – Best Building WordPress Theme
Real Factory is an ideal WordPress theme for building WordPress Themes designed specifically for a range of industries including factories, construction, commodities, power generation, rail, aviation, shipping, oil and gas, as well as pretorium websites.
This theme comes equipped with the most up-to-date version of a highly adaptable framework developed by GoodLayers. Over the course of nearly a year, we have dedicated ourselves to enhancing the core of our theme. Actively collecting valuable feedback from our customers, and incorporating all of these insights into this comprehensive framework.
5. Renovation – Home Maintenance WP Theme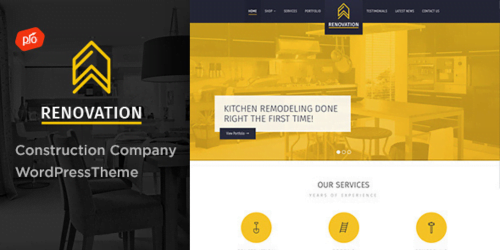 Renovation is a versatile WordPress theme crafted for handyman repair services, catering to both individuals and professional teams. This theme is another exceptional choice in home building WordPress themes. It's well-suited for a range of services such as electrical work, plumbing, painting, door repairs, roofing, drywall installation, and interior maintenance. This premium theme not only boasts an appealing design but also offers excellent functionality for your handyman's website right from the moment of purchase.
It's WooCommerce compatible and includes WPBakery for easy website creation using drag-and-drop editing. Additionally, it comes with Essential Grid, Slider Revolution, Contact Form 7, MailChimp for WordPress, and Testimonials by WooThemes in the package, ensuring a hassle-free website-building experience. With seven homepage demos tailored specifically for renovation, repair, and maintenance services, Renovation pays meticulous attention to professional detail, ensuring an engaging online presence.
6. ElectroServ – Electrical Repair Service WordPress Theme
ElectroServ is a modern and adaptable WordPress theme designed specifically for businesses in the Electrical Repair Services industry. This sleek WordPress theme offers a range of useful features such as online appointment scheduling and management, contact and booking forms, a selection of ready-made pages including About Us, Benefits, Team, Reviews, and Contact, as well as user-friendly shortcodes and attractive gallery and portfolio layouts.
This versatile theme is well-suited for businesses offering a wide range of services, including repair, renovation, plumbing, electrical installation, carpentry, decorating, and roofing. It also works perfectly for professional handyman teams, construction firms, cleaning agencies, or any niche websites related to home repair and household services. With its industrial and corporate design, this template is truly multipurpose.
7. Handyman – Repair Services WordPress Theme
The Handyman Services WordPress Theme is designed with a modern and responsive layout. Making it a perfect fit for maintenance agencies and repair businesses. It comes equipped with features such as online appointment booking, appointment management, advanced contact forms, full compatibility with WooCommerce for setting up an online store, and a variety of pre-designed shortcodes and modules including testimonials, about us, products, services, and pricing sections. Additionally, it offers appealing gallery and post layouts to enhance the overall look of your website.
With WooCommerce support, you can effortlessly create a tools shop and manage an online store. The Handyman Services theme seamlessly integrates premium plugins like Revolution Slider, Essential Grid, WPBakery Page Builder, and PO Composer, ensuring convenience and effectiveness in building and customizing your website.
8. WellSpring – Aqua Filters WordPress Theme
WellSpring is a modern and sleek website solution designed specifically for businesses in the water filtering industry. Including companies that offer home water filter services, bottled water delivery services, and stores selling water filters and related products. A list of building WordPress themes is incomplete without this theme. It also serves the needs of water supply companies, plumbers, cleaning services, electric and energy companies, solar system installation and maintenance professionals, handymen, as well as plumbing and carpentry businesses.
This theme boasts an easy-to-use visual interface and an informative layout. It incorporates appealing galleries powered by the Essential Grid, allowing you to effectively showcase your products and services. Additionally, the inclusion of the Booked Appointments plugin makes managing online appointments with handymen a convenient and efficient process.
9. Hampton – Home Design WordPress Theme
Hampton represents a cutting-edge WordPress Theme tailored for home repair businesses, offering a sleek and contemporary home design. This theme is used for home building WordPress themes for modern home design. With its unique homepage layouts and a striking Slider Revolution serving as the main slider. It effortlessly incorporates WPBakery (also recognized as Visual Composer) to simplify customizing page designs.
This theme is fully compatible with essential plugins such as WPML, Essential Grid, Booked Appointments, Instagram Feed, and more, while also providing a host of premium features designed to elevate your company's performance and achievements.
10. Mahogany – Flooring Company WordPress Theme
For businesses in the flooring industry, construction firms, architectural companies, shops, or maintenance service agencies looking for a modern web solution, Mahogany is an excellent option. This theme is fully responsive and Retina-ready, ensuring that your website looks great on all devices.
With a variety of gallery layouts available to display your work and projects. Mahogany is also compatible with WooCommerce, making it easy to set up an online store for floor tools and equipment. Don't pass up the chance to enhance your business's online presence with this fresh WordPress theme!
11. Corbesier – Interior Design WordPress Theme
Corbesier is one of the home-building WordPress themes which responsive and clean WordPress theme. This theme is ideal for modern interior and exterior design agencies, architecture firms, construction companies, and individual designers. Crafted with the Elementor page builder, this theme offers seamless customization. It's optimized for compatibility with popular plugins like Slider Revolution, Mailchimp for WordPress, elegro Crypto Payment, and Contact Form 7.
Not only does Corbesier effectively showcase your services and skills, but it's also WooCommerce compatible, making it suitable for building online stores. With full responsiveness and Retina-ready design, this theme enhances user experience and significantly contributes to your business success.
12. Dom – Multi-Purpose Elementor WordPress Theme
Dom is the ultimate WordPress theme for home services, catering to a wide range of fields. Such as electricians, gardeners, carpenters, roofers, and more. This theme is a collection of overall features which is why it is considered in the list of home-building WordPress themes.
It offers versatile multi-skin layouts with all the necessary elements to effectively showcase your business to potential clients. Dom comes with features like online appointment booking, management tools, advanced contact forms, and seamless integration with WooCommerce for your online store needs.
This theme supports essential plugins for Home Building Services Company WordPress Themes, offers advanced customization options, and is compatible with plugins like LatePoint, Elementor Page Builder, Contact Form 7, WooCommerce, and elegro Crypto Payment, making it easy to manage content and layout. With comprehensive documentation, Dom is the ideal WordPress solution for streamlining your business operations.
13. The Pipes – Plumbing Service WordPress Theme
The Pipes e-Commerce WordPress Theme offers a contemporary and stylish solution designed specifically for plumbing parts shops, tools, and accessories WooCommerce stores. It is built on the WooCommerce platform, effortlessly transforming your website into an attractive online store for plumbing and construction essentials like parts, equipment, bathroom fixtures, water pipes, baths, showers, kitchen tools, and hardware.
With five unique home layouts, online currency switching, appointment management, pre-made shortcodes, content blocks, a blog, and newsletter features. This theme from home building WordPress themes also offers a variety of pre-designed pages to showcase your main services, product inventory, gallery, news updates, and more. Additionally, it's full responsiveness and Retina-ready design ensure a seamless user experience, giving your business a competitive edge.
14. KonTruk – Building Elementor WordPress Theme
KonTruk is a top-tier WordPress theme crafted for the construction and renovation service industry. As a Power Elite Author boasting over 11 years of web design expertise, we've meticulously developed this theme with a focus on stunning, one-of-a-kind, and professional design elements tailored for construction websites.
Our theme is well-suited for a wide range of projects, including building, construction, renovation, reconstruction, and home repair and maintenance service websites, among others.
Featuring captivating homepage layouts, a responsive design, and robust functionality, KonTruk is undoubtedly an ideal choice for any construction, building, or home maintenance service website.
15. Dwell – Renovation WordPress Theme
Dwell represents a contemporary WordPress Theme tailored for various home-related businesses, including home repair, interior design agencies, house renovation, and remodeling companies. It offers distinct homepage layouts and an appealing Slider Revolution as the main slider, enabling you to craft distinctive page designs using Elementor.
Dwell is designed to seamlessly work with essential plugins such as WPML, Smash Balloon Instagram Feed, Image Hotspot by DevVN, elegro Crypto Payment, and numerous premium features that significantly elevate your company's chances of success.
Conclusion
When it comes to finding the best WordPress themes for home building and construction websites, Constructo stands out as the top choice, offering a robust set of features and customization options. As a close runner-up, Qwery provides a compelling alternative with its versatile design and functionality. Lastly, Wilmër earns its place as a reliable theme, offering a solid foundation for those seeking an effective and user-friendly option.
Ultimately, the choice between these themes will depend on your specific needs and preferences, but all the themes that are listed above offer excellent options for creating a professional and engaging online presence for your construction business.
If you are in need of a theme that can be destructive in any business you can go with Divi WordPress Theme. On the other hand, you can see our 25 Best Pet Store WordPress Themes 2023 and 21 Best Furniture & Interior WordPress Themes 2023