If you are copywriter, or a computer repair expert or an executive coach sell your services online to boost your business. A attractive website can achieve the goal of delivering a strong brand. So in this article we have collected 30 best Business WordPress Themes that will help you.
Concierge
Concierge has been created for luxury services providers. Its elegant design is perfectly suitable for Luxury Lifestyle businesses such as Private Jet Chartering, Limo rentals, yachts and more

Handyman
The theme is perfect for construction, handyman, carpenter, craftsman workshop, plumber or electrician, painter or similar craftsman or repair business website. It is very easy to setup and use.

Car Shire
The template is built for Auto Mechanic, Car Repair Shops, Car Wash, Garages, Automobile Mechanicals, Mechanic Workshops, Auto Painting, Auto Centres and other Auto and Car related services and it is suitable for any kind of small business activity.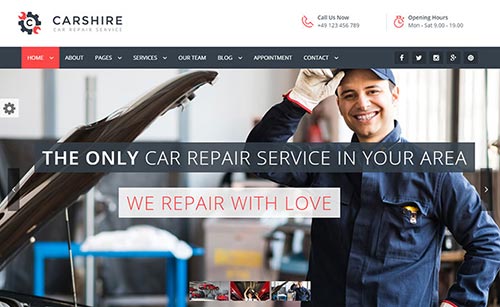 Roofing, Renovation & Repair Service
It is a powerful WordPress theme for roofing, construction and renovation companies, It is especially designed for roof repair, paving, renovate, asphalt, engineering, handy man, industrial, maintenance, plumbing, repair, renovation..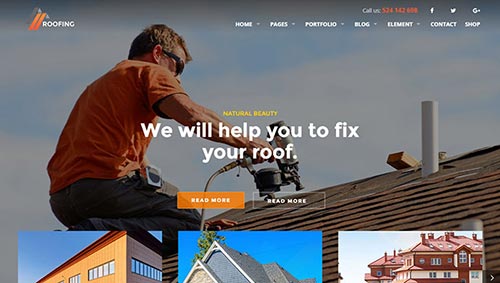 Guard Master
It is the ultimate WordPress theme for Guards, security Agencies and other similar businesses. With its beautiful design, and look that create trust, its the best fit for the Service Industry. This Security services WordPress Theme can be customized to your specific needs with incredible ease.

Cleaning Company
For the owners of cleaning service, maid service, janitorial and maintenance service companies, Ancorathemes has crafted Cleaning Company WordPress theme. The catchy vibrant design will give your website fresh and crispy look. The layout includes anything you might need to present your firm to your potential clients. Besides full service and product overview, your customers will find a quote request form on your website, using which they can get an accurately calculated cost for specific type of work to be performed around their house. Appointment calendar is a great feature if you wish your clients to order cleanings beforehand.

RepairMe
It has professional modern design dedicated to any type of maintenance and repair business. This premium superfunctional theme can be also interesting for renovation, plumbing or roofing companies, for professional teams to introduce their services or to hire a new professional repairer.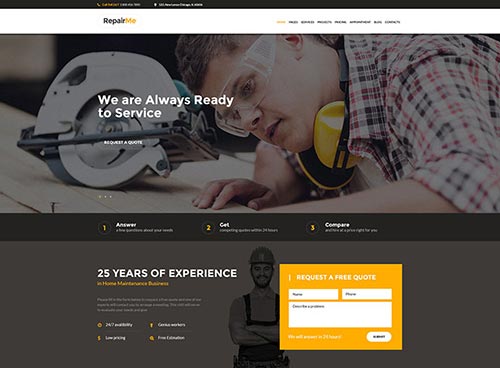 Constructon
The theme is built for Building services, Architecture, Engineering, Cleaning Service and other Construction related services and it is suitable for any kind of small business activity.

Global Logistics
It is a stylish and powerfull WordPress theme with high-class business design perfect for logistics, trucking, warehousing, transportation and freight services.

Verko
It is a WordPress theme that focused on Marketing your services or products. with landing pages template, encourage user to take another step forward to your business using the form, call-to-action, photo or video. verko is suitable for any business and agency that need to deliver messages to their potential customer.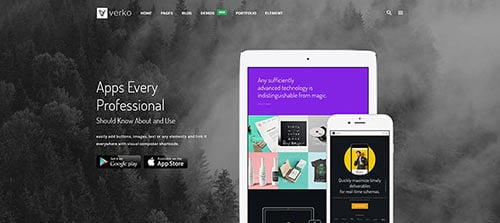 Contractor
Construction business WordPress theme designed for construction, building companies, commercial building contractors, architect builder, etc. The theme is mobile friendly and packed with Visual Composer, Revolution Slider, WooCommerce and other premium plugins to help you build websites easily.

Urban Builder
Any respectable business cant exist without a website. Especially if itâ a contruction business where one needs to introduce their products and services to the target audience in full. So if you are in search of a ready made solution to represent your building firm online you are in the right place.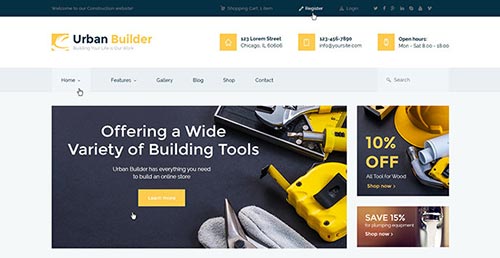 Lawyer & Attorney
The theme is built for Legal Advisers, Legal offices, Lawyers, Attorneys, Barristers at Law, Counsels, Solicitors, Advocates and other legal and law related services and it is suitable for any kind of legal and financial activity Barristers at Law, Counsels, Solicitors, Advocates, Accountant, Consultant, Consulting, Counsellor.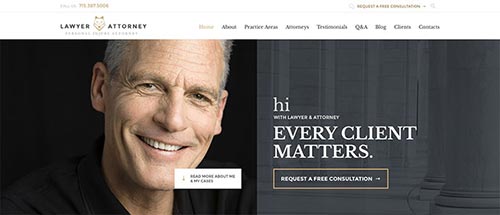 BestBuild
This is fully responsive, every gadget will have its looking as nice as on a PC.

Blessing
Calm design of the theme will be comforting for those in mourning and appealing for those willing to express their condolences by ordering flowers and sending gifts. The primary purpose of the theme are funeral arrangement websites, but it also can easily be used as just a blog on grieve management, spiritual healing or funeral planning, etc.

Christian Funeral Services and Homes
In Memoriam WordPress theme was created especially for Christian funeral services and funeral homes. The theme offers variety of page templates, custom widgets and additional stuff which will help to arrange the website in proper and informative way.Before starting working on this theme I looked through many live Funeral Services websites.

Cosily
This is an excellent for hotels, hostels, resort, private villas, holiday homes, holiday apartments or other types of service which requires a booking type system. Cosily will offer a set of amazing features and customization options that will help you make unique and beautiful site.

Coworking
With itâ modern and functional design you can create a powerful website for representing your Open Space benefits and services. With that theme you can create a Modern Office website offering comfortable workplace, regular workshops, conferences or business meetings.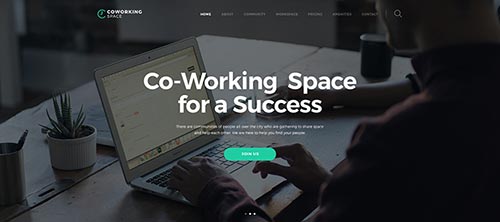 Bierbaum
It has minimal and fully responsive design with clean typography. Itâ specifically designed for Consulting or Marketing Agency, Financial Advisor, Accountant, Investment and Business Management websites. BierBaum can be used for a wide variety of corporate websites or just as a personal consulting blog.

Vertigo
It is a creative template made for Agencies and Companies. It is an awesome start for those who always wanted to have a creative but still professional looking website. It can be used by agencies and companies and by any other professional who wants to standout from the average look and feel, including for marketing and business purposes.

FlyPage
FlyPage is a Minimalist Landing Page WordPress Theme, responsive bootstrap based. It can be used for Business, Portfolio, Agency an many more kinds of websites, limit is your imagination.

ReWalk
This Responsive Business WordPress Theme comes with responsive and retina ready design, valid HTML5 and CSS3 code, video background, parallax effect, unlimited customization options, contact and get a quote forms and much more.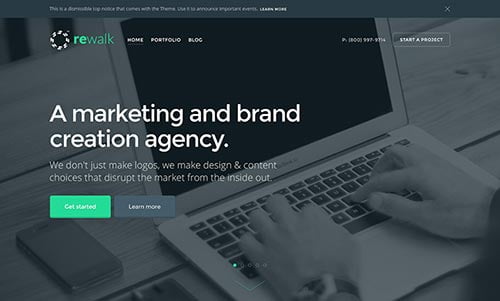 Fix & Ride
The theme was created for car repair shops, auto mechanics, car wash services, garages, auto blogs, and other websites related to vehicles maintenance. So if you seek to surprize your customers with a completely new approach you must not pass by this fresh and engaging design. The theme has an attractive layout that will perfectly fit for your car repair business there are so many shortcodes and widgets to manage the theme, as well as Visual Composer that helps you build your own page variants.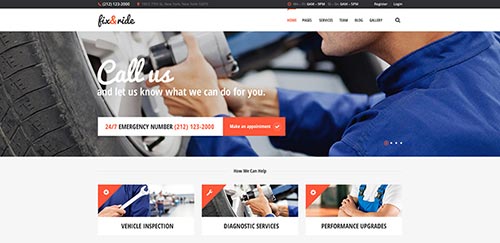 Mediso
With this theme, you can easily turn your site to one-page website and combining this one-page feature to our page builder, Itâ limitless possibilities on your one-page. This theme comes with new GoodLayers framework. Our new page builder is much better than ever.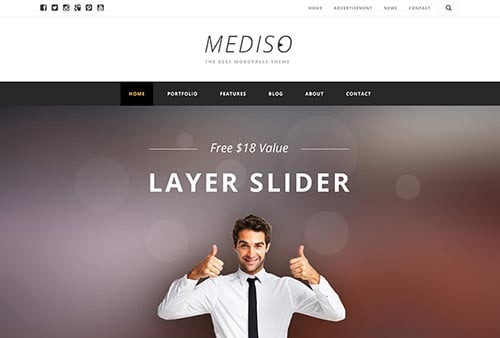 Plumbing
This premium corporate WordPress theme is designed for plumbing companies and firms, but it fits perfectly for any home repair and maintenance business website: plumbing, carpentry, remodelling & rennovation, construction business, etc.

XY
XY is a beautiful premium WordPress theme that is adaptable enough to suit almost any use, business or industry. This theme is perfect for businesses of all sizes, freelancers, app or service landing pages, product showcases and even photographers. Itâ built-in options make tailoring the theme to your needs easy and includes the best selling Revolution Slider as an added free bonus.

Law Office
This is an ideal solution for Legal Advisers, Legal offices, Lawyers, Attorneys, Barristers at Law, Counsels, Solicitors, Advocates and other legal and law related services.

Apex
Apex Responsive WordPress Theme offers a unique intuitive interface, featuring the trendy one page layout design, and 6 built in colour themes. You can also easily customize colours and styling with numerous theme and page settings. Built on Bootstrap 3, Apex has been carefully crafted to offer a reliable and robust theme for your project.

Constrion
Constrion is a business template designed specifically for construction, building companies and those that offer building services. The layout looks beautiful at any size, be it a laptop screen, iPad, iPhone, Android Mobile or tablets. Plus, Constrion includes very easy code and comment, anyone can update with his need.

Tructor
Tructor is a multi-page modern website. The theme has been designed for building and construction agency.Tructor WordPress theme is also perfect for any type of building and construction business. Architecture, house renovation, electricity, isolation, painting, laminate flooring, corporate, contractor and other similar services.Tructor has a powerful options panel that allow you to change all what you need easily.