The increasing website viewer-ship via mobile devices has motivated individuals and entrepreneurs to opt for design and development of mobile-friendly websites. Paying due heed to the new Google ranking algorithms effective from 21st April, it has become imperative to opt for mobile optimization of your website in order to refrain it from getting penalised. So, if you too are planning to create a mobile-ready website, then there are certain common mistakes which you need to beware of. This is a post which speaks about eight such common blunders which are committed by designers who're expected to deliver an outstanding mobile friendly website. So, let's get straight to these mistakes..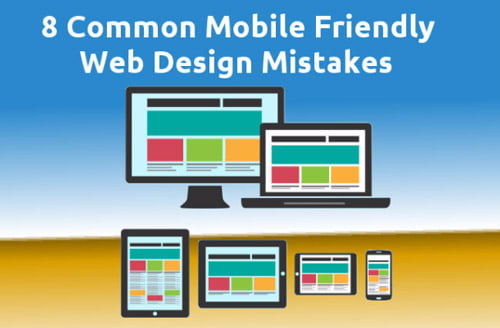 1. Unplayable content
There are situations when a specific type of content which can be easily played on a desktop computer can't be played on a smartphone device. Such a content can tend to annoy and frustrate the user to a level that he/she may opt for navigating to an entirely different website. Therefore, it is quite essential for you to use proper audio/image and video embedding, ensuring that every type of media file can be played well on all types of devices. For instance, flash is one such content which plays smoothly on desktop computers but doesn't work well on different mobile gadgets.
2. Mobile-only 404 errors
If you've setup your website both for desktop computers as well as mobile devices, there are chances that a particular page(s) might appear well on the desktop but may result into a 404 error when viewed via a mobile device. Here, it is advised to have an identical web page that can be served on a mobile device and the users can be re-directed to the URL of this page itself.
3. Blocked CSS, Javascript and Image files
If the Googlebots aren't able to access the CSS, Javascript and image files, it would become hard for them to index your website. The main reason being the search engines won't be able to see your site simply because the robots.text file would have disallowed crawling for your site. This will in a way bring down your search engine rankings as well. Now, a possible solution for this problem is to use the Fetch as Google utility available under Google Webmaster Tools. With this feature, you'll be able to see how the Googlebots are viewing your site's content. Plus, you can also check the mobile friendliness of your mobile pages using the Mobile-Friendly Test.
4. Slow page loading
Slow page loading can adversely affect the overall performance of a website, irrespective of whether it is being accessed via a desktop or a mobile device. Since you just a few seconds time for grabbing the user's attention, slow web pages can make you lose potential customers. As per statistics, it has been found that around 45% users want their websites to load in 2 to 3 seconds and around 40% users opt for abandoning a website which takes more than 3 seconds to load. Page Speed Online is a brilliant web-based tool that offers you a detailed overview on low priority and high priority fixes for your site, helping you improve the web page loading speed.
5. Including a lot of text on the web pages
This is a mistake which is often overlooked by web designers. Since mobile websites have to be viewed on different screen sizes, loading the web pages with extra text is definitely not a good idea. Doing this will make the user frustrated as he/she will not be able to browse through the entire page content effectively. Hence, make it a point to add proper formatted text to the web pages using bullets etc.
6. Faulty Redirects
If your website is having separate mobile URLs, then you'll be required to redirect the mobile users(currently on desktop URL) to the appropriate mobile URL. While doing this in the right way will serve as the best approach to showcase your website to mobile users, doing it inappropriately may send your mobile users to the conventional desktop page/link, resulting into a bad redirect. A simple fix for this issue is to install a responsive web design or theme into your site-making it ready for desktop as well as smartphone users.
7. Completely illogical cross-links
While designing a website for the mobile users, it is absolutely essential to ensure that all the links incorporated within the web pages are pointing to the relevant pages. A failure to do this will probably drive away perfection from your website and make it lose its search engine ranking.
8. Indexing issues associated with promotion of a native mobile application
While promoting your native mobile app, do ensure that there aren't any indexing issues related with the same. Do make it a point that the users are able to view the page's content instead of just a large app advertisement. A simple remedy for any indexing issue is to use a simple app banner while promoting your app inline along with the page content.
Final Words
So, as a mobile-friendly website creator, it's time for you to think about all the aforementioned mistakes and ensure to stay away from them in all your upcoming ventures. Author Signature: Lucie Kruger is an application developer working with Mobiers Ltd, which is the leading Android app development companies. She provides concrete information on latest mobile app development trends.