This article will show a collection of best premium landing page templates that can help you build your own landing page. I have put everything together in this article. The landing page will usually display directed sales copy that is a logical extension of the advertisement, search result or link. Below you can see 30 best premium landing page templates that are bound to boost your conversion rates.
Landing Page Templates
Superawesome
Superawesome is a minimal HTML5 & CSS3 template designed for app landing page.Superawesome is built with bootstrap, that sad it's super easy to customize or add any element.
Multiplus
Multiplus – A perfect start up template for companies, individuals and professionals. This template was designed with Responsive design, Popup/slideout Login and registration/signup forms, Video Support, Working slideout contact form and much more. Its multipurpose, can be used for all type of Business / Products / Apps .
Crealand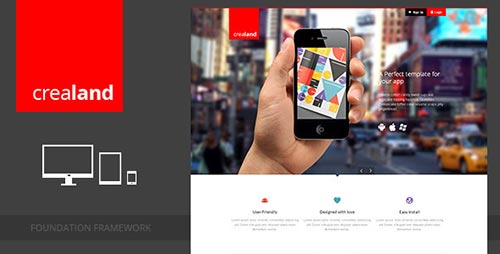 Crealand – A perfect start up template for companies, individuals and professionals. This template was designed with Responsive design, Popup/slideout Login and registration/signup forms, Video Support, Rotating twitterfeed and much more..
Super Agency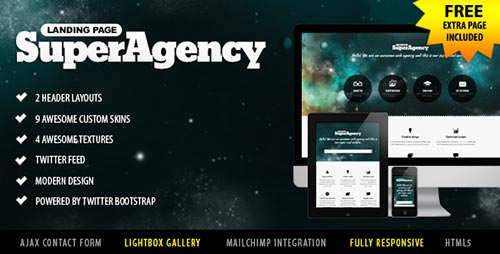 Brickstarter – Responsive HTML5 Tech Landing Page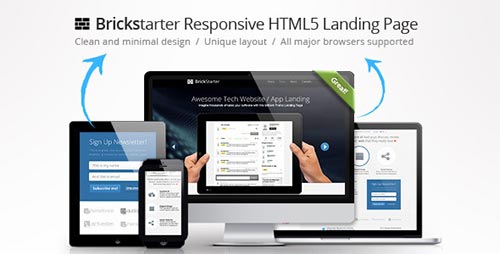 Brickstarteris fully responsive template, so it will work all screen sizes.To protect HTML code from stealing – Video Preview in HD format.
Converting Landing Page
Converting Landing Page is a premium HTML landing page. It has got clean structure and professional design as well as many extra page templates, which allows you to use it as sale platform as well as an informational landing page.
Landahoy – Responsive + Retina Landing Page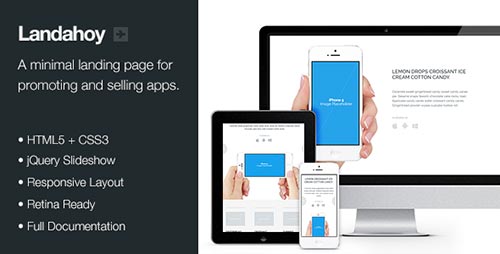 Landahoy is a fully responsive theme meaning it is optimised for multiple device sizes, Landahoy is also Retina Ready, meaning no more blurry images on your HiDPI and Retina displays.
Faze – Landing Page (Facebook Edition)
Faze is a simple yet elegant Facebook optimized landing page perfect for advertising your app, software, retail product or company. The template is build upon the 960 grid and features a Nivo image slider and a Twitter ticker. It is coded in valid HTML5 and CSS3 and is well structured and commented.
Crisper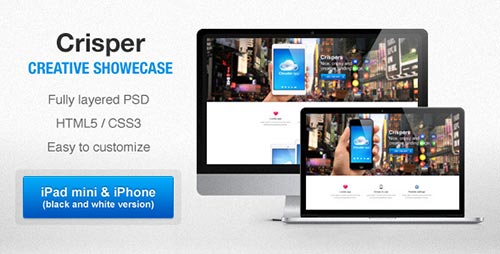 Candy
Candy is the perfect showcase for any app.
Discounter – Product Promo Landing Page
Great, bright & contrast Discounter theme is specially made for market big sales. Make your product more special, create campaigns and check how much your clients will buy this product. You can also use this landing template for any other type of business.
Conversio – Responsive Social & Dating Landingpage
Conversio is a HTML responsive landing page based on the foundation framework. It's is conversion optimized to guarantee maximum registration and sign up rates for social networks, community systems, dating and collaboration websites. Conversion comes with minimalistic, focussing styles and colors. Background images can be changed easily to customize the theme for your personal needs.
JustLanded
JustLanded is a landing page template designed for one thing only, to turn a visitor into a paying customer. It focuses on the key elements used in successful landing pages: the product itself, building trust, providing an option to buy your product and an easy way to contact you. JustLanded is very lightweight with fast content delivery in mind – a crucial asset for any landing page – and easy to extend and to customize.
FULL FLEX – Fully Responsive HTML5 Landing Page
FULL FLEX is a one page template specifically designed to work with any given html element. The responsive template will work all screen sizes down to 320px width. The template is retina ready so it will look gorgeous on every device with a browser. FULL FLEX can be transitioned into a promotional site, splash screen, regular website with pages, marketplace, the options are endless!
AppLand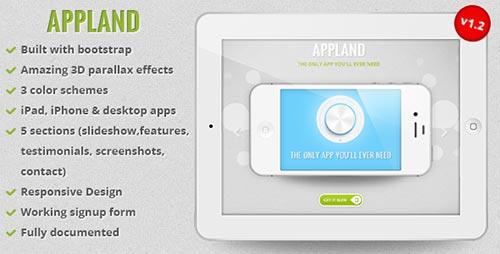 Just created the next killer app? Now the time to get it out to the masses. Our unique app landing page will give your software the punch it needs to get noticed fast.
Tinybear Landingpage
Tinybear is a HTML Landingpage for your applications and software products.
Squarecut
Squarecut is Minimal and Responsive landing page template for software / app.
Puree Responsive App Landing Page
Pureeis a Responsive App Website Template that allows you to quickly and easily set up a site for your next project that works on all kinds of browsers, devices, and screen sizes.
Soshal Responsive Business Landing Page
Soshal is Responsive Business Landing page (HTML / CSS ).
Electron
Electron- a clean and responsive landing page with maximum focus on your product, it's features and benefits, product images and videos plus a fully working (and validating) newsletter signup form along with fully integrated share buttons for all the popular social networks.
Netix – responsive landing page
Polar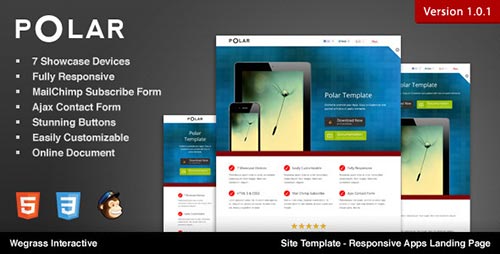 Polar is a Responsive Apps Landing Page crafted to promote your Apps / Theme / Website or any product. Support various mobile / tablet platform. Easy to Customize and packed with tons of useful elements.
The Flow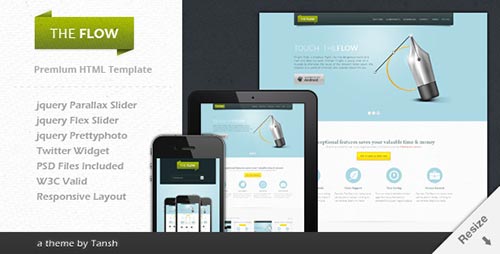 The Flow is Responsive one page template for software / app.
Thinkfast
Thinkfast is a general landing page template, can be used for product promotion, general sales page with above the fold featured area and call to action.
Clarity Simplified – Landing Page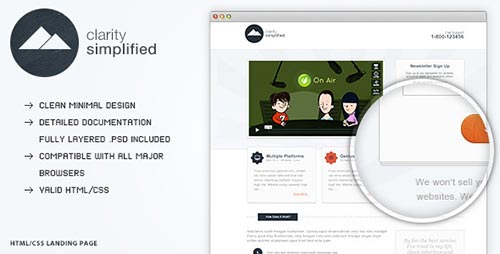 The landing page was designed for anyone looking to stand out with a sleek, modern design. Aimed at people looking for a landing page to build on, this page offers a lot of flexibility in the code, considering it's only HTML & CSS .
Lista Landing Page
Lista Landing Page is a premium landing page design for your newsletter or download, even just a service, your choice! Lista Landing Page takes good use of the Z Reading pattern to guide the eye around the design and ultimately convert your visitors in to subscribers or buyers.
BookPage – Sell your books with Style!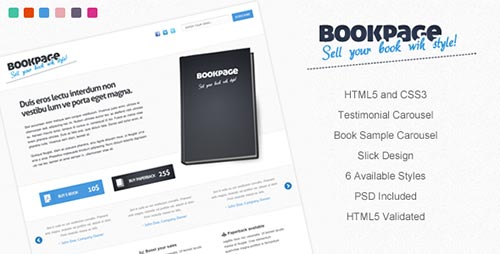 BookPage is the landing page template for all those internet marketeers who are releasing their own (E) Book. It has everything you need to show of your hard work.
Qloud Landing Page
Welcome to the Qloud – this premium landing page has been produced with the marketer in mind! With a "Z" pattern flow from the headings, to the call to action areas and the informative video or image area to the right your visitors will be compelled to click that buy now button!
TheLanding
TheLanding is a simple landing page with half or full header video options! Easily customize the landing page with the included instructions.
Autopilot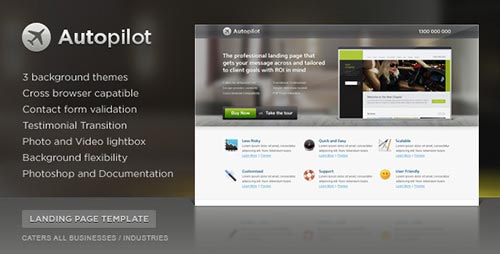 Autopilot is a landing page design best suited for all businesses and industries. The template comes with one HTML and one PHP file (contact form). It comes with three themes – realistic, festive and generic