Discover the perfect collection of Magento fashion themes that can help you transform your passion into a thriving success story. With these modern themes and the powerful eCommerce platform, launching a professional-looking online shop has never been easier.
What's even more exciting is that you don't need to be an expert in any field. The theme developers have already taken care of most of the technical aspects. You must arrange things according to your preferences, add your personal touch, and products, and store information, and you'll be ready for a grand launch.
Each of the listed Magento fashion themes boasts a clean and captivating design. They are fully responsive, retina-ready, and optimized for search engines, ensuring you attract keyword-targeted shoppers and scale up your business with organic traffic.
Top Picks of Best Magento Fashion Themes
These themes come packed with practical features and useful extensions that will immensely benefit you when creating your exceptional online store. Working with Magento's sophisticated CMS system makes the whole process feel effortless, and with just a little effort, you can create a complete shopping solution that offers the best and most unforgettable experience to your customers.
Whether you want to follow the latest fashion trends or create something fresh and unique, the key is to capture viewers' attention and convert them into loyal customers. These mobile-friendly Magento fashion themes make all of that possible. So, go ahead and embark on your journey towards eCommerce success!
1. Claue – Clean and Minimal Magento Theme
Claue is a modern and versatile Magento theme designed for e-commerce stores. With over 32 homepage layouts and a wide range of options for Shop, Blog, Portfolio, Store locator, and other essential pages, Claue is an exceptional choice for creating various online stores.
Following the migration from Magento 1 to Magento 2, Claue now boasts a host of robust features tailored for multipurpose eCommerce setups. These features encompass a Sales Page, Instant Search, 360 Image Views, Step Checkout, Shop By Brand, Social Login, and Auto-related Products. All these functionalities are seamlessly integrated into this elegant and minimal Magento theme.
Moreover, Claue is built on a Front-End Page Builder and includes extensions such as Mega Menu, Store Locator, Daily Deals, Advanced Reports, Quick View, Color Swatches, Ajax Cart, and Products Questions. These extensions are worth over $689 and empower you to easily create your desired online store. Claue has the potential to enhance your business and drive significant success.
Claue seamlessly fits Magento 2.4.6 and works with PHP 7.4 to 8.2. It's a dynamic solution to power your digital goals. Transform with Claue and unleash your online venture's full potential.
2. Market – Premium and Optimized Magento Theme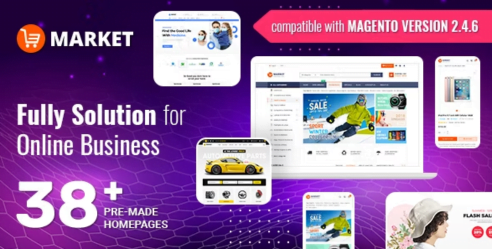 The market is a responsive theme compatible with Magento 2 & 1.9, offering full customization. It's an ideal choice for online stores, particularly those with multiple categories and products like supermarkets, digital shops, fashion boutiques, furniture outlets, and more. Whether it's a clothing store, electronics shop, or luxury accessories store, Market caters to a range of businesses.
Market seamlessly incorporates numerous premium Magento extensions, including a Vertical Mega Menu featuring multiple columns and static blocks enhanced with appealing images. The SM Tab Listing showcases products within tabs, organized by category, with a slider for effortless browsing. Utilizing SM Categories, you can effectively display various categories alongside their respective images.
Additionally, static blocks enriched with attractive visuals and informative text provide valuable insights about your store. With features like layered navigation with AJAX and the AJAX Cart Pro extension, customers can enjoy swift purchasing. The theme also supports multi-language and multi-currency functionality, as well as product hover effects, among other features.
3. Infinit – Responsive Magento 2 and 1 Theme
The Infinit theme, available for both Magento 2 and Magento 1, boasts a smart and user-friendly UX design optimized for various mobile devices. It offers the flexibility to select between a fully responsive website or a mobile-optimized theme tailored specifically for mobile devices.
Infinit's Responsive Web Design ensures your webpage maintains a polished appearance across desktops, tablets, and phones, achieved through CSS implementation.
The theme also presents numerous pre-designed website demos, with over 15 unique designs available. It stands as an excellent choice for Magento versions 2.2 and 1.9.
4. Sebian – Multipurpose Magento Fashion Theme
Introducing ARW Sebian, one of the powerful and multi-purpose Magento Fashion themes with over 10 unique layouts and an exciting color style, designed to bring a fresh and vibrant look to your store. This theme caters to various e-commerce stores, including Fashion, Sporting Goods, Watches, Furniture, cosmetics and beauty, and more. Built on the latest bootstrap technology, ARW Sebian prides itself on unrivaled responsiveness and mobile-friendliness.
With its pixel-perfect design, dynamic mega menu, incredible revolution slider, product widgets, eye-catching Static blocks, ARW Brand integration, appealing 404 pages, and integrated blog, this responsive Magento theme offers an array of fantastic features. You can also enjoy unlimited color schemes through the Theme Design, enabling you to customize every theme element easily. From the footer to the navigation menu and fonts, ARW Sebian allows effortless theme customization.
If you appreciate a flat design with a perfect color palette, ARW Sebian is the ideal choice. Give it a try, and you won't be disappointed – trust me!
5. Love Fashion – Responsive Magento Theme
Love Fashion is an exquisite boilerplate tailored for online fashion stores, clothing outlets, apparel shops, malls, and any Magento store in need of an easily customizable theme. It offers a user-friendly experience for all types of businesses, enabling seamless selling of any items as desired. This beautiful theme follows modern style trends, boasting a clear layout and supporting various color options such as Green, Orange, Violet, and Blue.
With six different product profile options to choose from and a range of smart features like a homepage slideshow, powerful mega menu, Ajax cart, Ajax layer navigation, social box, and up-sell and related products slider, Love Fashion ensures your store is equipped with all the essential tools.
Additionally, the theme provides two layout options – Full width and Left Sidebar – to cater to various user preferences. Don't miss out on one of the best themes available!
6. Gecko – RTL Supported Magneto Theme
Gecko makes starting an online fashion business a breeze. Whether you're building an online store or representing a brand, Gecko offers hassle-free options to complete your project. With over twenty demos to choose from, you can easily find the perfect fit and shine online. Plus, you have the flexibility to customize Gecko to align with your branding directions.
Gecko comes with various unique features, such as a quick view, nine header styles, an Instagram feed, social media icons, a blog, and testimonials, among others. It is optimized for fast loading speed, ensuring a seamless experience on mobile devices and web browsers. Save time and effort, and get your full-blown eCommerce fashion website ready to launch in no time with Gecko.
7. Wenro – Magento Fashion Theme
Don't feel overwhelmed by the abundance of features and practical functions in the Wenro theme. Take your time and carefully review all the details to maintain control while constructing your online store. The theme is well-documented, ensuring a smooth customization process without any inconveniences.
Currently, there are 16 homepage layouts available for you to choose from and quickly launch your online store. With the combination of demo content and advanced admin options, creating unique designs becomes effortless. Rest assured, your website will look stunning on all devices, providing visitors with a delightful shopping experience.
The theme also allows you to integrate a blog section into your web store, where you can share stories, outfit ideas, and announcements about new collections. By keeping your shoppers engaged, you can build loyalty and turn them into devoted customers.
Among other features, Wenro includes Mega Menu support, a Google-rich snippet, Google fonts, and a brand logo slider. You can showcase the brands you carry on the homepage or throughout the entire online store, enhancing your brand's presence and identity.
8. SNS Ostore – Responsive Magento Theme
SNS Ostore is a super special theme based on Flat Long Shadow designs, offering a clean and elegant feel. With 6+ demo home pages and 6+ color options, it provides a range of unique and attractive designs for your online store. The theme is responsive, featuring two layout types (Full-width and Boxed) and supporting Sticky menus for easy navigation. The amazing menu and responsive menu options (Sidebar and Collapse) further enhance the user experience.
SNS Ostore comes with powerful features, including support for cpanel and Admin config, Sticky left/right for block content and block link, SNS Ajax cart for Ajax add to cart, compare, and wishlist functionalities, and SNS Ajax Filter for seamless filtering. Its power admin and easy customization allow you to tailor the theme to your preferences and create a truly remarkable online store.
Experience SNS Ostore's cool effects and take advantage of its exceptional design to stand out among other store owners. Begin your eCommerce journey with SNS Ostore and enjoy a great and memorable experience.
9. Oxelar – Multipurpose Magento Fashion Theme
Efficiently sell your fashion store online with the modern clothing Magento theme, Oxelar Responsive Magento. This theme is perfect for fashion shops, women's fashion shops, men's fashion shops, jewelry shops, accessories shops, and more. With over 6 predefined layouts and an integrated Frontend builder, Oxelar adapts to any eCommerce site you envision.
Its fully responsive layout ensures a seamless browsing experience for mobile shoppers. The Megamenu enhances navigation with a visually appealing design, featuring big slideshows with large images, texts, and CSS3 transition effects below the menu. The Home page showcases new arrivals, special items, timer countdowns, latest posts, and testimonials.
Category Tabs Slider allows customers to view outstanding categories, and interspersed Magento modules feature eye-catching images and useful information. The theme includes Layered Navigation and Ajax Add To Cart, making shopping faster and easier. Additionally, it offers live search functionality, multi-currency, and multi-language support.
Choose the Oxelar Magento theme to build a successful e-commerce business and elevate your fashion store's online presence.
10. Mimosa – Responsive Magento Fashion Theme
Every online fashion store you put together with a Mimosa Magento theme will be an extraordinary creation. What's more? You need not be highly knowledgeable to make such work a reality. You all become instant professionals using Magento fashion themes from this collection. Most of the designs and layouts are pre-made anyway. This means that you only need to organize the needed, add your content and information and you are ready to roll. Simple? Simple!
Managing and maintaining a website with a Mimosa theme is undemanding. But for any support and guidance, look into comprehensive documentation or hit up online backing. This way, you can surely overcome all the barriers you come across. Neat look, utilitarian features, and first-class performance, Mimosa does not miss a thing.
11. Mella – Minimalist Magento Fashion Theme
Get ready to become the next sensation in the world of online stores! With Mella, you can turn your dreams into reality. This powerful Magento fashion theme offers the ability to design, build, and launch responsive websites effortlessly. Mella is specially crafted for those who love online selling, collaboration, and creativity, ensuring your website remains consistently ahead of the game.
User-friendly and easily customizable, Mella allows anyone to start their website within minutes. The theme provides nine clean and minimal-looking homepage layouts and internal pages, giving your project a quick and stylish start. No longer do you need to invest countless hours or a huge budget to start your online business.
With Mella, even if you have zero prior experience, you can kick things off in style and make your mark in the online retail world.
12. TopzStore – Advanced Magento Theme
TopzStore offers a wide range of online shop options, from fashion to beauty, furniture, and food. Its multi-functionality and easy customization enable you to create various other stores as well. You can quickly get started by using the predesigned content, which guarantees a professional-looking final result. Alternatively, personalize the TopzStore Magento fashion theme to make it truly unique, resembling a custom-built eCommerce website.
Key features of TopzStore include five header and footer styles, unlimited color variations, SEO optimization, and $200 worth of extensions. The theme is based on the Bootstrap Framework and utilizes the latest web technologies for optimal performance.
Whether you choose the ready-to-use content or tailor it to your preferences, TopzStore ensures a stunning and expertly crafted online shopping experience.
13. Sheon – Best Minimal Magento Theme
Sheon is your ultimate solution for quickly getting your fashion or apparel brand online. This Magento fashion theme streamlines the website creation process, ensuring a hassle-free experience. With its versatile templates, Sheon can easily adapt colors and layouts to perfectly suit your specific niches. Language and currency compatibility are also seamlessly taken care of, adding to its convenience and adaptability.
Sheon boasts a clean, minimalistic, and simple look, offering various design variations to choose from. It comes packed with numerous features such as a mega menu, brand module, product swatches, and tab, which can be seamlessly incorporated into your website. Unleash the full potential of your business by hopping on board with Sheon.
Explore the Sheon kit and uncover many other treats and assets that will elevate your online presence and ensure your fashion or apparel brand stands out from the rest.
14. Euforia Black – Magento Fashion Theme
Experience fast and effortless website creation with Euforia, one of the best versatile Magento themes designed for fashion enthusiasts. Whether you're selling men's and women's apparel, shoes, accessories, bags, or glasses, Euforia provides a seamless solution for your fashion intentions. Additionally, you have the freedom to use Euforia for entirely different purposes if you wish.
Euforia is mobile-ready, cross-browser compatible, fast-loading, and SEO-friendly, ensuring a spectacular shopping experience on all devices and platforms. With Euforia's user-friendly interface, you can take your online store to a whole new level and make a powerful entrance into the fashion industry.
Embrace the flexibility and all-around capabilities of Euforia to showcase your products and captivate your customers.
15. Prime Fashion – Multipurpose Magento Theme
Launching a new project with Prime is effortless. From all the Magento fashion themes this theme provides all the essential tools to start and promote various clothing products online. Whether you want to create a niche or a general web store, Prime caters to both and more. The theme easily adapts to different project intentions, making it highly convenient for your needs. Say goodbye to building everything from scratch and embrace the remarkable capabilities of Prime.
Prime offers a wide range of page layouts and practical features to keep your online store on the right track. From sliders, product videos, and swatches to newsletter pop-ups and drop-down Ajax carts, all essential elements are readily available. Other specialties include a sticky menu, a testimonials section, a back-to-top button, and a full blog section. With Prime, you have everything you need to make your online fashion venture a success.
Conclusion
No matter the style, niche, or functionality you seek, these Magento fashion themes offer diverse options to turn your passion into a successful and unforgettable online fashion store. With their convenience, adaptability, and modern aesthetics, these themes provide the perfect foundation to elevate your business to new heights in the digital world.
If you are a WordPress lover then you can choose from the Best WordPress Themes because there are multiple options for every user and do let us know which Magneto Fashion Theme goes best for you.