Right here a collection of Premium drupal themes that you can used in business, portfolio, online store and any webiste of any suitable category. All these templates and themes are high quality and professional that it is very useful and save you lots of time with your web design project without reinventing the wheel.
See also:
Visia Drupal one-page parallax portfolio
Visia is a fully responsive and retina ready single page portfolio. It offers stunning design, really great compatibility and comes with super support.

TB Wall Retro
TB Wall Retro is a harmony of a Drupal site and Pinterest design trend. This is different from any other theme you could find in the Drupal market. TB Wall Retro allows you to optimize site performance with Lazy loading, improve usability with Infinite scroll and create epic contents with various content types appearance.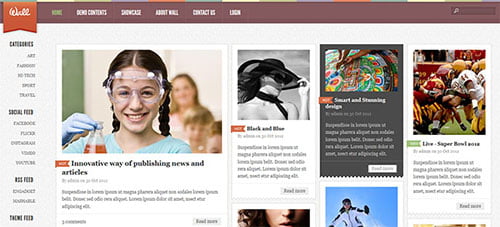 NORMA
NORMA is a Clean & Responsive Drupal Theme which is perfect suitable for every business project. NORMA is easy to use with any mobile device like tablet or mobile phone, without removing any content!Great for corporate and blog websites, with integrated video and galleries in each news post, media post and blog post.

Dmart
Dmart is a Clean and Classic Style Drupal theme based on Drupal Commerce and designed for mobiles, tablets and desktops. It is fully responsive theme, has Eight color variations in style, Modulle positions , sidebars and Mobile optimized slideshow & Menu.Dmart is built using Solid grid system and Bootstrap framework. It's suitable for Furniture store, Online Shopping cart, Ecommerce corporate, Business and Technology related websites.

Dawn
Dawn is a clean, sleek, and modern Drupal 7 theme built using the Twitter Bootstrap framework. Intended for use by creative professionals; this theme is fully responsive, mobile/touchscreen ready, and features a custom Revolution Slider module for Drupal that can't be found anywhere else! Dawn's powerful theme options panel enhances Drupal's core functionality to make the theme customization process a quick, seamless experience.

6th Avenue
6th Avenue is a Responsive Drupal 7 Commerce Theme. Top to bottom this theme is incredibly robust, functional and customizable. From the nice product layout found throughout the site to the product image zoom, you get it all packaged with this site. In short, if you are looking for a solid foundation for your Commerce store with great support, this theme is for you.

Realia
Exchange
Exchange is a responsive multipurpose theme. It comes with awesome support, advanced theme settings and three premium modules. If you want a theme that can be easily made unique, choose Exchange.

BizFolio
BIZfolio is a responsive friendly, Creative Theme. A fully layered PSD is also included.Theme included: Lignt & Dark version.The online samples images belong to their respective owners and are only used for demo purposes.

Inspiro
Inspiro B is a very powerful Responsive Theme, designed for Desktop, Tablet and Mobile phones. Comparing to other themes on the market you'll get a beautiful modern design, portfolios, blogs, newsletter, widgets, localisation support and other great features. We've also implemented unique Beautiful background slideshow.

Freehold
Freehold is a Responsive Drupal 7 based Real Estate theme. This theme is extremely easy to customize and is optimized for retina displays like the iPad and iPhone.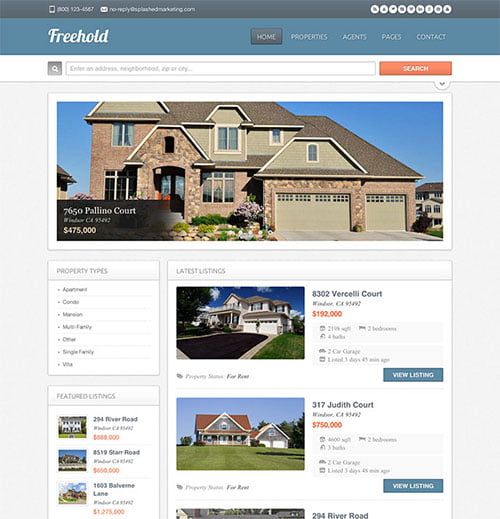 Webstudio
Properta
Skifi
Skifi is all new modern style responsive Drupal 7 theme loaded with no.1 slider on planet, the Layerslider 3 and twitter bootstrap 2. It has plenty of theme options to make it your own crafted theme. You can use it on website of any suitable category such as business websites, portfolio websites or other Drupal website. This premium business drupal theme features lot of customization.

InnoCompany
InnoCompany is incredibly customizable, powerful, clean, modern yet responsive Drupal 7 theme. Not only you can use it as corporate Drupal theme but you can also use it anywhere and anyway you want thats why we call it "multipurpose corporate drupal theme". It allows you to customize your theme just by choosing color from unlimited hexadecimal color codes.

Spotlight
Peak
Peak is a clean business style Drupal 7 theme . It gives your web site a very professional look. It has many fantastic features with simple setup.Peak comes with two base colors: black & white. Each base colors combining with red, blue, orange, cherry and green. By changing base color from white to black, it change the whole looks dramatically.

VIVID
Solaris
The Solaris is a Powerful Premium Drupal Theme designed in a clean and minimalistic style. This theme provides all the main functionality you will need to present your products, work and yourself in an elegant and professional style. Solaris easy for customizing and well documented. The theme is best suited for any portfolio, business and photography.
Responsive Design – Serve an optimised version of the volumes theme to your visitors using tablet and mobile devices. Optimised for iPad and iPhone .

Corporate X
Corporate X is a fully responsive multipurpose theme for creating "content flexible" Drupal 7 websites in minutes. It's built over the most recent and recommended Drupal version: 7.22, so you can start from a "scratch brand new base" on building a long term support solution for your clients.

Cenus
Community
Community is a Drupal powered theme designed with community website needs in mind. It has most of components that you need to create a fully functional and powerful website in a minute. This theme is extremely flexible on both layout and functionality side.

Wellfolio