Responsive WordPress themes are becoming more popular. So here we are collect the collection of best responsive ecommerce WordPress themes. These responsive ecommerce WordPress themes automatically adjust according to the screen size, resolution and device on which they are being viewed. More WordPress theme below.
Propulsion – responsive business eCommerce
Propulsion is a responsive WordPress Theme (try resizing your browser), suited for users who want to create a business, portfolio or ecommerce site.
MayaShop – A Flexible Responsive e-Commerce Theme
MayaShop is a fresh WordPress theme that utilises the powerful JigoShop and Woo Commerce plugins to create a versatile WordPress powered shop, with unlimited layout options and unlimited skins. Make this theme your own.
Bellissima – Responsive WooCommerce Template
Bellissima is a premium eCommerce WordPress WooCommerce theme with two unique color styles. It is loaded with a lot of jQuery features and a great list of layouts you may need for your e-shop.
Camp – Responsive eCommerce Theme
Show off your work with this easy-to-customize and fully featured eCommerce WordPress Theme.
Sooperstore – Responsive WooCommerce Theme
Sooperstore is a clean, ultra responsive WordPress eCommerce theme built specifically for WooCommerce. Sooperstore on both the iPad and iPhone to deliver a beautiful shopping experience.
Kinetico – Responsive WordPress E-Commerce
Storefront Echo: Responsive, BuddyPress eCommerce
Storefront Echo works perfectly with WP e-Commerce, WooCommerce and JigoShop and takes advantage of the unique features offered in each platform. Special care was taken to make sure that every aspect of each platform works well with the theme.
Commerce – Versatile Responsive WordPress Theme
Commerce WordPress theme is Premium WordPress ecommerce theme with pinterest style that'd be perfect and suitable for your retail and online business store. You can sell wide-range categories, almost any type of your products for your online store. Of course this theme will makes your store looks more outstanding and modern than standard online store out there.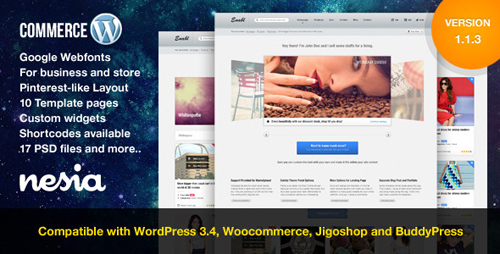 Blanco – Responsive WordPress E-Commerce Theme
Blanco is clear, easy to customize WordPress template. Many new features such as powerful admin module, slideshow, new products display on homepage, extra links and blocks and so on. This Magento template is one of the most powerful and flexible templates at WordPress store.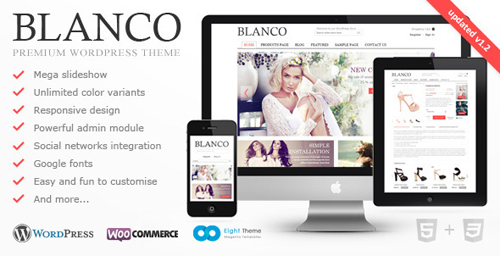 Organic Shop – Responsive WooCommerce Theme
Organic Shop is an Ecommerce WordPress theme designed for online shops selling thrifty, organic, spa beauty related products.
SmartShop – Responsive WooCommerce WordPress Theme
SmartShop is a clean and responsive wordpress theme for ecommerce and shopping cart websites. This theme is fully compatible with WooCommerce System.
Kauri – responsive theme for WP e-Commerce
Responsive layout makes it adaptable to various screen sizes, from iPhones, smartphones and tablets to laptop and desktop computers. This theme will look great on any screen. The elegant design of Kauri Theme is customizable with plenty of design options and shortcodes. Choose between 4 skins and customize it with unlimited color options, Google fonts, custom backgrounds and 2 slider styles.
Prometheus – A Responsive e-Commerce Theme
Prometheus is responsive e-Commerce shop. 24 Template pages and unlimited colors are just few of the great features that this template has. The Theme is built on top of the fabulous Jigoshop and plugins. Packed with options, custom widgets and shortcodes, this theme will not disappoint!
Travel Island – Responsive e-Commerce WordPress
Travel Island is a Premium WordPress e-Commerce theme that is easy to setup and comes with a great bunch of features. Perfect for a holiday, travel information, hotel, accommodation, surfing or destination themed website. Travel Island can be used with the professional Jigoshop e-Commerce system (optional).
Zeux – A Responsive e-Shop WordPress Theme
Zeux is highly responsive e-shop WordPress theme. 14 custom template pages, 7 different colors, 11 custom background patterns and filterable portfolio. The theme support following post format: Standard, Gallery, Link, Quote, Image and this are just few of the great features that this theme has.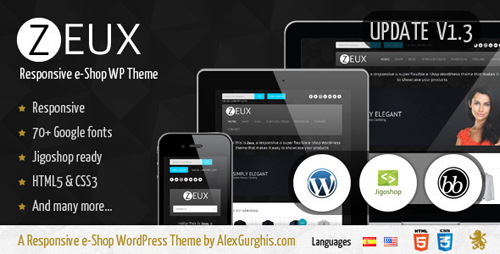 Cherry – responsive e-commerce theme for WP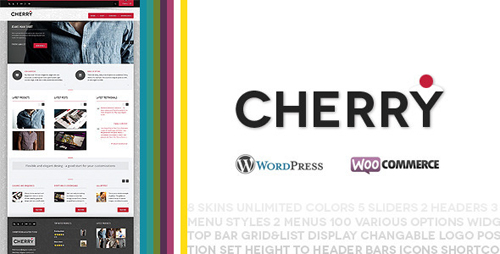 MeariShop – a Clean Responsive E-commerce Theme
MeariShop is a clean and flexible WordPress theme that utilises the powerful Woo Commerce plugins to create a versatile WordPress-powered shop, with unlimited layout options and unlimited skins. MeariShop is powered by the advanced Hana Panel, which provides tons of options to manage and modify any aspect of the theme – it is well suited for both beginners with no coding knowledge and developers.M
Lathika JigoShop – responsive e-Commerce theme
Lathika JigoShop is responsive e-commerce WordPress theme designed specifically for use with JigoShop plugin. It doesn't make the difference whether you are about to sell digital, physical or virtual products, it's just perfect for all.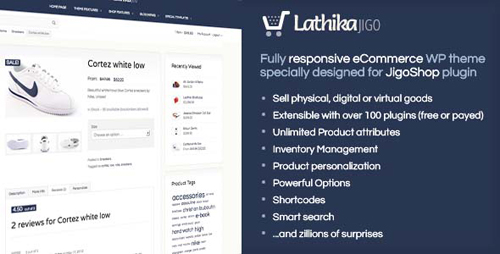 WP Flexishop 2 – A Flexible WooCommerce Theme
Primathemes has returned with its second theme in the re-brandable Flexishop series. Flexishop 2 is quite simply the last wordpress e-commerce theme you will ever need. It features a huge array of color, font, and layout options which let you change just about anything on the site, it even includes 3 different layouts for that unique look.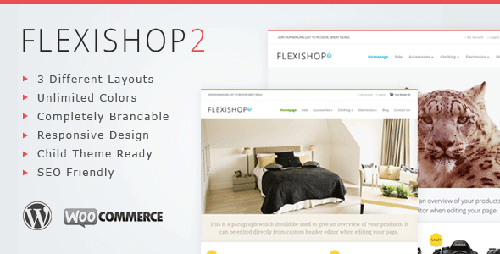 Kiosk 2.0 – Premium WordPress eCommerce Theme
Gigawatt – eCommerce WordPress Theme
Markup Business WordPress Premium Theme
Markup Business is a multipurpose WordPress Premium Theme that fits in what you need. Markup Business provides to you the Order Now system, then you can create your own Website Markup Business!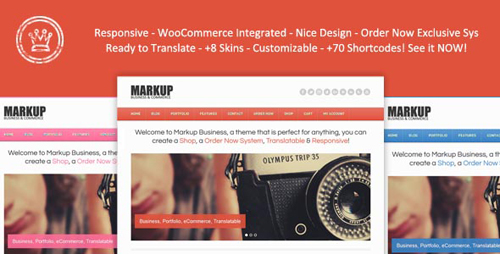 Enfinity – Adaptive Ecommerce Portfolio WP theme
Enfinity is an elegant and flexible WordPress e-commerce theme with an adaptive layout and many features inside.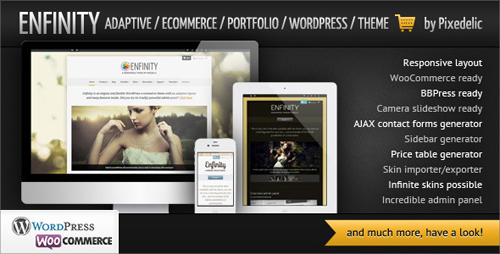 Selene – Fullscreen e-Commerce WordPress Theme
Selene is a highly responsive and fullscreen e-Commerce WordPress theme. 18 page templates and unlimited colors, filterable portfolio. Standard, Gallery, Link, Quote, Video, Image and this are just few of the great features that this theme has.
Vende
Vende is a premium, responsive (resizeable) WordPress theme with an emphasis on ecommerce and portfolio content. It comes with a flexible slider that support Youtube or Vimeo videos, and easy to use unbranded, admin panel.
Storefront Pro for WordPress e-Commerce
Storefront Pro for WordPress is a responsive shopping cart theme written in HTML5 / CSS3 , which provides a convenient way for your customers to buy your products at home or on the go and which seamlessly adapts to your customers screen sizes no matter if they use a desktop pc, a tablet or a smartphone to view your site.
Aventura WordPress – eCommerce Theme
Powerful and full responsive E-commerce theme with the WP-ecommerce plugin. This theme has been build for every screen type. The theme automatically changes the look and feel based on the platform your visitor is using! Try it yourself. Just resize your browser!