Live chat has become common and requirement of any business website. Live chat and support plugin enables you to directly interact with customers, clients or readers and solve the problem. Here are 10 best WordPress live chat support plugins which are helpful for your websites.
WordPress Chat X plugin
Chat X Night Bird is a powerful chat plugin for WordPress. It allows you to speak/chat directly with your visitors on your website. You will need to create a free Firebase account to use this particular chat plugin. And, although there currently isnt a mobile app to provide chat support its easy enough to log into your WordPress dashboard and start helping customers from any device.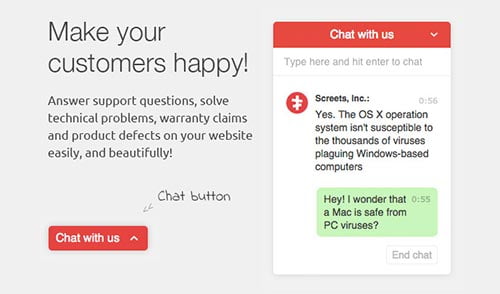 Live Chat & Remote View
WP Flat Visual chat has been coded using Real Time AJAX chat and industry best practise coding so there is no bloating to slow your site down. With the range of options and features to help you customise your chat to meet your design needs the possibilities are endless.

Uber Chat
Allows you to instantly communicate with your websites visitors. The beautifully modern and easy-to-use interface is very intuitive and allows your visitors to contact you whenever they need to – ultimately generating better leads for your business. It also comes with the unique feature of having a Windows-based client included out-of-the-box – giving you a beautiful, native interface to actively engage your websites visitors through operator-initiated chats.

Help Chat With Visitors Map
Client Live Chat is an exclusive support chat, adaptable to any website developed in wordpress. And talk with your customers/visitors has never been easier!

Facebook Live Chat
WordPress plugin allow put your facebook live chat box on your website, visitors can chat with you via Facebook Messenger. This is easy way to support and keep contact with your customers

Leap
Increase your revenue by directly engaging to your customers for a far better customer relation.

WordPress Live Chat Plugin
Chat with your customers on your site for sales and support easily, and beautifully. Chats are handled entirely from the WordPress dashboardideal if you spend most of the day logged in. The chat boxes are simple but effective, with two colors for you to customize.

Live Chat Plug-in
Always in touch with your clients chat widget embedded on your web pages will allow visitors to talk with you in just a few clicks and youll be able to solve their problems immediately!

WpChats PRO
Ultimate WordPress plugin powering instant chat and private messaging on your WordPress blog. Along with the messaging tool, WpChats 3.0 now comes with user profiles, much more flexible and seo friendly, AJAXd all the way.

WordPress Live Chat with Web
The ClientEngage Visitor Chat for WordPress is a fully-featured real-time chat for your WordPress websites. A clear and simple web-based administration allows you to conveniently chat with your visitors.