In this article we presenting you a list of 20+ Inspiring WordPress Restaurant Theme, If you manage or own a restaurant and have yet to make a website for it, then you may check out this awesome collection of WordPress restaurant themes. by using a premium WordPress theme that has been created specifically for restaurant websites.
See also:
Linguini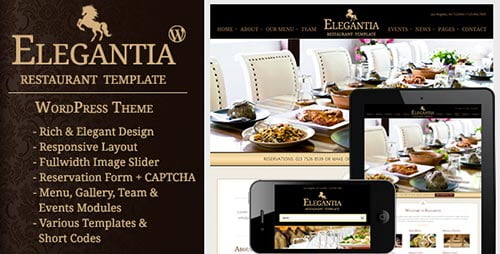 Linguini is a theme perfect fit for the restaurants, pubs, bars, wineries and other companies offering foods and drinks. Linguini theme offers an excellent system for administration menu cards (food menu, drink menu) and photogalleries.
Pluto
Pluto is the WordPress theme for Cafe and Restaurant built with latest WordPress features. Custom Post Type, Skins Colors, Extensive admin panel etc.
Bordeaux
Beautiful, pixel-perfect design and easy to use Orange Themes Control Panel makes this WordPress theme one of the best in business. Featuring great looking menu card design with multiple page support and table reservation system.
Gusteau
Gusteau is an original and unique theme for restaurants, pubs and bars, combines pure elegance with timeless design and superb technical qualities.
White Rock
When purchasing this theme, you will receive a detailed help file along with additional features like Unlimited Color Schemes and Responsive Layout.
CafeHouse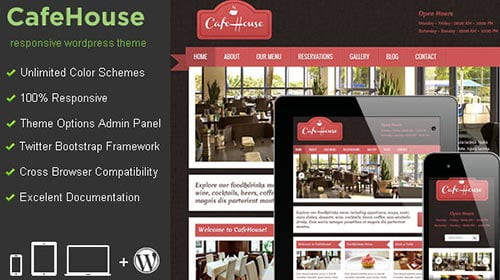 CafeHouse has an elegant and easy to use admin panel, where you can customize colors, text, social media. Also via the custom templates you can organize your food and drink menu and photo galleries.
StoneCafe
If youre looking for a clean and robust website that can showcase your new restaurant or business then look no further.
Nomnom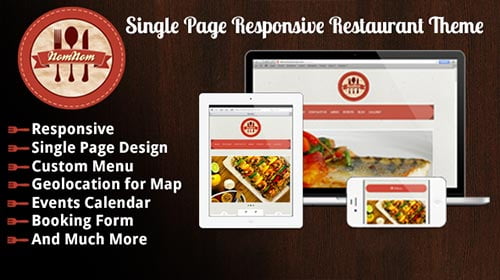 Nomnom will help you market your restaurant more efficiently. Say good bye to struggling and hello to a site thats easy to use.
LeGourmet
LeGourmet WordPress Restaurant Theme is a super elegant Restaurant WordPress theme, packed with awesome functionality.
Victoria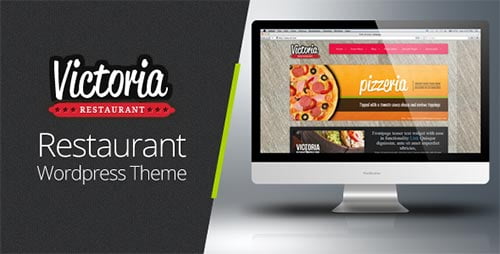 Victoria is a very powerful theme with many features easy to edit for both, users without programming knowledge and for developers.
Delicious
This theme supports custom menu and 8 widgetized areas (three in the homepage, three in the footer and two in the sidebar) and featured images (thumbnails for post, testimonial, team, review, foods and gallery).
Bbq
BBQ, the perfect WordPress theme for any cafe, pub, bar, restaurant or local business.
Elegantia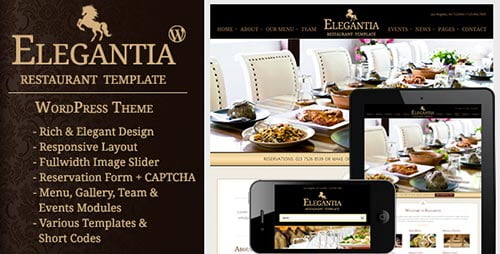 Elegantia is a premium WordPress theme for Restaurants Cafes. It has many features that are required in a restaurant business.
Eatery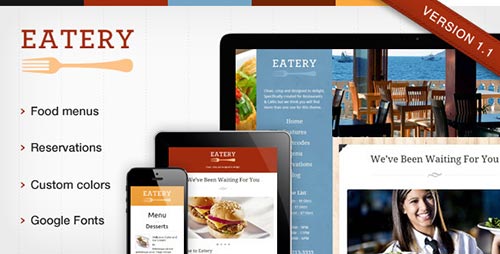 Eatery includes a full menu system, 5 premium color settings, and just the right amount of customization options to make your business look sharp with little effort.
Bonjour
Cafe Bonjour is a WordPress one page template, best fit for cafe and restaurant websites. The template has a classic style favor, its vintage looks making it suitable for classy, exquisite caffeterias, as well as luxury and exclusivist restaurants.
Mataam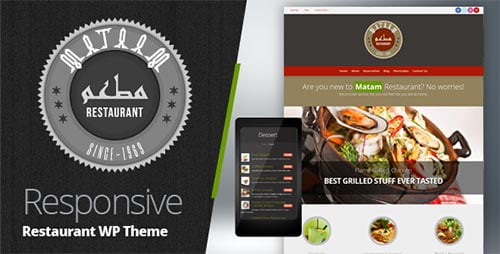 Mataam is a very powerful theme with many features easy to edit for both, users without programming knowledge and for developers.
Foodlovers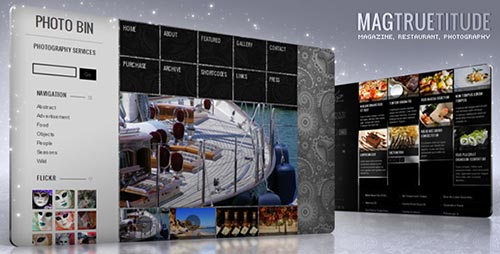 This theme supports custom menu and 7 widgetized areas and featured images (thumbnails for post, testimonial, team, foods and gallery).
Goodold Restaurant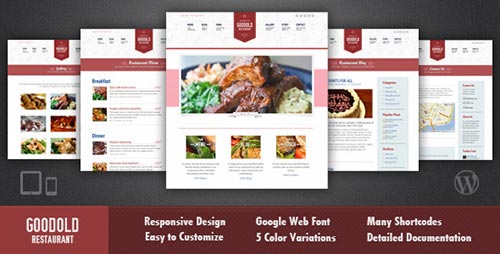 Goodold Restaurant is a WordPress theme for restaurants, cafe, bar and other food and drinks related company.
Le Maitre
Le Maitre is a menu focused WordPress theme for restaurants and cafes.
Stomaci
Stomaci gives a rustic design that is sure to impress your visitors, with its unique combination it is suitable for every cozy, old stylish family restaurant as well as modern cafe.
MagTruetitude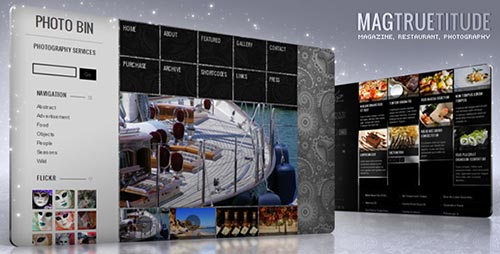 MAGTRUETITUDE is a 3 in 1 Template with Magazine, Restaurant and Photography theme. This WordPress customizable theme is build for your restaurant, catering or nightclubs online presence.
Delicioso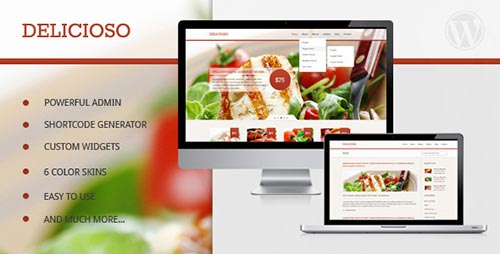 Delicioso is a great looking restaurant WordPress theme built with the amazing functions that will help you to run your restaurant website without loosing too much time and with very positive impression to your guests.
Feast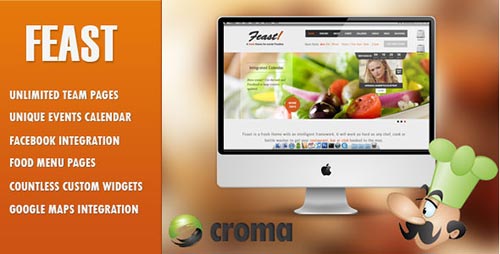 Feast is a intelligent theme with unique features. Its easy to use, easy to customize and most importantly it ads functionality not to be found in any other WordPress theme.
Redminton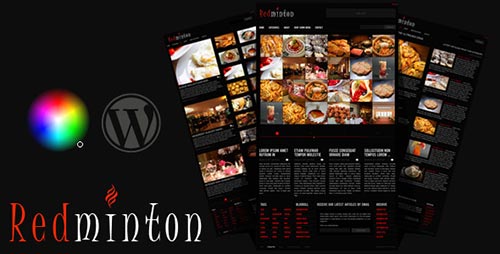 Redminton is a clean WordPress theme what use a sliding paginator, and is great for restaurant or food related websites, photograph walls, design showcase, magazine or blogs, but not only.
Ermark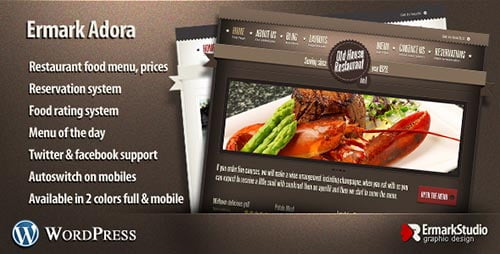 Ermark Adora is a clean WordPress theme best suited for restaurants, cafes and product showcase sites.