Explore our comprehensive selection of top-tier Best Health and Medical WordPress themes designed for health and wellness websites and blogs. This collection encompasses a wide range of purposes, making them suitable for doctors, dentists, hospitals, health clinics, physicians, physiotherapists, surgeons, and other healthcare professionals.
One key feature that unites all these themes is their exceptional quality. Each theme offers fully customizable layouts, ensuring that you can tailor them to your specific needs without any coding requirements. These Medical WordPress themes come with a suite of practical elements such as pre-built appointment booking systems, doctor schedules, opening hour displays, contact forms, testimonials sections, galleries, FAQs, and more.
By utilizing these meticulously crafted healthcare and medical WordPress themes, you're poised to elevate your business to new heights without the hassle of coding.
Key Components of Top WordPress Medical Themes
Online Appointment Booking System: The inclusion of an online appointment booking feature is essential, as it enables patients to conveniently schedule, modify, or cancel appointments according to their preferences with these best medical WordPress themes.
News & Updates Section: Maintaining an up-to-date news and announcements section demonstrates your active engagement with the community. It conveys your readiness to provide timely information and respond to important medical matters.
Blog and Forum: A blog and forum serve as platforms to disseminate medical knowledge, address common health concerns, and establish your expertise. Consistently posting relevant medical WordPress theme content not only improves your search engine ranking but also attracts potential patients seeking reliable information.
Services Page: Clearly outline the array of services you offer, accompanied by comprehensive descriptions and transparent pricing details. This helps prospective patients gain a clear understanding of the medical solutions you provide.
Contact Information: Ensure that your contact details are prominently visible across all pages. Incorporate your contact information in the header and footer sections. A dedicated "Contact Us" page is indispensable, featuring your physical address (preferably with a map), contact number, operational hours, links to social media profiles, feedback forms, and other means of communication.
Best WordPress Themes for Healthcare and Medical
WordPress stands as the leading website builder globally, widely embraced by medical experts, physicians, consultants, and healthcare practitioners for crafting their websites. Two distinct versions of medical WordPress themes are available: WordPress.com, offering a hosted solution, and WordPress.org, presenting a self-hosted platform. A comprehensive comparison between the two can be found in our WordPress.com vs. WordPress.org guide.
1. BRIDGE
Thanks to its versatile nature, the powerful and functional Bridge theme can also be effectively utilized as a WordPress theme for health and medical purposes. Whether you're a medical professional, such as a doctor or surgeon, or if you own a clinic, Bridge offers immediate solutions to cater to your needs.
Even if your aspirations involve being a life coach or starting a health-focused blog, Bridge provides the necessary web design and additional elements to meet those requirements.
The range of features offered by Bridge is extensive, making it challenging to cover all of them here. With over 610 demos available, Bridge is well-equipped to fulfill various purposes. Furthermore, you have the freedom to enhance and customize the default appearance to align with your branding.
In essence, Bridge empowers you to transform your ideas into reality, no matter what they may be.
2. TheGem
TheGem stands out as a sophisticated and responsive multipurpose WordPress theme, boasting a smart and polished design.
Crafting pages becomes a breeze thanks to integrated plugins like WPBakery Page Builder, streamlining the process. Effortlessly delve into customization with just a few clicks, tweaking layouts and sections to your heart's content.
Whatever your needs, you're covered with a vast selection of over 400 demos. Specifically, those in the medical field applaud TheGem for its tailored health and medical website samples.
Unleash your creativity by selecting from a multitude of color palettes and Google Fonts. Personalizing headers and footers is a matter of seconds, granting you complete flexibility.
On top of everything, complete WooCommerce plugin compatibility simplifies the process of promoting your services. Don't hesitate to explore TheGem today and elevate your business to new heights!
3. Kallyas
Kallyas stands out as a versatile WordPress theme that offers adaptability and simplicity for various subjects, boasting an impressive collection of 70+ homepages.
While catering to professional users, this theme doesn't neglect personal topics and blog demonstrations either.
Leveraging WooCommerce integration, Kallyas effectively handles all aspects of business management. It also includes pricing tables, streamlining the process further.
The theme also facilitates the creation of forums and chat rooms through bbPress and BuddyPress.
Kallyas excels as an all-encompassing theme, optimized for various screen sizes, ensuring rapid loading and strong SEO performance.
For those new to using medical WordPress themes, Kallyas provides user-friendly documentation and tutorials to aid the learning process.
Embrace the creativity of designing a health and medical WordPress theme website using Kallyas and enjoy the process.
4. Kalium
Kalium presents an appealing solution for various websites, particularly those in the health and medical domains. Within its collection of pre-designed demos, you're bound to discover the ideal fit for your specific goals. Once found, you have the flexibility to maintain it as is or make further adjustments according to your preferences.
The user-friendly drag-and-drop page-building approach of Kalium facilitates swift and effortless customization. Noteworthy features encompass Slider Revolution, a selection of over 15 headers, provisions for coming soon and maintenance modes, seamless one-click import of demo data, as well as neatly designed pricing tables.
Furthermore, Kalium places emphasis on SEO and speed optimization, ensuring exceptional performance and top-tier outcomes. Embrace the potential of Kalium to amplify the reach of your health and medical enterprise, propelling it to new levels of success.
5. Divi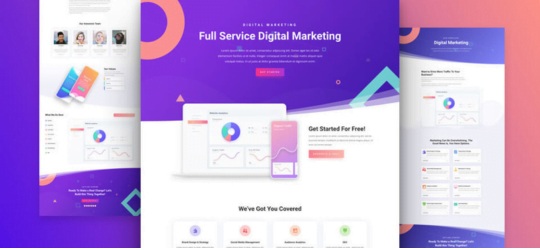 Divi stands out as an impressive WordPress theme that proves particularly useful for various website purposes, including those related to health and medical fields.
Thanks to its intuitive drag-and-drop page builder, you can design your desired website effortlessly, all without requiring any coding expertise.
The convenience is truly remarkable. While you have the option to directly utilize Divi's ready-made content, you also possess the flexibility to refine every aspect to align perfectly with your business needs.
Leveraging the user-friendly drag-and-drop functionality, you have the creative freedom to visually customize and construct every element. Take your venture into the medical sector with a touch of uniqueness through the incredible potential of the Divi theme.
6. Jevelin
Jevelin stands out as an exceptional WordPress theme designed for health and medical endeavors, catering to a wide range of applications. Its versatility makes it suitable for diverse industries and niches.
Boasting an array of demos and exceptional customization capabilities, you can swiftly establish an essential website.
Jevelin incorporates fixed navigation, an appointment form, pricing plans, and continuous content loading, and guarantees complete mobile responsiveness in terms of its features.
The result is a remarkable user experience, enabling prospective patients to gain comprehensive insights about you prior to scheduling an appointment.
7. Infinite
Infinite stands out as a capable and adaptable multipurpose theme for WordPress. It serves as an ideal and versatile foundation, allowing you to easily create a polished and personalized website, whether for professional or personal use.
Furthermore, the inclusion of Slider Revolution, Master Slider, and LayerSlider provides dynamic avenues to capture and maintain user attention, enhancing their interaction with your content.
With seamless integration of the WooCommerce plugin, Infinite seamlessly transforms into a complete eCommerce solution. This remarkable flexibility and expansiveness empower you to confidently undertake projects in various domains, including the medical field, all while utilizing the full potential of Infinite's features.
8. MediCenter
MediCenter stands out as a contemporary and sophisticated WordPress theme designed for health and medical endeavors. It offers a high degree of adaptability, featuring a selection of more than 600 diverse fonts, 6 customizable color schemes, and an abundance of icons and shortcodes.
One of MediCenter's standout features is its integrated schedule manager, accompanied by 20 distinct page layouts, pricing tables, and a robust page builder. This comprehensive package ensures a seamless start for your projects, making MediCenter an all-encompassing solution.
9. Pearl
Introducing Pearl, a versatile theme designed for showcasing specialized demos tailored to specific topics. No matter the nature of your intended business venture, Pearl is equipped to accommodate it seamlessly. This theme covers a wide range of industries, including a dedicated demo catering to health and medicine enterprises.
With its responsive layout and robust drag-and-drop builder, Pearl ensures a user-friendly experience. In addition, advanced pricing modules and appointment booking features are included. You have the ability to create informative pages highlighting various departments and staff members.
Pearl goes a step further by offering functionalities such as emergency ambulance calls and trial sign-ups. This meticulously crafted theme is designed to streamline your efforts, saving you both time and energy.
10. Medicare
Medicare presents an elegant and professional multipurpose theme designed for seamlessly creating highly functional websites in the medical sector. Whether you're in the field of dentistry, psychiatry, veterinary care, or others, Medicare offers comprehensive solutions.
With its powerful admin panel settings, you can customize your website without any need for coding expertise. This user-friendly approach ensures that tailoring your website to your preferences has never been as effortless as it is with Medicare!
11. LeadEngine
LeadEngine stands out as an intuitive and adaptable multipurpose WordPress theme suitable for users of all proficiency levels. It assures exceptional outcomes, irrespective of your prior background or familiarity.
LeadEngine proves to be an excellent match for doctors, medical establishments, and practices. Its dedicated Medical demo presents a comprehensive website catering to all conceivable requirements in this domain.
With WPBakery, customization becomes effortless without any need for coding, ensuring a seamless experience. Effortlessly blend and juxtapose layouts, styles, components, and shortcodes with just a few clicks. Moreover, its advanced options permit meticulous adjustments for aspects such as colors, fonts, and animations.
Elegantly display your professional accomplishments and services through understated and refined portfolios. Thanks to its eCommerce compatibility, LeadEngine even streamlines the process of promoting your services online.
12. Revolution
Achieve your heart's desires effortlessly using the incredible and highly customizable Revolution platform. This holds true even for health and medical WordPress themes, as Revolution excels in catering to this specific niche. Among its numerous pre-designed demos, Revolution offers a dedicated one tailored to medical websites.
Experience captivating animations, seamless transitions, a fixed navigation bar, a slider for testimonials, a user-friendly contact form, and integrated Google Maps – just a glimpse of the extensive array of features it provides.
With its readily available content, over 200 pre-designed web elements, and virtually limitless possibilities, you can swiftly bring your health and medical website to life.
However, feel free to infuse your personal creativity into Revolution to truly impress and captivate your audience.
13. Health Center
The Health Center theme is designed for medical websites and can also be used for blogging and selling medical equipment. It offers the option to use the provided demo content as-is or customize it to enhance its appearance.
Furthermore, the theme includes an attractive one-page parallax design that can serve as the default layout. Alternatively, you can opt for a more conventional multi-page setup if you prefer.
Feel free to express your individuality and make the theme your own.
14. Exponent
If you're in the healthcare industry—whether you run a hospital, clinic, dental practice, or are a doctor or surgeon—Exponent stands out as the ideal WordPress theme tailored to your needs.
Craft an elegant website to showcase your various departments and effectively highlight the range of services you provide using Exponent's features.
With a comprehensive pre-designed layout, you can jumpstart your website project effortlessly. However, you can easily align it with your brand aesthetics, incorporate personalized content, and leverage the abundance of additional features that Exponent offers.
Upon embracing Exponent, navigating the website-building process becomes smooth and uncomplicated.
15. MedicalPress
If you're seeking a tailored theme crafted specifically for the health and medical sectors, while still providing ample customization possibilities, consider exploring MedicalPress. This theme proves to be a reliable choice for professionals like doctors, dentists, clinics, and other healthcare practitioners aiming to disseminate health-related information or attract new clientele.
MedicalPress boasts a range of features thoughtfully designed for health and medical websites. These encompass multiple appointment request forms, ready-made template pages for showcasing services and highlighting key staff members, as well as dedicated sections for displaying testimonials. The theme also supplies an array of demo content that greatly aids in developing crucial sections of your website, such as a dynamic homepage, an appealing image gallery, and a comprehensive FAQ section.
However, you're not confined to the default templates – MedicalPress offers an extensive spectrum of customization options. It provides diverse layout styles for pages and galleries, granting you the ability to fine-tune virtually every element from the provided demo content. The theme's flexible options empower you to infuse your unique style by altering colors, fonts, backgrounds, and more. Additionally, there's a pre-designed news page that accommodates posts, should you wish to maintain a blog for updates and informative content.
16. Composer
Composer is a highly versatile WordPress theme that can be easily adapted for various professional services, boasting over 90 demos catering to special concepts. With customizable typography, color schemes, and headers, this theme provides ample room for creative expression. Building your website is a breeze with access to a vast array of resources: 300+ pre-designed blocks and 200+ layouts are at your disposal.
Stay connected with your audience using Contact Form 7 and the MailChimp newsletter integration. The inclusion of WooCommerce and Yoast ensures seamless e-commerce functionality and improved SEO. To streamline your workflow, take advantage of the extensive library of 100s of shortcodes.
Moreover, Composer prioritizes user experience by being responsive and retina-ready, ensuring optimal display across all devices and screen sizes. Worried about navigating the setup process? Fret not! A comprehensive video tutorial is on hand to guide you through every step.
Leverage the power of Composer to craft a professional and trustworthy website for your healthcare company!
17. HEALTHFLEX
HealthFlex stands out as an incredibly convenient multipurpose theme for WordPress businesses. Meticulously designed, this theme comes with a strong foundation, offering simplicity in customization.
Even without any coding or development background, HealthFlex empowers users to create polished websites with ease. Its focus is on producing appealing and contemporary websites tailored to the health service sector.
The theme comes bundled with a range of top-notch plugins designed especially for creating attractive medical websites. Additionally, it seamlessly incorporates commercial capabilities into a user-friendly and exceptionally intuitive interface.
Thanks to HealthFlex's adaptable nature, setting up medical websites takes just a matter of minutes, showcasing its impressive flexibility.
18. Physio
When patients visit a medical facility, it's crucial for the environment to feel warm and personal, as this helps alleviate the inherent fear many have about medical appointments. Thankfully, the "Physio" theme offers a solution by creating a welcoming atmosphere on your website.
In contrast to more serious themes, Physio adopts a friendly and approachable design. One notable feature is its unique purple accent color, setting it apart from the usual blue and black color schemes of most medical WordPress themes. If you desire a different aesthetic, Physio provides numerous customization options through the WordPress Customizer, and you can easily design layouts using a user-friendly drag-and-drop page builder.
What sets Physio apart is the inclusion of the premium Booked plugin, allowing patients to effortlessly schedule appointments through an intuitive calendar system. This valuable feature ensures that your website is well-equipped for managing various aspects of your medical practice.
19. SoulMedic
SoulMedic presents a sleek and contemporary theme designed for the medical and health sector with a flat and minimalist aesthetic. It offers seamless compatibility with WooCommerce for online shops and WPML for multilingual capabilities. The theme features a convenient Mailchimp newsletter integration widget.
SoulMedic provides dedicated sections for an events calendar page, as well as pre-designed templates for showcasing doctor profiles and departments. Notably, the theme includes two premium slider plugins, Slider Revolution and Layer Slider, bundled within the theme package at no additional expense.
20. iMedica
iMedica stands as a bright and clean theme specifically tailored for medical establishments like clinics and doctor's offices. Its minimalist color palette and layout radiate professionalism and capability, while the addition of parallax backgrounds brings a modern touch. However, beneath its clinical façade lies a plethora of features and functionalities.
Designed to be responsive and retina-ready, iMedica provides versatile design choices, enabling you to customize its appearance to align with your organization's identity. The package encompasses over 20 pre-designed homepage variations, multiple header possibilities, and more than 10 demo pages, which can be effortlessly imported with a single click for convenient personalization.
Additionally, the theme comes equipped with supplementary plugins such as Timetable for scheduling purposes, and the Before After and Revolution sliders for visually captivating image presentations. Social media integration and a header-based search bar provide the finishing touches to iMedica's features. Moreover, the theme offers diverse support avenues, including video tutorials and training webinars, in addition to conventional direct support and online documentation.
21. Health and Medical
The Health and Medical WordPress theme offers a versatile and elegant design that adapts well to various health-related websites, such as health clinics, hospitals, and dental practices. It is also suitable for any healthcare-focused organization.
By incorporating WooCommerce functionality, the theme enables online payment processing and seamless transactions. Additionally, you have the option to establish a blog to disseminate relevant news, advice, and valuable insights.
Utilizing Health & Medical ensures that your website perfectly aligns with your creative vision, with its aesthetics tailored to your preferences.
22. Sway
Sway excels in managing a wide range of healthcare facilities including hospitals, clinics, and medical institutions, as well as the professionals such as doctors and surgeons associated with them. Utilizing a professional WordPress theme will distinctly position you ahead of your competitors, significantly enhancing your potential to an exceptional degree.
Effectively showcase your array of services and specialized departments, provide introductions to your esteemed medical practitioners and dedicated staff, and present compelling testimonials – the possibilities are limitless with Sway's capabilities.
Moreover, Sway boasts interactive accordions designed for addressing frequently asked questions and integrates Google Maps to provide precise location information.
Embark on establishing an impactful online presence through a dedicated blog, while the seamlessly integrated contact form facilitates streamlined communication with visitors. With Sway, you have the platform to extend your assistance to a broader audience, making a meaningful difference in people's lives.
23. Webify
Webify stands out as an incredibly versatile WordPress theme suitable for creating health and medical websites with utmost ease.
Among the many useful attributes of Webify is its online appointment form, strategically placed call-to-action buttons, engaging loading animations, seamless video integration, collapsible accordions, authentic testimonials showcase, and seamless integration of Google Maps.
The design of Webify is not only responsive, adapting flawlessly to various screen sizes, but it also ensures compatibility across different web browsers. Additionally, the theme boasts exceptionally swift loading times, contributing to a positive user experience.
24. OneLife
Onelife serves as a specialized WordPress theme tailored for the beauty and plastic surgery domains within the medical field. This theme caters to both product-selling companies utilizing WooCommerce and private clinics. It seamlessly incorporates prominent plugins such as WPBakery, mega menu functionality, and Slider Revolution, among others.
Moreover, Onelife boasts distinct attributes like dedicated lists for medical practitioners, user-friendly appointment forms, and the flexibility to creatively customize widgets and headers. It facilitates easy social sharing, enhancing online engagement.
Simplifying the customization process, Onelife incorporates an array of convenient shortcodes, eliminating the need for intricate programming tasks. Notably, it maintains compatibility with MailChimp for email marketing and WPML for multilingual content management.
Unlock the potential of this versatile and comprehensive tool, Onelife, to enhance your online presence in the medical aesthetics field.
25. Apicona
Apicona presents a vibrant and comprehensive medical theme option that strikes a balance between a clean layout and a touch of artistic flair, steering clear of overly minimalistic designs. It boldly embraces the use of color and parallax effects to create an engaging visual experience. Its adaptability spans a wide range of applications, catering to diverse medical fields, from therapeutic services to dental practices and even dermatology clinics.
Distinguished by its remarkable flexibility, Apicona empowers users to tailor the theme to their preferences. This includes selecting from an array of layouts, header designs, color schemes, and Google Fonts. The theme accommodates various post formats, enhancing content diversity. With over 15 preloader icons to choose from or the option to upload custom icons, Apicona provides a personalized touch right from the start.
The inclusion of the WPBakery Page Builder plugin streamlines the customization process, enabling effortless page building. Alternatively, users can swiftly import demo content with just a single click, simplifying the setup. The availability of five readily available templates further expedites the design process. Additionally, the theme grants control over the configuration of the site's login page.
Apicona extends support for a range of prominent plugins, either incorporating them directly or ensuring compatibility. These encompass WPML for seamless translation, Events Calendar, Revolution Slider, and bbPress for interactive forums. The theme is fully responsive and optimized for retina displays, ensuring an optimal viewing experience across devices. Moreover, users can select from a variety of scroll effects to enhance user engagement.
26. Clinico
Clinico is a highly suitable choice for businesses in the medical and health sector, including clinics, doctors' offices, hospitals, and pharmacies. Although the initial impression might appear busy, with a prominent slider and large icons, this complexity gives way to a sleek and contemporary design.
Being both responsive and retina-ready, Clinico boasts a plethora of valuable features. These include a visual page builder, an array of layout and color possibilities, and seamless integration with Google Fonts and Font Awesome icons. A notable feature is the easily accessible doctor search located beneath the persistent header.
While its design and feature set might not immediately stand out, Clinico compensates with its well-organized content blocks. Each section or post is clearly presented, eliminating the need for extensive navigation when seeking staff pages, departments, or services. Furthermore, the homepage conveniently incorporates an appointment scheduling form.
27. MediClinic
MediClinic, a health and medical WordPress theme, comes with 12 home demos and a variety of useful internal sections to cater to your needs. It simplifies the process of launching your online platform and adapting it to your requirements.
With MediClinic, you have the capability to fine-tune and improve the default settings to align perfectly with your branding guidelines. The theme also incorporates numerous premium plugins without any extra charges, an intuitive admin panel, comprehensive documentation, and a one-click demo data import feature.
When creating a website for medical professionals, clinics, or healthcare establishments, make the most of MediClinic's benefits to create a tailored and effective online presence.
28. RT-Theme 20
RT-Theme 20 stands out as an advanced and versatile medical multipurpose theme. Meticulously designed, it boasts an extensive array of potent tools and refined features that exude a professional level of precision.
This theme dramatically simplifies all tasks associated with crafting attractive, operational, and contemporary websites that cater to a wide range of interests and requirements.
Harnessing RT-Theme 20's integrated product showcase capabilities, your products and services will undeniably captivate customers and clients right from the outset. (Experience the effortless, one-click installation process.)
To conclude, your content will be effortlessly accessible to your audience on any platform or device, regardless of their location, ensuring a seamless and consistent experience.
29. Medin
Opt for the efficient route of utilizing Medin instead of starting the medical website creation process from the ground up. With its ready-made demos, you can promptly establish websites for surgical, dental, and clinic purposes.
While the demo content is at your disposal, you're welcome to refine and augment it to align with your requirements.
Medin is further equipped with useful features like WooCommerce integration, a well-designed timetable and schedule function, multiple pre-defined color schemes, and a compelling page for showcasing before-and-after testimonials.
Moreover, managing your appointments online becomes a seamless task, promoting better organization for your business.
30. DentiCare
While DentiCare is primarily designed for dentists and dental clinics, its versatility makes it suitable for various medical purposes as well. The package comes with four pre-built demos that enable users to create a sophisticated website effortlessly.
Additionally, DentiCare boasts features such as a cost calculator, pricing tables, before-and-after image slider, booking forms, and parallax effects, among others.
This clean medical WordPress theme offers complete customization, allowing users to fine-tune every aspect to align with their specific requirements and compliance standards. Furthermore, it supports translation and can be utilized with right-to-left (RTL) languages.
Conclusion
Selecting the appropriate health and medical WordPress themes is a pivotal stage in establishing a thriving website for your healthcare enterprise. The paid Medical WordPress Themes highlighted in this article have undergone testing and meticulous selection to ensure they provide the utmost features and functionality for your site.
These Best WordPress Themes for Medical come with remarkable attributes, including an appointment scheduling system, support for eCommerce, retina-ready display, responsive layout, integrated SEO settings, compatibility with various browsers, and comprehensive customization possibilities.