Discover the finest selection of yoga WordPress themes, tailor-made for creating captivating yoga studio websites or establishing a personal yogi brand. Embrace the boundless possibilities offered by WordPress in combination with these reliable themes.
With a yoga theme at your disposal, you can bid farewell to complex coding and other technical intricacies. Say hello to a seamless website-building experience that grants you complete creative freedom.
Even amidst your busy schedule of marketing your business and teaching yoga classes, you'll find ample time to craft your dream website effortlessly. The process is swift, straightforward, and devoid of excuses.
Inhale inspiration with the perfect WP theme. Exhale a stunning website. It's truly that easy!
Key Features of Modern Yoga WordPress Themes
1. Online Classes
Offering online yoga classes is crucial in today's world, providing flexibility for yoga enthusiasts to practice at their convenience. With a yoga website, you can share your classes online and update the schedule easily, accommodating your community's needs and preferences.
2. Events
If you are growing a loyal community of yogis, you will want to host different events. But these can be online, too. For this, let a web design from the collection below do the trick and sort out full promotion of all the different events you plan to host.
3. eCommerce
Expand your website with an eCommerce section to sell merchandise like clothing, yoga mats, and equipment globally. This creates an additional stream of income for your growing personal brand and takes your business to the next level.
4. Design
These yoga WordPress themes not only allow you to create a website design that reflects your style, but they also offer a calming and easy-on-the-eye appearance. Start your online yoga experience with a website that invites visitors to enjoy your world of yoga in a pleasant and soothing manner.
5. Appointments
You can fully automate appointment bookings and reservations through dedicated forms of these yoga base WordPress Themes. Receive notifications and sync appointments with Google Calendar for seamless organization. Choose from beautiful yoga WordPress themes with tons of customization possibilities to unleash your creativity and ease your journey. Get started now and make the most of the theme that resonates with you best!
Best WordPress Themes for Yoga Studio
We've gathered a list of all the best yoga WordPress themes to make a yoga studio website or build a personal yoga brand.
1. Divi – Yoga Studio Theme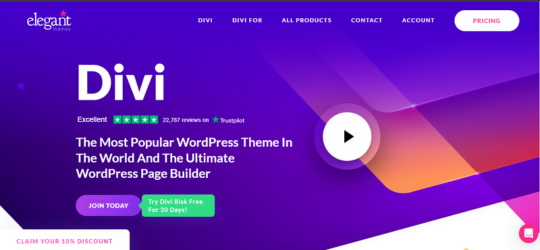 Introducing Divi, the WordPress theme that has earned the top spot on everyone's favorite list for building yoga websites. Its versatility knows no bounds, providing customers with limitless potential to craft a successful web page.
Upon installation, Divi grants access to an impressive array of pre-designed layouts, eliminating the need to start from scratch and expediting the development process.
Even first-time website owners can revel in the ease of the Divi Builder, allowing them to create dynamic websites in no time.
With Divi modules as the cornerstone of your site, you can seamlessly combine them in diverse layouts, serving as the foundational building blocks for your yoga website. So, dive in and unleash your creativity!
2. Bridge – Yoga WordPress Theme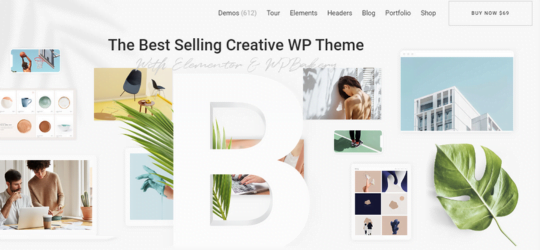 Bridge is the ideal choice for anyone involved in yoga, be it yoga teachers, yogis, or yoga studio owners, seeking to establish a captivating online presence. With Bridge at your disposal, there's no need to hire someone to create your fantastic yoga website.
Even amidst a busy schedule, crafting your website with Bridge is a breeze, taking only a few moments to achieve a polished result.
Bridge offers two exclusive yoga demos, providing you with two distinct variations that are sure to impress all visitors to your website.
You can showcase your yoga schedule through a categorized timetable, highlight the different types of yoga you offer, and create an alluring gallery. Moreover, the newsletter subscription widget allows you to capture visitor emails and nurture your business for optimal growth. With Bridge, your yoga journey is bound for success!
3. Jevelin – MultiPurpose WordPress Theme
Look no further than Jevelin, one of the finest yoga WordPress themes available. With its entirely visual drag-and-drop process for layout customization and page building, even beginners can bring their website vision to life effortlessly. The inclusion of the remarkable Slider Revolution slideshow builder adds to the seamless website creation experience.
Jevelin offers a plethora of demo websites and template pages, streamlining your work and speeding up the development process.
Tailor-made for yoga studios, instructors, and enthusiasts, Jevelin boasts a seamless blend of top-notch blog, portfolio layout, and custom settings, enabling you to keep your audience updated while showcasing your classes and service packages.
Thanks to its full integration with the WooCommerce eCommerce plugin, you can start marketing your yoga business directly from your website on the same day you set it up. Don't wait any longer; experience the wonders of Jevelin now!
4. TheGem – Creative WordPress Theme
TheGem stands as a dependable and versatile WordPress creative multipurpose theme. It comes equipped with the industry-standard WPBakery plugin, empowering you with boundless visual and layout customization options through 250+ customizable settings and over 60 custom-built elements.
With a vast collection of demo websites and page templates, TheGem ensures a quick and effortless start regardless of the type of website you're creating.
With over 400+ demos and pages to choose from, you'll find a perfect fit for any project.
Thanks to seamless integration with the WooCommerce eCommerce plugin, TheGem becomes a skilled salesman, making it effortless to market your products and services. Experience the magic of TheGem today and prepare to be amazed!
5. KALLYAS – WordPress Yoga Theme
If you're a yoga enthusiast looking to turn your passion into a business, Kallyas is the perfect yoga WordPress theme to elevate your journey remarkably. Among its impressive selection of 70+ samples, you'll discover a dedicated theme tailored for the yoga community – truly beautiful!
Browsing through the live preview of Kallyas, you'll be delighted to find that a significant portion of the work has already been done for you. With minor adjustments such as changing colors and adding your content, your website will be ready for a splendid launch.
Kallyas' yoga demo comes equipped with outstanding assets and characteristics, allowing you to bring your project to the online world and make it stand out in the digital landscape. So, embrace Kallyas and embark on your journey to showcase your love for yoga with a captivating online presence!
6. Kalium – WooCommerce & WordPress Theme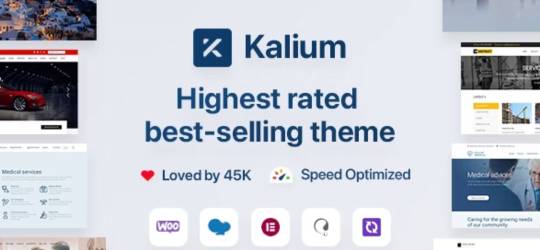 Kalium is a dynamic WordPress creative website theme designed for professionals, offering a plethora of high-quality demo websites and layout styles to effectively showcase your products or services to the world.
Yoga studios and centers particularly admire Kalium for its comprehensive and fully functional Yoga demo website template, enriched with powerful commercial features integrated with WooCommerce.
The theme also boasts multiple shop page templates in diverse layout styles, presenting crisp and colorful pricing plans and product descriptions, and much more under the hood.
With Kalium's seamless handling of video content through HTML5 coding, you can effortlessly showcase your yoga routines and classes. Kalium truly provides everything you need and goes beyond your expectations!
7. Sway – WordPress Yoga Theme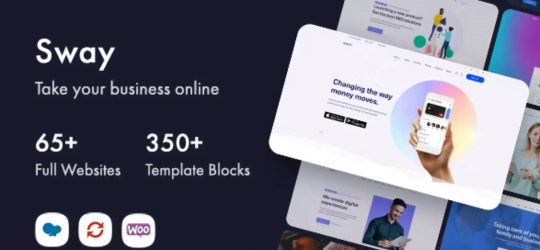 By activating Sway, you can effortlessly craft a tranquil website tailored for yogis and yoga studios. With its ready-to-use demo material, you can swiftly go live, promote your classes, provide answers to inquiries, and aid people in enhancing their yoga practice.
The out-of-the-box design is already visually appealing and engaging, but you have the freedom to add your creative touch to enhance it further.
Sway comes packed with remarkable features, including a unique testimonials section, newsletter subscription, contact form, sticky menu, and various eye-catching animations. Additionally, you can expand your online presence by incorporating a blog and setting up an online store using Sway.
The possibilities are endless, empowering you to create a truly captivating and comprehensive yoga website.
8. Litho – Elementor WordPress Theme
Greetings, fellow yogis! Embrace the incredible flexibility of Litho, one of the most versatile WordPress themes suitable for any occasion. Elevate your yoga project to new heights with the plethora of practical features it offers.
With Litho, establishing an impactful online presence for your yoga studio becomes a breeze. Thanks to the Elementor page builder, you'll save both time and money while creating your website.
Prepare to be amazed by Litho's array of awesome animations, video support, class showcase, and captivating testimonials and quotes. The parallax effect adds an extra touch of sophistication to your website.
But here's the cherry on top – Litho allows you to customize every aspect to match your unique style, infusing your creative touches throughout the entire website. So, embark on your journey with Litho and let your yoga studio shine brightly on the digital landscape!
9. Webify – All-in-One WordPress Theme
Attention yogis and yoga studios! Look no further than Webify – the ultimate yoga WordPress theme designed to cater to all your needs. With its sleek web design, Webify provides everything you require for both group and individual yoga classes.
No need to start from scratch; simply choose from Webify's impressive selection of demos, and the rest is history! If you love any of the ready-made examples, you can utilize the demo as is and only modify the content and texts, leaving everything else intact.
But that's not all – Webify's flexibility and extendability allow you to effortlessly modify anything you desire through simple drag-and-drop actions. So, get ready to shine online with Webify and make a remarkable difference with your yoga website!
10. Etalon – Multi-Concept WordPress Theme
Introducing Etalon – a dynamic WordPress theme designed to cater to various fitness and wellness-related purposes. With its impressive collection of 20+ demos, you'll find several perfectly tailored for your fitness life.
Etalon boasts a creative and visually appealing design, highly focused on providing an exceptional experience for customers. Equipped with the powerful WPBakery page builder and the Redux framework, you can effortlessly customize your website to suit your preferences.
Client communication is made seamless with various forms and contact methods available. The theme also supports Google Maps integration, simplifying the process of locating your fitness studio or center.
Customizable headers and footers offer the flexibility to add widgets and social media buttons, enhancing the overall functionality of your website. Additionally, Etalon provides several portfolio pages to showcase your outstanding work in a specific and eye-catching manner.
Built on a robust code, Etalon ensures compatibility with SEO practices and delivers exceptional performance, ensuring a fast and smooth browsing experience.
Experience the impressive and comprehensive features of Etalon with just one click.
11. Yoga Fit – Sports WordPress Theme
Yoga Fit is an advanced and highly responsive WordPress theme crafted for sports, fitness, and gym websites. It offers a seamless and efficient way to build related websites quickly and effortlessly.
Packed with powerful functions and features, Yoga Fit also comes with a selection of premium plugins customized to suit your needs, enabling you to get your fitness website up and running in just a matter of minutes.
Thanks to its total integration with WooCommerce, Yoga Fit allows you to market your services and classes directly to your audience, right from your website.
The inclusion of the Classes Post Type further streamlines your workflow, making it remarkably easy to inform the public about your upcoming classes, with all essential information neatly displayed in a deliberate and visually appealing design.
Embrace Yoga Fit and embark on a journey to create an outstanding fitness website.
12. Kriya – Yoga WordPress Theme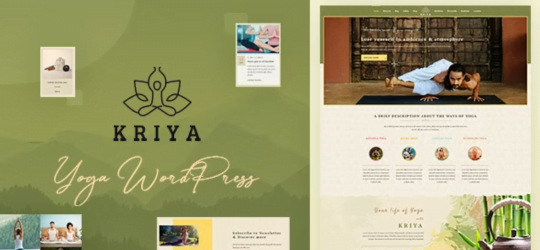 Kriya Yoga is a stunning WordPress theme dedicated to health and yoga, designed with business orientation to showcase academies or yoga instructors.
With the powerful WPBakery page builder and its extensive customizations, filters, and pre-designed pages, Kriya Yoga offers a seamless website-building experience. Enjoy the convenience of a powerful mega menu and a variety of well-crafted layouts to choose from. Additionally, the theme provides numerous blog options, allowing you to personalize your website.
Organize workshops, level modules, and create detailed pages to explain yoga poses and movements effectively.
With Kriya Yoga, you can easily arrange classes, courses, and events, allowing people to sign up online. The theme also supports WooCommerce and the Events Pro calendar.
Expand your spiritual guidance organization and attract new followers. Share the benefits of yoga with beginners or skeptics – the possibilities are endless!
Experience the luxury and user-friendliness of Kriya Yoga as you embark on your journey to promote health, yoga, and spiritual well-being.
13. Anahata – Yoga, Fitness, and Lifestyle Theme
Enticing images, balanced white space, and vibrant color accents of Anahata impress. Invest in one of the best yoga WordPress themes to improve your business.
It comes with beautiful Timetables functionality to simplify the managing process. Thanks to the Events Calendar plugin, keeping your visitors updated can be as simple as a few clicks.
Indeed, many eCommerce options allow you to launch your online store in mere minutes. Now you know how to get your kicking website started off the gate.
14. Yoku – Yoga Studio & Ayurveda WordPress Theme
Yoku is a yoga WordPress theme ideal for studios and anything Ayurveda-related. It has a clean and engaging appearance that will help present your yoga business online in the best light.
You can work with the sample material out of the box or fine-tune it further. With Yoku, coding knowledge is not necessary.
Moreover, the theme features a learning management system, offline classes, live streams, a timetable, 22 headers, and Slider Revolution, to name a few.
You can now kick-start the website development and set it in little to no time with Yoku.
15. Yogastudio – Healthcare WordPress Theme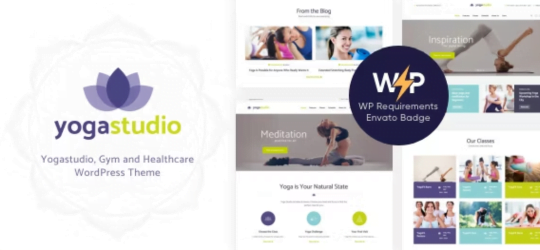 Yogastudio is specifically tailored to meet the requirements of yoga centers, making it a must-try for anyone in the field. Even if you're new to website building, Yoga Studio offers a wealth of capabilities that will take you far.
With the WPBakery page builder, say goodbye to coding and effortlessly create unique layouts for your website. Sell your services or sponsored products with ease, and allow your users to make payments directly on your website.
Efficiently manage your schedules and explore numerous setting styles to optimize your business's profitability. Yogastudio is here to make a remarkable difference for your yoga center, simplifying the process of running and growing your business.
16. Jogasana – Yoga-Oriented WordPress Theme
Jogasana is a yoga WordPress theme with 4 remarkable home pages. No matter your choice, it guarantees that the final product will be charming and modern. Jogasana also ensures that the performance of your new page will be smooth and stable across all devices and platforms.
Even if you take the speediest approach and employ Jogasana as is, you can expect a killer online presence. Jogasana comes with a WPBakery page builder, Slider Revolution, mega menu, different header and footer styles, a Timetable plugin, and 50+ elements.
Jogasana delivers all the necessary and a horde more for your convenience. Personalize Jogasana now and make it pop – the outcome will be phenomenal.
17. BeYoga – Gym WordPress Theme
Want your visitors to take action on your site? Great! BeYoga can help make it incredibly easy for them to do so. So, investing in one of the best yoga WordPress themes makes sense.
With myriad ways you can promote your brand, letting your visitors buy your products or services is key to success. Indeed, the functionality of WPBakery builder eases your pain (no coding – ever!) from day one.
Create sliders that promote your best products or upcoming events to engage visitors more online. BeYoga executes everything cleverly to create a smart and rewarding website fast.
18. Do Yoga – Fitness Studio WordPress Theme
Do Yoga exudes motivation and encouragement, captivating visitors and inspiring them to take action on your website? With its clean design, this theme is a perfect fit for fitness centers, yoga blogs, and wellness websites.
Effortlessly manage your schedule and showcase your classes in an elegant and sophisticated manner. The integrated WooCommerce section simplifies the process of selling your products online.
Grab Do Yoga and fall in love with its features. Embrace the ample white space, harmonious hues, and vibrant color accents that make your content stand out and create a visually appealing experience for your audience. We're sure you'll love it, just like we do!
Conclusion
Embrace these yoga themes to build a Clean and Delightful Website, inspiring others to adopt a healthy lifestyle. Not only can you promote your yoga instructing career, but you can also create sites for beauty salons, spas, and more.
And if you're interested in helping people achieve their best online presence through other methods, explore the Best WordPress themes tailored for multiple businesses. These templates are perfect for gyms, health clubs, sports centers, and more. Get started now and make a positive impact in the business world!