Now, creating a website for your podcast is easier than ever, even if you don't have coding skills. With dedicated WordPress themes designed for podcasts, everything is set up for you: an appealing web design, an integrated audio player, and essential tools. This goes beyond just having a successful iTunes feed with numerous downloads.
By having a website, you open up new avenues for advertising and provide a direct player link for your feed. This eliminates the need to divert traffic to platforms like iTunes, Spotify, or SoundCloud. All your podcast-related content can be centralized in one place.
Diversifying your podcast WordPress theme promotion techniques can greatly enhance your audience growth. Initiating a blog where you discuss your episodes enables you to leverage content marketing through your website. Are you ready to get started?
Why Does Your Podcast Need a Website
For podcasters, having a website is crucial as it enables several benefits. It enhances your visibility and listener base, lends a professional image, and opens avenues for monetization. Furthermore, a podcast website serves as an excellent platform to provide extra content to your audience. You can supplement episodes with accompanying blog posts or distribute supplementary materials, thereby enriching the overall listener experience.
Some of the main benefits of having a website for your podcast are:
Better discoverability. People will be able to find your podcast on Google and other search engines.
Looking professional. Customize how your WordPress podcast website looks through various podcasting themes and create a strong brand identity. It will help build authority and credibility, especially if you're running an educational show, like an agency podcast.
Additional value. Offer more value to your listeners by adding free and useful content such as informative blog posts or downloadable files.
Community building. Add a contact form and additional information for visitors to get in touch with you. You can also collect listeners' email addresses to send them newsletters.
Monetization. There are plenty of ways to make money through a WordPress podcast website, such as offering online courses, selling merchandise, or adding a donate button.
Gaining insight about visitors. Integrate analytic tools such as Google Analytics to find information about where your visitors are from, what page they spend the most time on, and how they found you.
Best WordPress Themes For Podcast
We've carefully selected the top 18 WordPress podcast themes for you among the countless options available.
1. Avada – Best Podcast WordPress Theme
Avada is one of the best podcast WordPress themes. It is a contemporary and elegant WordPress theme that is versatile and can be used to design various types of websites. It is equipped with a visually appealing design and features a built-in live builder, which aids users in crafting distinctive and personalized websites.
Notably, Avada is not only responsive, ensuring that your website adapts well to different screen sizes, but it is also designed to be lightweight and offer fast performance. Its advanced and flexible customization options enable users to make extensive changes to the appearance and layouts of their pages.
The theme boasts compatibility with numerous popular WordPress plugins such as JetPack, Yoast, WPML, Contact Form 7, and Slider Revolution, among others. This compatibility allows users to seamlessly integrate additional functionalities and features into their Avada-powered websites.
In summary, Avada is a stylish WordPress theme with a modern design that suits a wide range of website types. Its features include a built-in live builder for creating unique designs, responsiveness, lightweight performance, and compatibility with various well-known WordPress plugins.
2. Betheme – Multipurpose WordPress Theme for Podcast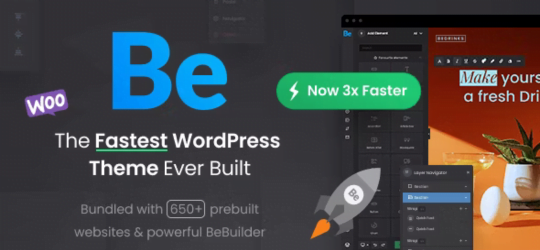 Betheme is another one of the best podcast WordPress themes. It is categorized as a multipurpose WordPress theme that offers a wide range of customization options for building various types of websites, including podcasting websites. With over 650 pre-built templates, it provides a versatile platform to create your desired online presence. Notably, there are more than 25 templates dedicated to music and entertainment-related content.
One of the key strengths of Betheme is its responsiveness, ensuring that your website will adapt and display well across different devices and screen sizes. The theme boasts an impressive array of features, including a powerful admin panel that facilitates easy customization, mega menus for improved navigation, parallax effects to add depth and visual appeal, and the ability to incorporate video backgrounds for an engaging user experience.
For podcasting enthusiasts, Betheme can be complemented with a WordPress podcast plugin after the initial setup. This combination empowers you to establish a fully functional podcasting platform. Leveraging social media integration, you can enable your followers to subscribe to your podcast with just one click, enhancing user convenience and engagement.
3. Soledad
Soledad serves as a versatile WordPress theme that caters not only to blogs and magazines but also to podcasts. It therefore has an important place in podcast WordPress themes. By integrating a suitable WordPress podcast or audio plugin, you can seamlessly incorporate podcasting features into your website.
This theme boasts an extensive collection of over 250 templates designed to facilitate the setup of your website. With the user-friendly WPBakery page builder, you can effortlessly personalize these templates, ensuring a unique look that aligns with your brand. This rapid customization process empowers you to promptly commence publishing your content.
Moreover, Soledad offers the convenience of built-in social media buttons. These buttons play a crucial role in simplifying the subscription process for your podcast, enhancing the overall user experience.
4. Vlog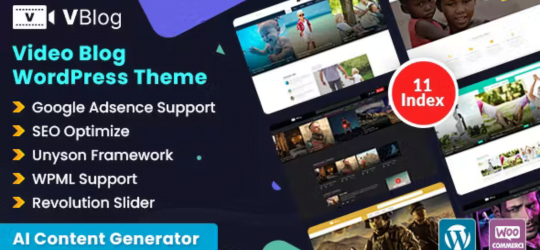 Vlog is a highly popular WordPress theme designed specifically for podcasting, video blogging, online courses, and portfolio sharing. That is the reason users choose it from podcast WordPress themes and make their work even better. This versatile theme allows you to showcase both your videos and podcasts seamlessly on your website.
With Vlog, you have access to a variety of customization options. The theme provides 8 different regular post layouts and 5 featured area layouts, giving you the freedom to create a unique and visually appealing website. With over 200 possible combinations, you can design your site to suit your preferences and brand identity.
One of the key features of Vlog is its responsiveness. The theme is designed to adapt gracefully to various screen sizes, ensuring a consistent and user-friendly experience for visitors regardless of the device they're using.
In terms of content compatibility, Vlog supports various platforms such as SoundCloud, Vimeo, YouTube, and others. This means you can easily integrate content from these platforms into your website without any hassle. Whether you prefer to upload your content directly or embed it from these platforms, Vlog has you covered.
5. Onair2
Oneair2 is another amazing podcast WordPress theme. The Onair2 theme is designed to support the latest podcasting technologies, elevating your website to the highest standards within the industry. With a plethora of pre-designed pages at your disposal, a customizable animated header, and meticulously annotated code, your website-building experience is taken to a new echelon.
Comprehensive documentation ensures that users of all skill levels can create a uniquely designed webpage. For those seeking more advanced customization, the included child theme provides the opportunity to push creative boundaries.
Harness the potential to transform your current business into something grander with an innovative podcast-centered website. Onair2's compatibility with SoundCloud, MixCloud, and YouTube widens your reach.
Among its standout features is a fully equipped MP3 player, streamlining your experience and adding convenience to your podcast management.
6. MagPlus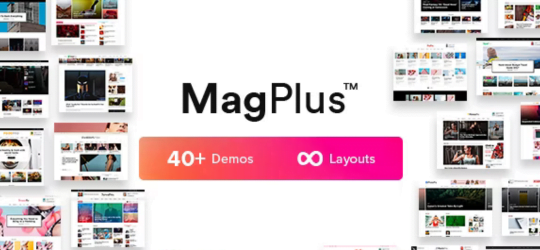 Whether you're aiming to establish an online platform for your podcast or wish to share your critiques and thoughts on the creative output of others, MagPlus is the perfect solution.
This incredibly versatile WordPress podcasting theme offers exceptional practicality, allowing you to achieve your goals effortlessly.
MagPlus provides a ready-to-use sample layout tailored for podcasting. You can either directly use this layout or customize it to align with your vision. This theme occupies an important position in podcast WordPress themes due to its many advantages. The intuitive drag-and-drop editor empowers you to make adjustments with ease.
Among the many advantages of MagPlus, it includes a built-in review system, a comprehensive mega menu, seamless integration with social media platforms, an extensive collection of shortcodes, widgets for added functionality, support for various post formats, diverse slider designs, and a choice of 12 distinctive header styles.
Leverage the power of MagPlus to create a remarkable and comprehensive podcasting website that fulfills all your requirements.
7. Podcaster
Podcaster is a responsive WordPress theme designed to simplify the process of building and managing your podcast website. It fully supports both audio and video formats, making it suitable for various types of podcasts. The theme offers adaptability, catering to the specific needs and preferences of podcasters effectively. It is also optimized for use with the BluBrry PowerPress and Seriously Simple Podcasting plugins. This theme has all the user-friendly features that make it unique among podcast WordPress themes.
With Podcaster, you have the freedom to choose between light and dark templates, customize colors, select fonts, and even create unique headers for each page on your website. The theme provides the option to incorporate custom header images with Parallax scrolling, allowing you to create a captivating and impactful first impression for your visitors.
To enhance user experience, the theme ensures that your podcast archive is well-organized and easily accessible, enabling listeners to quickly find and enjoy your episodes.
8. Megaphone – Podcast WordPress Theme
Megaphone stands out as an exceptional podcast WordPress theme, equipped with all the essential features to kickstart your online journey with minimal effort. Rather than relying solely on external platforms, you have the opportunity to establish a distinct online presence.
Craft a website that exudes professionalism and elegance, propelling your project to new pinnacles with the aid of a Megaphone. Notable features include an intuitive audio player, seamless integration with self-hosted and third-party audio content, compatibility with podcasting plugins, and an automated episode-detection system.
Tailor-made shortcodes and widgets, a fixed sidebar, adherence to GDPR regulations, and an array of pre-designed layouts are among the valuable offerings that will undoubtedly contribute to your success. Embrace the results and cultivate a dedicated community with the exceptional capabilities of Megaphone.
9. Castilo – Audio Podcast WordPress Theme
Castilo represents a specialized theme from podcast WordPress themes tailored for podcasting, featuring a contemporary design that promises enduring appeal. Effortlessly, without extensive energy or coding expertise, you can personalize its appearance to align with your preferences. Furthermore, Castilo consistently receives updates in accordance with the latest web and technological standards, ensuring seamless functionality.
Facilitating convenience, you can seamlessly import external podcasts or effortlessly submit your own content to various platforms. Complementing its offerings, Castilo provides comprehensive statistical insights that shed light on your podcast's performance, audience demographics, and download metrics.
To sum up, Castilo provides an all-inclusive solution for establishing an indispensable podcasting platform that warrants a dedicated following.
10. Viseo – Podcast Theme for WordPress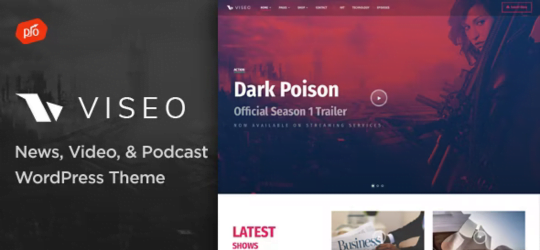 Here is one of the exceptional WordPress podcast themes is theme Viseo, which will elevate your podcast to a whole new level. No coding skills are needed as it comes with a user-friendly drag-and-drop page builder.
Craft tailor-made pages effortlessly without having to write a single line of code. Viseo is the perfect choice for websites focusing on news, videos, and podcasts.
With features like a premium slider, unlimited color options, mega menus, SEO optimization, swift loading, and much more, Viseo is a force to be reckoned with. This theme provides a collection of valuable add-ons, extensions, and essential elements for your outstanding podcasting platform.
Feel free to customize and personalize the theme according to your preferences at any time.
Additionally, Viseo is equipped for eCommerce and offers the flexibility to translate it into any desired language.
11. Life Coach
The Life Coach WordPress theme presents an excellent choice for launching your coaching website with a range of features. It is one of the best podcast WordPress themes. It includes a podcast-style post format that allows you to showcase numerous shows effectively.
Additionally, the theme comes equipped with sections for testimonials, team members, videos, an events calendar, an online shop, and a crucial podcast feature. You have the ability to craft visually appealing and filterable podcast carousels that can be incorporated into any desired page.
What's more, the Life Coach theme offers pre-designed demos that can accelerate the development process. It is also compatible with WooCommerce, enabling you to enhance your website's functionality. Customization is made easy through tools like WPBakery. Allowing you to create a unique and standout appearance. You can also kickstart a blog and elevate your promotional efforts.
12. Roogan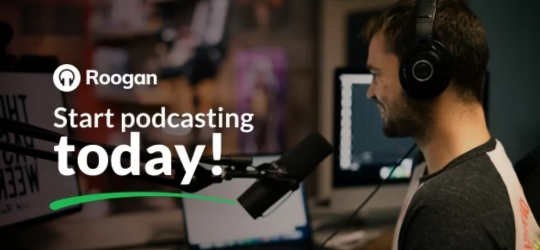 While launching a podcast marks the beginning, driving its promotion and ensuring its success present distinct challenges. Now, with Roogan, you have the opportunity to craft a distinctive website tailored to your podcasting venture. This means reduced dependence on external platforms as Roogan enables you to manage your podcast entirely through your website. It's worth noting that Roogan seamlessly integrates with other platforms for swift and smooth operation.
What's more, you gain access to a comprehensive range of essential page layouts, diverse player styles, episode grouping, four pagination options, and a multitude of convenient shortcodes. This enables you to have full control over your podcasting business's online presence and enhance its overall appeal.
13. Livecast
The Livecast WordPress theme offers a wide range of features that make it ideal for creating an effective podcasting website. It boasts a strong audio player and the capability to seamlessly integrate with platforms like Apple Podcasts.
With Livecast, you get access to five ready-to-use demos and a plethora of pre-designed page layouts. The theme also seamlessly works with the Elementor builder, facilitating the swift and simple customization of your site.
This theme allows you to create custom posts, explore attractive layout options, and connect with your audience through integrated social media features. All in all, Livecast is a powerful tool for crafting and enhancing your podcasting website.
14. Ncmaz
The Ncmaz theme is an ideal choice for promoting podcasts, whether you have one or multiple shows. With the Ncmaz podcast demo, creating an attractive and functional online presence is simple. The demo offers a variety of templates that encompass all the content you would need on your website. This allows you to easily incorporate pages showcasing your podcast archives, individual episodes, as well as information about hosts and guests.
Beyond its podcast features, Ncmaz serves as a versatile magazine WordPress theme, providing templates for diverse article styles and layouts. Additionally, Ncmaz offers robust video support, rendering it a suitable choice for podcasts released in video format as well.
15. Resonator
Resonator offers a variety of podcast-oriented demonstrations and pre-designed formats. Whether you're setting up a website for a single podcast or establishing an online presence for an entire podcast network, Resonator provides an array of ready-made materials.
The templates for individual podcast episodes and blog posts are meticulously crafted, streamlining the process of posting new content for each episode. With included features like an optional podcast transcript segment and a media player, you can seamlessly deliver all the content your visitors might seek.
Moreover, Resonator boasts robust eCommerce capabilities, enabling convenient selling of merchandise and other products directly from your website.
16. Megabyte
All you require for your project is the WordPress podcasting theme called Megabyte. With the aid of Megabyte's pre-designed demo content, elements, and features, crafting your desired website becomes a simple and efficient task.
Featuring an impressive dark layout, Megabyte captures attention effortlessly, making it irresistible for visitors. Employ the built-in premium slider to craft an exceptional slideshow that entices everyone to tune into your podcasts.
Furthermore, Megabyte boasts full responsiveness and flexibility. This ensures seamless adaptation to any device, enabling your audience to enjoy your podcasts on the move, at their convenience, wherever they may be.
17. Rare Radio
With Rare Radio, you have the opportunity to create a remarkable online identity that will greatly enhance your project's success. Utilize the available demo materials to your fullest advantage.
It's worth noting that you can personalize Rare Radio extensively using the Elementor page builder, giving you the ability to craft custom web pages without any coding requirements.
Additional appealing features of Rare Radio include a session timetable, podcast playlist, Slider Revolution, a dedicated blog section, and even the capability to sell products through your website.
Begin your online journey on a powerful note with Rare Radio.
18. Artemiz
Artemiz stands as a contemporary WordPress theme designed specifically for podcasting, boasting a stylish and up-to-date appearance. This theme offers the unique capability of seamlessly blending podcasts with blogs, making it an excellent choice.
You can kickstart your project promptly without the need to modify any code, catering to a wide range of users, from novices to experts. Noteworthy features of Artemiz encompass a drag-and-drop page builder, various header styles, a full-width layout, and an immersive full-screen slider.
For those in search of distinctiveness, the robust and adaptable nature of Artemiz presents itself as the ideal solution.
Conclusion
We've discussed a selection of top-notch WordPress themes tailored for your podcast website. Regardless of whether you're aiming to establish an eCommerce store or kickstart a supplementary blog, you'll find numerous alternatives at your disposal.
Well if you ask me to pick the best podcast WordPress Themes then I'll go with two WordPress themes and those themes are Avada and Betheme because these two are some of the best WordPress themes.
.