Are you interested in setting up a Wiki website using WordPress? Wiki sites are digital platforms that allow multiple users to access and edit content collaboratively. While well-known examples like Wikipedia are publicly accessible, you can create private Wiki sites restricted to members of your organization or a specific community.
These websites facilitate the efficient management of internal information and knowledge sharing within a closed group. In this article, we have compiled a list of popular Wiki WordPress themes that enable you to establish a Wiki site without the need for coding expertise.
It's important to note that in addition to the WordPress Wiki themes, you will also require a Wiki plugin to create a fully functional Wiki or knowledge base website. The theme primarily contributes to the professional appearance of your site.
Best Knowledge Base Wiki WordPress Themes
If you're looking to establish a self-help support section on your website, these WordPress Wiki themes designed for knowledge bases are the perfect solution.
1. Essentials – Best Wiki WordPress Theme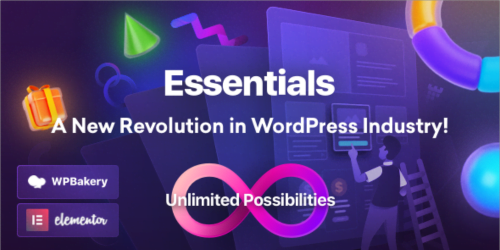 Essentials stands out as one of the most extensive Wiki WordPress themes, boasting an impressive array of demo materials and features. Its versatility knows no bounds, making it suitable for crafting virtually any type of website.
Furthermore, if your goal is to create a comprehensive knowledge base page, Essentials provides a dedicated sample for that purpose. One of the key highlights of Essentials is its seamless compatibility with popular page builders like Elementor and WPBakery.
Key Features
Live search results
Back-to-top button
Popular categories
Video tutorial support
Portfolio, blog, and online shop options
Quick answers section
Catchy animations
Additionally, it comes equipped with a vast library of templates, a convenient one-click demo import feature, Slider Revolution integration, and a wide range of dynamic animations. In essence, Essentials is the all-in-one solution you need to address every aspect of website development.
2. Woffice
Woffice stands out as a robust WordPress theme that extends its capabilities beyond the conventional concept of a wiki theme. This is another one of the best Wiki WordPress themes. It goes a step further by providing intranet and extranet functionalities, making it a comprehensive solution for establishing a collaborative and knowledge-sharing ecosystem.
Key Features
Projects Manager
Front-End Editor
Member Dashboard
Members Directory & Map
Calendar, Knowledge Base, and News announcement
Live Chat and online store
Woffice equips you with a comprehensive toolkit for effortlessly creating a wiki platform enriched with features, enabling users to actively participate, exchange information, and collaborate on various projects. This theme boasts a contemporary and user-friendly interface, allowing for extensive customization and seamless integration possibilities, making it the ideal selection for both corporate and community-driven wiki websites.
3. Uncode – WordPress Wiki Theme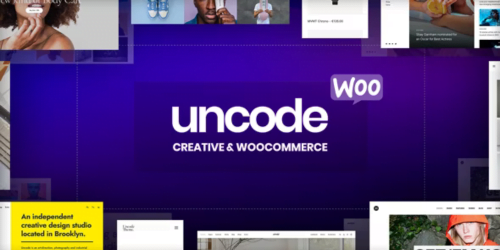 Uncode is a user-friendly WordPress knowledge-base theme that boasts excellent responsiveness and compatibility with leading knowledge-base management plugins. This theme holds a prominent position among the Wiki WordPress themes due to its very features. This theme arrives with a collection of captivating demo websites and a multitude of template pages.
Key Features
Drag and drop page building
550+ theme sections and elements
FAQ (with accordions)
Newsletter subscription widget
Regular updates and improvements
Speed, mobile, and SEO-optimized
It effortlessly aligns with your brand's identity thanks to the integration of WPBakery page builder, Slider Revolution, and Isotope Grid plugins. Moreover, Uncode is primed for WooCommerce integration, making the promotion of your knowledge base services and offerings more convenient than ever.
4. KnowHow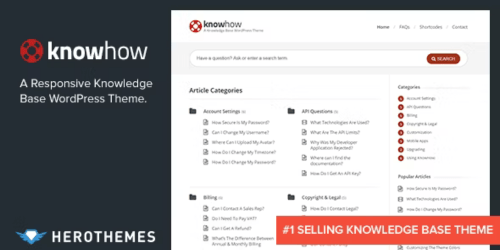 The KnowHow WordPress theme simplifies the process of creating an engaging knowledge base website, equipped with all the essential elements to offer online support to your users. This theme is regarded as a masterpiece among WordPress Wiki themes.
Key Features
Looks great on mobile
FAQ page
Instant answers
Multilingual and translatable
Multi-level navigation (with animation)
Modern article layouts
User insights
Additionally, it features an AJAX-powered live search form, enabling you to deliver immediate responses to your customers' queries. When it comes to constructing FAQ pages, KnowHow makes the task exceptionally straightforward.
5. Manual – Education WordPress Theme
Manual is the perfect choice when your aim is to create exceptional online documentation. This theme offers numerous specialized features designed to elevate the quality of your web pages. This theme is a standout among Wiki WordPress themes due to its amazing creative design. With Manual, you have the flexibility to select from various header and footer layouts and tailor them to your preferences.
Key Features
Translatable and RTL language compatible
Forum section (bbPress)
Online shop (WooCommerce integration)
Works as an LMS solution
Ajax live search
Gated content
Private or public documentation
Additionally, you can easily translate the Manual theme into multiple languages, making it accessible to a wider audience. The inclusion of bbPress support also enables you to incorporate community forum functionality, enhancing user engagement.
What sets Manual apart from other multipurpose themes is its unwavering focus on a single purpose. This laser-focused specialization ensures that your website meets the highest standards. Moreover, Manual seamlessly integrates with the Elementor page builder, streamlining your website creation process.
6. Discy – Social WordPress Theme
Discy is an impressive WordPress theme designed for building question-and-answer websites, similar to the popular platform Quora. With Discy, you have the flexibility to create Q&A websites tailored to specific niches or integrate them seamlessly into your existing business website.
Key Features
Great for niche Q&A sites
Managing questions on the front end
Polls
Upvotes and downvotes
User points and badges system
Detailed statistics
Flexible user settings
In the WordPress Wiki themes world, Discy theme offers a comprehensive package, equipped with all the essential components and features necessary for a successful Q&A website, potentially becoming the next big online destination. Some of its notable features include the ability to showcase new and trending questions, conduct polls, manage users and badges, host blogs, facilitate upvoting for answers, and track view counts.
7. Flatbase – Responsive Knowledge Base Theme
Flatbase stands out as the ideal choice for establishing your support platform. This theme is one of the best Wiki WordPress themes. With its seamless integration with bbPress, this WordPress theme is an excellent option for delivering top-notch support and fostering an engaging environment for your clientele.
Key Features
Ajax search for instant answers
Article Feedback
bbPress integration (easy forum creation)
Ready-made FAQ templates
Translatable for language-specific support
Built-in blog section
Included child theme
The theme's sleek and meticulous design offers a well-organized framework for showcasing support articles, effectively educating and guiding users in mastering your product. Furthermore, it boasts a built-in live search feature powered by Ajax, ensuring swift responses to your customers' inquiries.
8. Wikilogy – Best Blog & Wiki WordPress Theme
Wikilogy is a cutting-edge WordPress theme meticulously crafted for blogs and wiki platforms. Boasting an intuitive interface and a wide array of features, Wikilogy guarantees a smooth and satisfying experience for both authors and readers. Its captivating design ensures your wiki content is displayed in an orderly and visually pleasing fashion.
Key Features
Easy Content Management.
Wiki System.
Wiki Tables.
Toolbar.
Content Index.
Categorized Archiving.
Additionally, Wikilogy incorporates advanced search capabilities, social sharing features, and adaptable layouts, making it an outstanding option for constructing an engaging and user-centric wiki website.
9. Lore
Lore is a sophisticated WordPress theme designed with a focus on knowledge base and wiki websites. Its sleek aesthetics and well-organized layout elevate the presentation of your content, ultimately enhancing the user's overall experience.
Key Features
Mobile-friendly design
Forum capabilities
Custom color schemes
Translation files included.
Child theme included
Demo content included
With robust search capabilities, customizable layouts, and intuitive navigation, Lore ensures that users can effortlessly discover and navigate through the information they seek. Furthermore, this theme provides an array of customization features, enabling you to tailor it to your brand's identity and craft an attractive wiki site that appeals to the eye.
10. Docly – Theme with bbPress Helpdesk Forum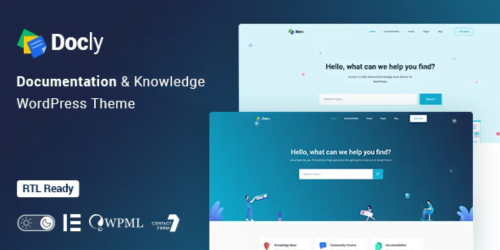 Docly is an all-encompassing solution designed for knowledge base and Wiki-style websites. This comprehensive WordPress theme provides everything you need to swiftly create a robust and user-friendly platform.
You have the flexibility to utilize any of the available demo sites and easily customize them to your preferences.
Key Features
Automatic theme updates
Dark and light theme switcher
Multilingual
Great performance on all devices
Informative preloader
Printable docs and posts
MailChimp integration
Some of the notable features that Docly offers include a night/day toggle, integration with the Elementor page builder, support for RTL languages, compatibility with bbPress forums, and the inclusion of PSD files.
At its core, Docly centers around a powerful search bar, recognizing its pivotal role in any support-oriented website. Docly is another one of the best knowledge base Wiki WordPress themes.
11. Docy – LMS WordPress Theme with Forum
Docy is a flexible WordPress theme that integrates documentation, knowledge base, and forum features seamlessly. It serves as an all-encompassing solution for building an engaging and cooperative wiki website. This theme boasts a sleek and contemporary design, advanced search functionality, and adaptable layouts to help you convey information with the utmost efficiency.
Key Features
Dark mode switcher.
Font size switcher.
Full-width and Box width container-based doc pages.
Article Table of contents (on this page)
Footnotes for doc reference.
Page preview tooltip.
Utilizing Docy, you have the ability to establish a wiki platform that promotes user engagement, stimulates conversations, and establishes a central space for the exchange of knowledge.
12. Tikidocs – Forum WordPress Theme + RTL
If you're looking to kickstart your knowledge base, create technical documentation, or set up a Wiki-style website, consider exploring Tikidocs.
Tikidocs offers a wide range of distinctive sections to cater to your various web project ideas. The best part is, that you won't have to write a single line of code, yet you'll have the freedom to create the website you envision.
Key Features
bbPress forum
Fast loading (great performance)
Video and parallax background
Redux Framework
CSS animations
Multiple front and internal page layouts
Pricing plans
As a Tikidocs user, you'll gain access to a host of valuable features, including live search functionality, a bbPress forum, Slider Revolution for dynamic content display, and an advanced theme panel for customization. Hence it is also called the user-friendly theme in Wiki WordPress themes.
13. kBase
kBase is a specialized WordPress theme designed for technical documentation and support websites catering to a wide audience. It is an ideal solution for businesses seeking to assist their clients with technical issues. kBase offers a responsive design and comes equipped with a variety of pre-built elements.
One of its standout features is the intuitive drag-and-drop builder, eliminating the need for manual coding. Moreover, kBase includes customizable blogs and portfolio layouts with options for skin colors and layouts.
Key Features
6 handy search types for quick finds
500+ shortcodes and customization options
Drag and drop elements
Multiple article listing and detail layouts
One-click demo data import
Quick back- and front-end editing
kBase is also highly compatible, supporting WPML for seamless text translation and WooCommerce for eCommerce capabilities. Additionally, it seamlessly integrates with bbPress and BuddyPress to facilitate the creation of forums and discussion pages.
14. InfoCenter
InfoCenter is a comprehensive WordPress knowledge base designed to meet all your support requirements. It brings together a wide range of features commonly found in various other themes into one convenient package.
Moreover, InfoCenter includes an integrated community where members can assist each other throughout their journey. This adaptable, user-friendly, and easily configurable theme is primarily intended for support and seamless integration.
Key Features
Question listings (with a "best answer" tag)
Easy to customize and brand
Integrated video function
Related posts and questions
Built-in search engine optimization
Regular updates
Clean user profile pages
It incorporates community engagement strategies, such as requiring a minimum number of points to participate. Whatever questions or uncertainties you may encounter, InfoCenter offers a robust support system to address your needs. With abundant and valuable documentation, you can count on receiving a reliable product.
Conclusion
In 2023, there is a diverse selection of wiki WordPress themes to choose from, giving you plenty of options for crafting an outstanding knowledge base or wiki website. Whether you're inclined towards a polished and contemporary aesthetic, enhanced search functionalities, or interactive community elements.
If you were to inquire about my top choices for wiki WordPress themes, I would recommend Essentials and Wikilogy. These two themes stand out as excellent options among the vast array of WordPress themes available.
Do check out our other collection of 20+ Best Real Estate WordPress Themes as well as 13 Best Classified Ads WordPress Themes.