Looking to set up a Free WordPress shopping cart plugin for your site? WordPress, a popular content management system, doesn't natively provide shopping cart functionality. However, you can easily incorporate a shopping cart into your WordPress site using plugins.
When it comes to selling products online, e-commerce is undoubtedly the way to go. As a business owner, delivering a smooth shopping experience across all product categories is crucial, but platforms like WordPress have simplified the entry process to a few clicks. This is where WordPress shopping cart plugins come into play.
By considering their capabilities, you can choose the plugin that best suits your e-commerce requirements and seamlessly integrates a shopping cart into your WordPress site.
Why We Need WordPress Shopping Cart Plugins
WordPress lacks a built-in shopping cart or payment processing features, forcing us to use external methods like PayPal to sell products directly from our WordPress site. That's where the Free WordPress shopping cart plugin plays a vital role and lets you sell products directly on your website.
You'll be able to…
List one or more products for sale.
Shoppers can add one or more products to their "cart" and view them on a dedicated shopping cart page.
Process credit card payments at your site checkout via a variety of payment gateways, including PayPal and Stripe.
Some WordPress shopping cart plugins go even further, with integrations for popular shipping couriers, detailed order management features, and lots more. By using such a WordPress plugin on your site, you're able to create a much more user-friendly, personalized shopping experience for your visitors.
Best WordPress Shopping Cart Plugins
To find the right and the best shopping cart plugin for your WordPress site, it's important to explore the available options. There is a wide range of both established and new shopping cart plugins designed for business owners, each offering its own set of features.
1. WooCommerce
WooCommerce, the most popular and free WordPress shopping cart plugin, boasts over 6.3 million active websites. This scalable e-commerce solution offers a comprehensive package of features and benefits, with a strong community of contributors. It seamlessly integrates with existing WordPress Themes installations and powers a significant portion of online e-commerce stores.
Key Features
A free and open-source platform
Lets you feature different product types
Integrate with more than 100 payment gateways
A vast collection of themes to design storefronts
WooCommerce provides a default package that supports the sale of physical and digital products. It can be easily extended to incorporate features such as memberships, subscriptions, and ticket sales. With a vibrant community, there is a wide range of free and paid extensions available.
2. WordPress Simple Paypal Shopping Cart
Simple PayPal Shopping Cart is a free WordPress shopping cart plugin that easily transforms your WordPress blog into a lightweight e-commerce solution. It enables the addition of "Buy Now" buttons, allowing users to create a shopping cart and add multiple items. With a user-friendly control panel, you can create products and obtain shortcodes for seamless integration into your pages, posts, and widgets.
Key Features
Create and display products with shopping cart functionality
Different product types such as physical, virtual, or services
PayPal sandbox and smart PayPal buttons.
Configure order notification emails, discount coupons, etc
The free WordPress Simple PayPal Shopping Cart plugin offers native compatibility with mobile devices, ensuring responsive design standards. Users can utilize the PayPal Sandbox feature for testing purposes, creating a secluded environment to experiment with product sales. The insights gained from testing can then be applied to create live, production-ready product buttons.
3. WP EasyCart ( E-Commerce Shopping Cart )
WP EasyCart is a dedicated free WordPress shopping cart plugin that transforms your website into a powerful e-commerce platform. It supports selling products, digital content and offers customizable inventory management. Compatible with both desktop and mobile devices, WP EasyCart comes with integrated payment gateways for seamless transactions.
Key Features
The free version offers unlimited products and orders
Basic payment and shipping options
Order management with options to print sale receipts, packaging slips, and shipping notes
SEO-friendly and social sharing options
WP EasyCart offers robust localization options, allowing you to configure each language individually with a specific currency, tax options, and payment gateways for different countries. It also integrates with popular shipping services and provides native Google Analytics integration for sales tracking. Additionally, product pages include a social sharing widget for enhanced social exposure.
4. Ecwid Shopping Cart
Ecwid is a leading e-commerce solution used by millions of sellers worldwide. It offers a user-friendly platform for selling retail and digital products. You can integrate Ecwid seamlessly into your existing WordPress site using the plugin, providing a responsive shopping cart experience with drag-and-drop functionality.
Key Features
Supports multiple countries, languages, and payment gateways
Integrates with popular shipping carriers easily
Option to sell on Instagram and Facebook
Unlimited storage and regular backups
With this free WordPress shopping cart plugin, you have the flexibility to manage products, track inventory, and offer discounts and coupons to boost sales. It supports over 30 payment gateways, providing a seamless checkout experience. Additionally, there are numerous pre-designed Ecwid eCommerce themes available to choose from.
5. WP Easy Pay
WP Easy Pay is a straightforward and user-friendly WordPress plugin for seamless payments, particularly for simple transactions like memberships or donations. With a single button, users can make payments effortlessly, making it an ideal choice for preset orders that require minimal attention.
Key Features
Accepts simple and donation payments within minutes
Sandbox support with the latest version
Strong Customer Authentication
Define the min & max amount range
In addition to its core features, WP Easy Pay offers additional functionalities such as custom amounts, Sandbox support for testing, and automatic notification emails to the admin for successful transactions. If you require more advanced features, you can upgrade to the premium plan for an enhanced experience.
6. PayPal Shopping Cart
If you prefer using PayPal for accepting payments, PayPal Shopping Cart is the ideal free WordPress plugin for you. It offers a user-friendly solution for selling products and services. You can easily add "add to cart" or "view cart" buttons to any section of your website. While it may be basic, PayPal Shopping Cart effectively gets the job done.
Key Features
Works with any WordPress Theme
Built-in support for 18 languages
Built-in support 25 currencies
PayPal testing through SandBox
Easily add an eCommerce extension to your website with PayPal Shopping Cart. Enjoy features such as multi-language and multi-currency support, various button styles, and customizable PayPal window settings. Compatible with any WordPress theme.
7. WP Menu Cart
WP Menu Cart is a free WordPress shopping cart plugin that seamlessly integrates with popular eCommerce platforms like WooCommerce, WP-eCommerce, EDD, Eshop, and Jigoshop. It adds a shopping cart button to your navigation bar and can be set up in just a minute. Try it out now to quickly determine if WP Menu Cart is the right fit for your needs.
Key Features
This plugin installs a shopping cart button in the navigation bar
Display cart icon, or only items/prices.
It takes less than a minute to setup
Automatic updates on any great new features
WP Menu Cart offers features such as displaying a cart icon with item and price information. You can choose to show the cart icon only when items are in the cart or make it constantly visible. This ensures easy access to the cart for all users, enhancing their browsing experience.
8. Stripe Checkout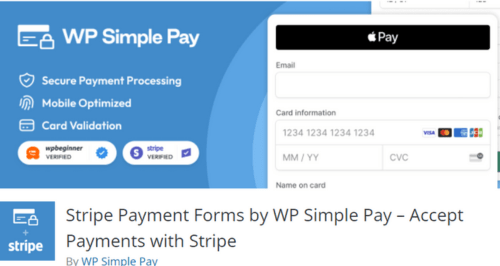 With Stripe Checkout, you can quickly accept credit card payments without any hassle. This free WordPress shopping cart plugin is suitable for both existing and upcoming websites. It provides a simple and embeddable payment form that is compatible with all devices, including smartphones, tablets, and desktop computers.
Key Features
Integration with Stripe Checkout hosted payment forms
Accept credit and debit cards
Support for 30+ languages, 45+ countries, and 135+ currencies
PCI compliant & SCA-ready payment forms for secure payments
Stripe Checkout offers unlimited payment forms, support for multiple languages and currencies, and various customization options such as product image overlays and integration with AffiliateWP. With Stripe Checkout, you can easily set up success and failure pages without the need for additional plugins. It's all you need to streamline your payment process.
9. WooCommerce Menu Cart
WooCommerce Menu Cart is a user-friendly free WordPress shopping cart plugin. It adds a button to the navigation section and offers great features. It's easy to set up and doesn't require coding knowledge. Upgrade to the pro version for additional capabilities.
Key Features
Best for beginners
User-friendly
A speedy setup process
Customizable CSS
In the free WordPress shopping cart plugin version of WooCommerce Menu Cart, you have options to customize the display of the cart icon based on item presence, customize CSS, show the price or item, and align it to your menu's default settings. Additionally, you can choose to float it left or right.
10. Easy Digital Downloads
Easy Digital Downloads is a top-notch tool for selling digital goods like ebooks, templates, plugins, and graphics. Its user-friendly system allows anyone to become a seller of digital products, such as eBooks, guides, courses, and services. It seamlessly integrates with popular payment systems like PayPal, Stripe, and Amazon Payments.
Key Features
Highly customizable and clean checkout
Detailed eCommerce reports
Secure file protection
Works with any theme
It is a highly customizable free WordPress shopping cart plugin that allows you to enhance the selling process by integrating other plugins. Users have easy access to their purchase history and can conveniently download their files. Sellers can create Product Bundles and track their earnings and sales through the comprehensive dashboard.
Conclusion
Top-notch WordPress shopping cart plugins simplify the process of selling products on your website, minimizing any potential complications. They provide convenient options for setting up shopping carts, generating product listings, and effectively handling payment processors, shipping, and tax management and there are Multiple and Best WordPress Themes you can choose to integrate your shopping cart plugins.
Do you agree with our picks? Leave a comment to let us know your favorite eCommerce plugins for WordPress.