This article presents incredible premium Portfolio WordPress themes to make you and your work stand out. These themes are minimal, responsive with administration interface, full color gallery with the details given about the clear idea about the purpose of theme. Select your best theme form the given list as themes are most popular for creating online Portfolio.
See also:
SCRN

SCRN is a modern fully responsive one-page portfolio WordPress template that provides an owner with an elegant solution for promoting itself and its artworks. It includes lots of shortcodes that intend to extend possibilities of your website.
Daisho

Daisho is an elegant, adaptive grid-based WordPress theme that slightly reminds Metro 8 style. The designer skillfully utilizes tile layout and muted color palette that perfectly co-work together, supplying users with a clear interface.
Delight

Delight is an excellent solution for photographers and artist since it easily grabs visitors' attention by means of a full-screen image slider. The theme includes a powerful admin panel that helps to make your website unique.
Jarvis

Jarvis is a fluid one-page WordPress theme that is based on a parallax effect. You can easily demonstrate your bio and artworks as well as create a striking storytelling that will definitely get the readers' attention.
This Way

This Way is a mobile-friendly sophisticated WordPress theme for building online portfolios. The home page welcomes your spectators with an attention-grabbing video or image background. You can also install a huge slider instead of backdrop.
BigFormat

BigFormat provides a quite elegant and wide-spread solution for displaying your artworks. This WordPress theme has a subtle landing page that includes huge image slider and a clean sidebar with all necessary data.
Argo

Argo is another refined one-page WordPress theme in our collection that will effectively promote your artworks. The design is inspired by Metro 8, so you will get smooth blurred backgrounds, clean type, sleek icons, and tile layout.
Visia

Visia is a flexible retina-ready WordPress theme based on a long one page layout that has a separate blog section. You can choose between 2 front page variations.
QuickStep

QuickStep is an adaptive single page WordPress portfolio theme that will look absolutely awesome on tablets, mobile screens and desktop monitors. It offers an extensive admin panel that will help you to set up various widget and customize styles.
BigBang

BigBang is a clean and slick WordPress theme with a lovely geometry vibe. You can choose between 2 layout solutions: boxed and stretched. There are numerous shortcodes, and list of helpful jQuery features.
SimpleKey

This multi-purpose WordPress theme is a perfect match for creating portfolio websites. Being based on a parallax effect, this one-page template will effectively reveal all you basic sections while full-screen image slider will vividly demonstrate your artworks.
Me

Me is a topnotch minimal portfolio WordPress template that includes all necessary subpages for showcasing your talent.  It is quite easy to use and customize even for newbies.
Angular

Angular is a mobile-optimized feature-rich clean portfolio theme for those who want to underline its portfolio pieces.
FullScene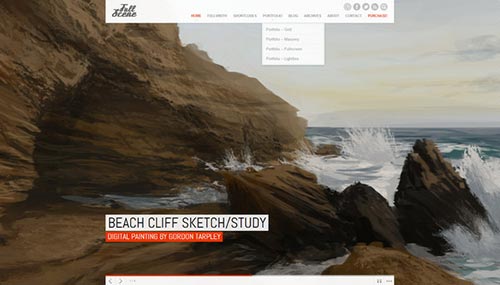 FullScene is a flexible multi-layout WordPress theme that is aimed to reveal your portfolio. It comprises lots of essential features.
Folio Two

Folio Two is aimed to deliver strong first impression that will bring more focus to your masterpieces. You will be able to instantly show your artworks.