The best AI website builders aren't that difficult to find. If you really want to ease the burden of creating websites from scratch. You've come to the right place! If you are not good at coding or template customization don't worry because these AI website builders allow you to create and design websites for you and your clients.
All the AI website builders have the most user-friendly interface and exceptional AI technology, It is time to make stunning websites from the comfort of your couch with zero experience.
As you know whenever a new technology or platform is launched in the market. You'll see a lot of different platforms providing the same services but you don't know which is the best. So we've compiled a complete guide on the best AI website builders.
Top Choices of Best AI Website Builders
Sometimes it is hard to find the tool that goes best with our needs and you know it's a time-consuming process. Before Covid-19 everyone was following the old path to creating a website for their specific purposes but after the pandemic, the industry changed itself rapidly. Now you can create amazing websites for blogs, portfolios, Affiliates, and E-Commerce with the help of AI website builders.
After taking care of our less skilled users we've added CodeWP for our skilled users and I must say CodeWP is an excellent solution for designing advanced and creative websites for particular purposes.
WP experts and coders use CodeWP because they want more control over their website development. So it doesn't matter how skilled you are, in this post you'll get everything to announce your digital presence.
1. Wix ADI – Website Builder
If you are a Small business, blogger, or freelancer you should go with Wix ADI because it's an epic website builder. Normally small business owners don't have time to make websites so in this situation Wix's AI site editor will come in handy. Wix ADI is my top choice for building websites with AI assistance. It's the perfect AI website builder for those who are less skilled, Moreover, after asking a few questions it will create the perfect website according to your needs.
Key Features
Selecting which pages to include on your site
Wix creates a website based on a few questions
Plenty of customization options and AI tools
Once you jump into the dashboard of Wix ADI, You will have two options either you stay with AI builder or switch to the classic. If you take my opinion you should stay in the AI environment for easy creation. In order to design professional and mobile-responsive websites you should pick Wix ADI because it is the top-notch AI website builder.
| PROS | CONS |
| --- | --- |
| Automatically added pictures | Default design may not always be perfect |
| Multiple niches to pick from | Not as flexible as the classic Wix editor |
| User-friendly interface | |
| Speedy setup | |
2. Framer – AI Website Builder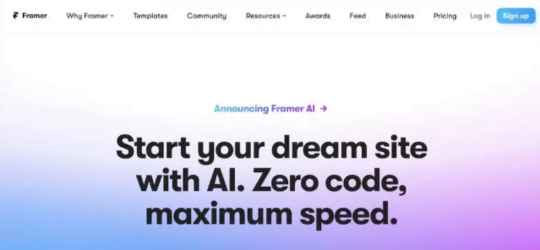 A tool that empowers the creators with speed and freedom to create attractive and mid-blowing websites for personal, agency, and startup projects. Farmer AI website builder starts the procedure of building your site with a single text prompt and you'll get all the fonts, pages, colors, and graphics. If you're not satisfied, Farmer also offers alternative options for selection and review. The most amazing feature of Farmer website builder is that its simple backend gives you mobility and control to design and customize to match your brand.
Key Features
Dynamic designs
Unlimited predefined layouts
Brilliant animations
Custom nav creation/scroll sections
What's more, Farmer easily integrates with Figma, enabling easy project migration. If you are short on time and want a perfect blend of pages, colors, and fonts it is the go-to option for you. Additionally, Framer provides analytics, and SEO tools, and confirms excellent performance for a better user experience.
| PROS | CONS |
| --- | --- |
| Simple prompt to create a site draft | Figma to Framer may not replicate all features |
| Bunch of educational material | Limited CMS |
| Design freedom | |
| Time saver | |
3. Hostinger – AI Website Builder
Beginners raise your hands because Hostinger brings you the most affordable, reliable, and simple AI website builder with zero learning curve. Thanks you to Hostinger's team for creating such a stunning All-in-One tool for websites, logos, and content creation. Although it's not free but you can ask for a refund within 30-days if you are not satisfied with this AI website builder.
Key Features
Free domain, hosting, and SSL
Up to 100 websites
Marketing integrations
eCommerce compatibility
You just have to select the type of your business or whatever you want to create, Hostinger quickly reveals its creation. The best part is that you can further modify by using the convenient drag-and-drop builder. If you choose Hostinger's website builder you'll also get AI-powered content creation, an AI logo maker, a free domain name, free SSL, free email, and practical SEO tools for optimizing your website.
| PROS | CONS |
| --- | --- |
| Better speed and performance | You lose AI power while changing temps |
| Affordable with AI heatmap | Limited freedom |
| AI content generator | No free plan |
| AI logo maker | |
4. 10Web – AI Website Builder
The most easy and user-friendly AI website builder on WordPress, and it suits both agencies and beginners. 10Web offers practical AI tools and a drag-and-drop editor. You just have to answer the simple questions about your business and the magic begins. Boom 10Web just created your website according to your preferences and you can also customize the look, features, fonts, and ad widgets with ease. For more options, explore other page builder WordPress plugins.
Key Features
50+ premium plugins
PageSpeed Booster
Real-time backups
Various AI tools
Drag-n-drop builder
This AI website builder also has solid hosting that runs your site without impact. Once your site is running smoothly you can focus on the growth of your business. Moreover, if you want to build an online shop 10Web will also take care of that and you will benefit from other AI tools, like business name and marketing strategy generators, web design tools, and SEO tools.
| PROS | CONS |
| --- | --- |
| Multiple widgets to add new features | Based (limited to) on Elementor |
| Quick, one-click migration | Short, one-week free trial |
| Handy design suggestions | |
| Fast site load speed | |
5. Bookmark Website Builder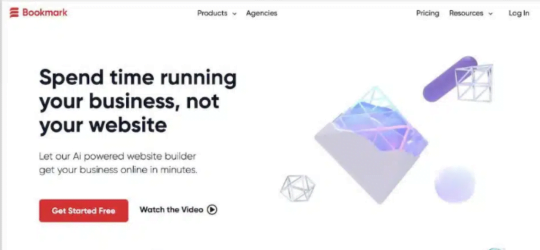 When it comes to the page-builder with AI there's only one name that came into the mind straight away and it's Bookmark. The AI page-building tool of Bookmark is powered by AiDA and is perfect for all types of online stores. If you want to make a website for your business and have no experience don't worry Bookmark will take care of everything. Provide your desired features and enjoy the Fast-loading, SEO-friendly site with just a click of a button. Bookmark is an absolute masterpiece!
Key Features
Unlimited storage and bandwidth
Supports custom code
Advanced analytics
Multiple contributors
Custom forms
Furthermore, you can translate your site into 100 different languages and this feature helps you to grow globally. Another benefit of Bookmark is that it offers unlimited physical and digital products to sell online with zero transaction fees. So it is time to launch an online store and start earning with this amazingly crafted AI website builder.
| PROS | CONS |
| --- | --- |
| 100% responsive designs | Not the most user-friendly interface |
| Creative freedom | AI creates the design for you |
| Quick to use | |
| SEO-friendly | |
6. CodeWP – AI Builder for Website
An excellent tool simplifying and speeding up website creation for skilled WP users without any extensive coding tasks. CodeWP benefits both seasoned developers, speeding up their workflow, and non-developers, providing confidence in coding because CodeWP efficiently handles diverse project requirements. However, relying too much on the AI tool may harm your skill development.
Key Features
Friendly interface
Easy to save, export, and share snippets
Multilingual support
WordPress and WooCommerce ready
If you don't have money to spend on Pro and Agency plans you can go with a free plan and it is perfect for getting familiar with the tool. But with a very small investment, you can save your time and energy because paid plans have the best features to overcome any problem.
| PROS | CONS |
| --- | --- |
| You can share snippets everywhere | May need to undergo a learning curve |
| Complex tasks made easy | Sometimes manual code tweaking |
| Prompt in 11+ languages | |
| AI code generation | |
7. GetResponse – Website Builder
Did you know Getresponses? They just launched their AI website builder, and it's amazing. Getresponce was known for its email marketing but now they've jumped into the AI industry and guess what you can create visually stunning and functional websites with ease. This tool is ideal for businesses aiming to establish an online presence and expand their audience.
Key Features
AI-driven website design
Integrations with multiple platforms
Web notifications, and webinar tools
Utilize its live chat
As an all-in-one solution, GetResponse includes website creation, landing pages, and social media integration. The reason for the success of this tool is its AI wizard. It will assess website requirements, industry, and brand elements and generate a website that the owner can then fine-tune to their liking.
| PROS | CONS |
| --- | --- |
| ALL marketing tools under one roof | Slightly limited for advanced players |
| Live chat, automation | Doesn't support all the niches |
| Email marketing | |
| Social tools | |
8. Durable
Durable is the fastest AI website builder, that creates a complete page in just thirty seconds that includes images and a contact form. You can instantly set up this AI website builder and start working on your project right away. This tool benefits you from its automation and practical features and you can utilize the editing tools to customize the appearance, add new pages, and explore the wonders of AI copywriting.
Key Features
Free domain name
HostingAnalytics
Millions of professional images
AI-written content
This tool offers a unique and seamless management experience and you can also use the SEO, Analytics, and CRM tools all in one place. Once you decide to go with Durable get ready to receive free hosting and domain. Another standout feature is the exceptional AI assistant, For example you are stuck in something and don't know how to get rid of that problem don't worry the AI assistant will solve your problem and pitch you new ideas in no time.
| PROS | CONS |
| --- | --- |
| Plenty of resources for everyone | Not ideal for eCommerce |
| Easy SEO optimization | Can't edit HTML |
| Handy AI assistant | |
| Free for 90 days | |
9. Appy Pie
Looking for an AI tool that Converts Websites into Mobile Apps? Look no further because Appy Pie answers all your questions and solves all your problems. It is a unique AI website builder that simplifies creation in a few easy steps. You just need to provide your business information and desired features, and Appy Pie will make a stunning and eye-catching website.
Key Features
Real-time updates
Fast and lightweight website/app
Great eCommerce features
Predefined templates
SSL certificate
It's time to connect your custom domain and go live! Among other benefits With Appy Pie, you will also get a free custom domain, hosting, SSL, Google Workspace, and a chat widget. Additionally, Appy Pie ensures full security against cyber attacks, threats, and malicious activities. If you want to deliver an exceptional user experience on both desktop and mobile, Appy Pie is a go-to option.
| PROS | CONS |
| --- | --- |
| Building apps and websites without coding | You have to go through tips and guides |
| Excellent step-by-step tips and guides | Not 100% bug-free |
| Great and fast support | |
| Easy setup and use | |
Conclusion
All the tools that are listed above are the best AI website builders and every tool has its own uniqueness. My favorite pick is Wix ADI, as it offers a seamless and enjoyable website-building experience. If you want a cutting-edge AI website builder for your site, Framer AI is a great all-in-one solution. Hostinger is an ideal choice for DIY types and small businesses that enjoy simplicity and speed. For WordPress die-hards, 10Web's AI builder is also an excellent choice and will save new site builds a lot of time.
All of these are excellent solutions and will enable you to create and launch a professional website quickly and effortlessly.