Take a look at this thoughtfully curated selection of top WordPress e-commerce themes, ideal for selling a wide range of products. These WordPress e-commerce themes are powered by WooCommerce, ensuring a seamless and mobile-friendly shopping experience for your customers. Moreover, they are highly customizable, allowing you to tailor them to your brand's specifications right down to the smallest details.
Our list exclusively features mobile-friendly themes, making it your ultimate resource for eCommerce website creation. Whether you're selling fashion, furniture, electronics, home improvement items, watches, jewelry, or any other product category, these themes have got you covered.
Building an online store is far more straightforward and quicker So you can do that with the help of Best Cheap Website Builders in no time. Discover the finest WordPress themes for e-commerce below.
Best E-Commerce WordPress Themes
In compiling our selection of the finest WordPress themes for e-commerce, we took various criteria into account. Our primary focus was on identifying themes explicitly crafted for WooCommerce, the most popular e-commerce platform for WordPress themes. Moreover, we assessed each theme's functionalities, customization capabilities, and the range of pre-designed starter websites available.
1. Flatsome -Multi-Purpose Responsive Theme
Flatsome is a WooCommerce-centric theme that offers a front-end page builder, multiple product layout options, integrated variation product galleries, and comprehensive theme customization capabilities accessible through the live WordPress customizer interface. This theme is one of the best e-commerce WordPress themes.
Flatsome stands out with its impressive features, notably its user-friendly front-end design editor packed with over 35 customizable design elements, including sliders, pricing tables, product categories, banner grids, and many more. Furthermore, Flatsome provides access to an extensive collection of over 100 pre-made layouts specifically designed for e-commerce.
2. Divi Best E-Commerce WordPress Theme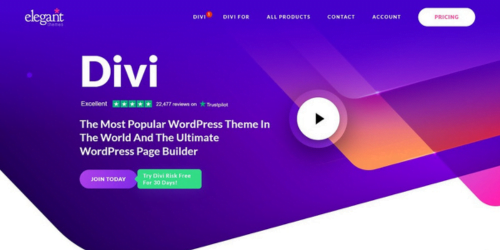 Divi is a versatile WordPress theme designed for e-commerce websites, offering extensive customization options and mobile responsiveness across various product categories, from t-shirts to furniture. This is another one of the best WordPress e-commerce themes.
Its demo content showcases a range of elegant and polished eCommerce websites, complete with shopping cart Plugins, product pages, advanced AJAX-powered search functionality, and dynamic filtering.
The theme includes the Divi Builder, equipped with a wide array of customizable content modules that can be easily dragged and dropped to create tailored pages that meet your specific requirements.
3. Bridge – Creative Elementor WordPress Theme
Bridge is a versatile tool with an extensive collection of ready-to-use demos, making it a potent option for crafting websites. It is because of its overall qualities that it holds a prominent place among e-commerce WordPress themes. Additionally, it shines as a remarkable WordPress theme for eCommerce, offering a swift setup.
Choose from a variety of online store layouts and customize your preferred one with essential products for your business. While the default setup is usually sufficient, you also have the flexibility to tailor it to your needs.
Bridge boasts a wealth of features, including a user-friendly drag-and-drop page builder, WooCommerce compatibility, Slider Revolution integration, and many other valuable elements to enhance your website-building experience.
4. Uncode – Creative & WooCommerce WordPress Theme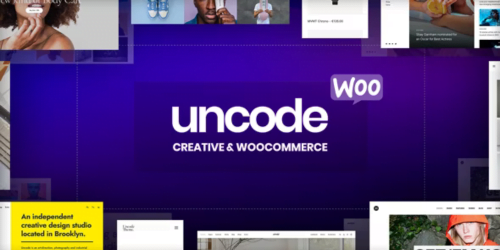 Unicode is a powerful theme for e-commerce WordPress themes that manages all sorts of e-commerce websites. The theme incorporates an improved version of WPBakery, featuring robust elements, as well as the Slider Revolution and Layer Slider. Uncode offers an array of customization options through its advanced theme options panel, allowing you to meticulously tailor the appearance of your website.
Built on Bootstrap, Uncode boasts potent AJAX portfolio filtering capabilities, making it an ideal choice for eCommerce websites in diverse industries. Embark on your online selling journey with Uncode!
5. Astra – Best E-Commerce WordPress Theme
Astra provides you with the tools to create a lightning-fast eCommerce website that's mobile-optimized and Google-friendly. This theme is another masterpiece of the best WordPress e-commerce themes. You have the flexibility to select from over 30 specialized online store demos, which you can use as-is or customize to your heart's content, all without the need for coding.
Seamless WooCommerce integration ensures that setting up your eCommerce venture is hassle-free. Additionally, Astra includes convenient features like a built-in quick view, dropdown cart, and multiple checkout options, among others.
6. Blocksy – WordPress E-Commerce Theme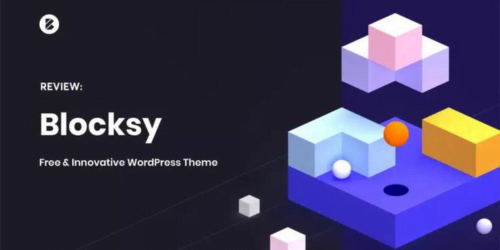 Blocksy stands out as an impressive WordPress eCommerce solution perfectly suited for the Gutenberg era, leveraging the concept of "blocks" seamlessly.
This theme offers a versatile package brimming with numerous options, ensuring it can cater to the unique requirements of any user or business. This theme stands out among the e-commerce WordPress themes due to its multi-purpose solution.
We highly recommend starting with one of the various starter sites as your foundation, allowing you the flexibility to personalize it according to your preferences.
What makes Blocksy truly exceptional is its ability to transform the appearance rapidly, even if you have no coding expertise.
Furthermore, Blocksy seamlessly integrates with WooCommerce, providing a seamless shopping experience.
7. Elementor
I'm sure you're familiar with Elementor, whether you're new to WordPress or not. New users or old users are interested in using this theme among e-commerce WordPress themes
Elementor is a WordPress page builder that comes with a wide range of pre-designed themes, making it easy to create a professional online store even if you lack experience.
What sets Elementor apart is its user-friendly drag-and-drop editor, featuring over 100 widgets. This powerful tool allows you to customize every section of your website with just a few clicks. Plus, you can revisit your eCommerce site at any time to give it a fresh and updated look.
8. Storefront
Meet one of the biggest and greatest e-commerce WordPress themes, Storefront. Since it's developed by the team behind WooCommerce, you can trust that it's designed to be advantageous for both you as the owner and your customers.
Once you've customized it to your liking and stocked it with your chosen products, your Storefront website will perfectly reflect your vision.
What's even more thrilling is that Storefront comes at no cost.
However, it's essential to keep in mind that you might want to consider purchasing some paid extensions to enhance its functionality further.
9. Porto – Multipurpose & WooCommerce Theme
Porto is one of the best e-commerce WordPress themes to sell online products. It excels in performance optimizations, ensuring impressive scores on website performance assessments like Pingdom, Google PageSpeed Insights, and Core Web Vitals.
With over 90 diverse demos and a plethora of eCommerce-specific features, Porto empowers you to craft a highly professional online store. You have the freedom to tailor the web design to align perfectly with your brand identity, giving you the ability to create a distinctive version of Porto that truly grabs attention. Porto offers a comprehensive eCommerce platform solution, making it a convenient choice for your online business needs.
10. TheGem Creative Multi-Purpose Theme
TheGem stands out as a versatile eCommerce WordPress theme equipped with an intuitive visual page editor, simplifying the process of creating your initial eCommerce website.
This theme boasts an extensive collection of over 400 unique and incredibly adaptable demo templates, all made possible through the WPBakery page builder. The theme also offers a rich assortment of more than 60 distinctive WPBakery elements, each customizable with a vast array of 250+ settings. With all these features, you cannot consider this theme to be common among WordPress e-commerce themes.
Setting up your online store is now more straightforward than ever, thanks to TheGem's seamless integration with WooCommerce
11. WoodMart – Multipurpose WooCommerce Theme
When searching for a versatile eCommerce WordPress theme that caters to all your online business requirements, look no further than WoodMart. This theme offers an impressive array of features, including over 70 pre-designed demos.
What's more, WoodMart also includes essential inner pages such as About, Contact, and Team, along with 10 different product styles. Plus, it provides the convenience of easily creating any header style and seamlessly importing demo content with just one click. This is one of the fabulous WordPress e-commerce themes.
With WoodMart's extensive customization options, you have the freedom to break away from convention and transform your eCommerce platform into a dynamic web destination primed for consistent order placements. Get started right away and make your online business thrive.
12. KALLYAS – Creative eCommerce WordPress Theme
KALLYAS is a multi-purpose theme among e-commerce WordPress themes due to its versatility and reactive experience. This theme seamlessly incorporates the widely used WooCommerce eCommerce plugin for online retail websites.
Built on the Bootstrap framework, KALLYAS ensures mobile-friendliness and responsiveness, enhancing user experience.
Give KALLYAS a try today and discover the profound impact of having a truly all-encompassing theme to expand your business!
13. Kalium – WooCommerce Theme
Kalium offers a versatile range of skins to suit any occasion, ensuring your website can always align with your vision for various web projects. Any website is incomplete without a Kalium theme in an e-commerce WordPress theme.
With its one-click installer, Kalium can effortlessly import posts, pages, sliders, theme options, and widgets in mere moments, making it so user-friendly that even a beginner can create a successful WooCommerce-powered store.
The theme's code is meticulously streamlined and optimized, resulting in websites that load incredibly quickly.
14. Shopkeeper – Multipurpose WP Shop Theme
The Shopkeeper theme for WordPress is a versatile option that caters to various online needs. Its primary function is to serve as an eCommerce theme for selling products online. However, it goes beyond that by offering features for creating different types of websites.
In addition to online stores, Shopkeeper provides layouts for creating impactful landing pages with elements like full-width sliders and parallax effects. Moreover, it offers a product catalog layout option, expanding its usability.
Shopkeeper comes bundled with the WPBakery Page Builder plugin, which empowers you to design intricate layouts for your website effortlessly. You can utilize both front-end and back-end drag-and-drop editors to craft your posts, pages, and even your site's homepage according to your preferences.
15. Pinkmart – AJAX theme
Pinkmart is a highly attractive and contemporary WordPress theme designed specifically for creating a beauty-focused eCommerce store online. With a range of ready-made demos at your disposal, you can swiftly launch your online business.
Additionally, Pinkmart offers a user-friendly drag-and-drop page builder, allowing you to easily customize the appearance of your website.
16. The Retailer – Premium Featured WooCommerce Theme
Choose The Retailer if you're seeking a user-friendly website template to construct an eCommerce site. In addition to various eCommerce homepage designs, it provides templates for landing pages, corporate or agency websites, as well as personal or portfolio styles. This theme one of the amazing WordPress e-commerce themes.
Furthermore, The Retailer comes equipped with the WPBakery plugin, enabling you to effortlessly create sophisticated layouts for your posts, pages, and homepage through a user-friendly drag-and-drop editor.
Additionally, it includes the premium Slider Revolution plugin, streamlining the creation of stunning slideshows.
17. Savoy – Minimalist AJAX Theme
Are you in search of a chic AJAX-powered website template to enhance your online store's appearance? Look no further than Savoy WordPress theme for e-commerce WordPress themes.
With this theme, you can create and customize your eCommerce site with the finesse of a professional designer. It seamlessly integrates with the WooCommerce plugin, making it effortless to showcase and sell your fashion products with flair.
Savoy offers a plethora of features, including unlimited color options, numerous header variations, over 10 homepage templates, multiple blog post formats, custom widgets, a wide selection of Google fonts, and the inclusion of Font Awesome icons.
18. Jevelin – Multi-Purpose Responsive Theme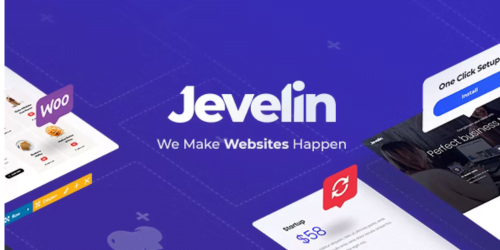 This theme is a versatile and stylish WordPress eCommerce theme designed to simplify the process of creating online stores. Jevelin is such an effective and stunning theme that it is the first choice of every user among e-commerce WordPress themes.
With the power of the WooCommerce eCommerce plugin, Jevelin is fully equipped to handle daily deals, whether you're selling handcrafted goods or digital products. Its commercial potential knows no bounds.
Explore Jevelin today, kickstart your product listings, and experience the satisfaction of driving sales!
19. Infinite – Corporate Business
Infinite is a multifunctional and incredibly flexible WordPress theme suitable for a wide range of projects and objectives. It seamlessly integrates with eCommerce websites, offering extensive versatility.
Infinite includes an intuitive page builder, opening up a world of creative possibilities for all users.
You can either choose and implement one of the pre-designed demos as-is or tailor it to your specific requirements and guidelines.
Customizing Infinite to make it uniquely yours is a breeze, and you won't have to delve into a single line of code. Enjoy the customization process and watch your business soar to new heights.
20. Ultra
Choose the Ultra option if you want to go all out, although it doesn't have as many demos as Astra, it strikes a perfect balance with just the right amount of them, so you won't feel overwhelmed trying to make a choice.
The key point is, that no matter which option you select for your online store, it will serve you well. Why? Because you have the flexibility to customize it and enhance its functionality with extensions.
Ultra seamlessly integrates with WooCommerce, ensuring a fantastic eCommerce experience for all your website visitors.
21. Kadence
This theme is an exceptional theme, and when you enhance it with the Shop Kit, it takes your online shopping experience to a whole new level.
With a wide array of features, it offers all the tools necessary for running a highly successful eCommerce website. From optimized product pages that boost conversion rates to a streamlined checkout process and numerous user-friendly elements, Kadence significantly enhances the overall user experience.
Furthermore, Kadence seamlessly integrates with your preferred page builder and effortlessly accommodates any plugin you might require. Getting started is a breeze, requiring just a few simple steps.
22. Mr. Tailor – eCommerce WordPress Theme
Mr. Tailor is an ideal choice for online vendors, retail establishments, and various businesses seeking a WooCommerce-compatible theme for their website.
With its sophisticated design, it is well-suited for projects that demand an elegant and well-structured layout.
Mr. Tailor provides a wide range of color options, supports parallax images for captivating visual displays, enables custom logo integration, features a sticky header, includes built-in sliders, and incorporates wishlist functionality.
Additionally, this theme allows you to sell a variety of products, whether they are physical, digital, or even affiliate items, thanks to its WooCommerce plugin compatibility. Lastly, they have a dedicated technical support team ready to assist you. With all these features, it is impossible not to choose this theme from e-commerce WordPress Themes.
23. Aurum – WordPress Shopping Theme
Aurum is a user-friendly WooCommerce-compatible theme designed to enhance the online shopping experience for your customers. This versatile theme is suitable for various industries, such as bookstores, jewelry shops, boutiques, and technology stores, offering a high degree of flexibility and an array of impressive features for crafting a distinctive eCommerce website.
Additionally, Aurum provides a range of header styles that can be tailored and personalized to captivate the interest of your desired audience. It also comes equipped with Layer Slider and Slider Revolution, enabling you to effectively display your latest products, featured items, and exclusive promotions.
24. Pofo – Creative Portfolio and Blog WordPress Theme
POFO is a clean and sharp responsive WordPress creative multipurpose theme from the WordPress e-commerce themes.
It comes with a range of premium plugins and tools that are essential for creating stunning websites.
Designed to highlight your content, POFO serves as an ideal platform for showcasing products and creating an attractive catalog. With a wide array of templates and demo options, getting your online store up and running is a breeze.
With the user-friendly WPBakery integration, you can personalize your website to your exact preferences without the need for any coding knowledge.
25. Norebro – Creative Portfolio Theme
Norebro is an exceptionally versatile multipurpose WordPress theme, capable of handling various aspects, including e-commerce functionality through the WooCommerce plugin.
With Norebro, customization and ease of use are at your fingertips thanks to the WPBakery plugin and an extensive library of over 90 elements. Additionally, it comes bundled with ACF Pro and Slider Revolution, enhancing its functionality. Notably, Norebro's main advantages lie in its ability to cater to a wide range of market niches without requiring any coding skills.
Norebro offers essential features such as WPML translation support, portfolio and blog capabilities, as well as stunning typography options.
26. LeadEngine – WordPress Theme with Page Builder
LeadEngine is a dependable, sturdy, and adaptable multipurpose WordPress theme from the e-commerce WordPress themes. The pristine Shop demo provides everything necessary to get started, and you can effortlessly modify elements and layouts using the user-friendly WPBakery visual builder.
You have the option to select from a vast library of over 200 template blocks, each offering distinct customization options. With captivating transitions, seamless animations, and engaging hover effects, you can captivate and interact with your audience effectively.
LeadEngine also provides attention-grabbing sliders to guide your visitors in the desired direction, while minimalist portfolios create an elegant framework for your products to shine.
27. Biagiotti – Beauty and Cosmetics Shop
If you're on the hunt for a top-notch eCommerce WordPress theme designed to boost sales for cosmetics and beauty products, look no further than Biagiotti. This theme is another one of the best e-commerce WordPress themes.
With its user-friendly drag-and-drop page builder, you can elevate your website to new heights without the need for any coding skills.
Biagiotti includes a comprehensive set of essential pages to effortlessly oversee and nurture a thriving eCommerce platform. You have the flexibility to choose from six different home page options as your starting point.
28. Oxygen
Oxygen is a highly adaptable theme that's built on the widely-used Bootstrap framework, making it fully responsive and compatible with various devices.
This theme provides a range of customization features through its theme options panel, allowing you to modify the theme's appearance to suit your preferences. You can choose from five different header styles, adjust typography settings, and toggle options for both the shop and blog sections.
Furthermore, Oxygen empowers you to craft distinctive page layouts effortlessly using the WPBakery page builder. Additionally, it includes Slider Revolution, which enables you to create captivating slideshow presentations for your online store.
29. Metro – Minimal WooCommerce WordPress Theme
If you're in the market for an eCommerce WordPress theme with a clean and minimalist aesthetic, Metro should definitely be on your radar. It's a highly effective choice that caters to a wide range of online stores, whether they're general or niche-focused. This theme is known as one of the most popular WordPress e-commerce themes due to its aesthetic qualities.
Metro is crafted using the Elementor drag-and-drop page builder and boasts an impressive collection of 24+ custom add-ons. While it already offers 11 stunning homepage designs in its package, you can also look forward to additional options in future updates.
Beyond its aesthetics, Metro comes packed with practical features. It offers various header styles, 7 eye-catching product hover effects, seamless WooCommerce integration for your online store, SEO-friendly design to boost your site's visibility, and all the essential eCommerce pages to ensure smooth operation for your online business.
30. Sway
Thanks to its incredible flexibility, Sway can also be used as a WordPress theme for eCommerce. It offers useful features and functionalities that make it easy to jumpstart your online business.
Don't worry if you have no coding or design expertise. Sway provides a solution with its intuitive drag-and-drop page builder and a completely code-free experience.
Begin creating your online store with ease by importing demo data with just one click and build from there. Even if it's your first time creating an eCommerce website, Sway allows you to learn as you go and quickly grasp the essentials.
31. CiyaShop
CiyaShop is one of the best e-commerce WordPress themes for all intentions. Feel free to unleash your creativity and personalize it to perfectly match your branding.
You won't have to deal with any coding whatsoever! Enhancing and making adjustments is a breeze.
Additionally, CiyaShop offers a plethora of fantastic tools to swiftly create a polished eCommerce website. Here are just a few highlights: custom banner design, product comparison feature, quick product preview, 360-degree product view, and a size guide.
32. Webify – All-in-One Elementor WordPress Theme
This theme is a sleek WordPress theme designed for creating advanced online stores. While it's well-suited for fashion-related webshops, such as those selling apparel, accessories, bags, and shoes, its versatility allows you to customize the layout for various purposes.
Webify offers a range of essential features, including a slider, top bar notification, mega menu, footer reveal, clean single product layout, and a blog section. You can make use of the blog section to announce upcoming product releases and execute a content marketing strategy.
33. Hongo – Modern & Multipurpose WordPress Theme
Hongo is undoubtedly among the top e-commerce WordPress themes available today. With its regular updates, you can ensure that your eCommerce website runs smoothly for an extended period.
Hongo offers a vast range of features, including numerous elements and inner page layouts designed to enhance every aspect of your online store.
Customizing Hongo is a breeze, as it allows you to make changes through a user-friendly visual drag-and-drop interface. Eliminating the need for extensive programming skills. Personalize Hongo to your liking and make a powerful entrance into the industry.
34. Handmade – Shop WordPress WooCommerce Theme
Handmade is a versatile and user-friendly WordPress theme designed for creating e-commerce online stores. It comes equipped with useful plugins such as WPBakery, which simplifies the process of customizing your web pages. A user is happy to use a handmade theme from an e-commerce WordPress theme to complete their online store.
One of the standout features of Handmade is its seamless integration with Slider Revolution, allowing you to create dynamic and engaging content. However, Handmade truly excels in its extensive range of commercial functionalities powered by WooCommerce.
In addition to providing essential shopping cart and checkout features, Handmade offers various payment gateway options and a wealth of advanced customization possibilities.
35. Merchandiser – Theme for WordPress Block Editor
Merchandiser is a WordPress theme boasting a sleek, minimalistic design that prioritizes efficiency, resulting in a clean and effective platform for showcasing your products.
You can utilize Merchandiser for a wide range of products, whether they are digital downloads, physical items, or affiliate products. This theme incorporates top-notch WooCommerce features, including stock management, business reporting, and tax calculation, giving you full control over every aspect of your online store from a single platform.
Merchandiser takes advantage of the WPBakery Page Builder plugin for its design capabilities. Its product pages are notably spacious, bold, and crystal clear, making them an excellent way to capture the attention of potential customers.
36. ART – Portfolio Theme
Creating an eCommerce website that captivates a wide audience is effortlessly achievable with ART. To begin, this exceptional site framework boasts a stunning design that piques the interest of all visitors.
Furthermore, ART offers a diverse selection of pre-designed elements that you can utilize to their fullest potential or customize to your liking. (The drag-and-drop page builder is accessible to anyone.)
Additional highlights of ART encompass 19 header options and full-screen background video support. Effective search engine optimization, smooth scrolling animations, a slider feature, and image lazy loading, among others.
37. Halena – Minimal & Modern WordPress Theme
Halena is a sleek and immaculate WordPress theme designed to cater to a wide range of e-commerce needs. It serves as a powerful platform for establishing online retail stores for various products.
Halena provides you with all the necessary features to facilitate online sales, regardless of your specific market niche. This versatile theme offers tools such as product catalogs, individual product pages, and much more.
With its advanced visual builder, you have complete control over customizing the appearance and style of every element within your online store. Additionally, Halena comes equipped with convenient AJAX features, including search and filtering, to enhance the user experience. In short, Halena is fully prepared to support your online selling endeavors.
38. Tonda – Elegant Shop Theme
Tonda is one of the best e-commerce WordPress themes you can use today. While its primary emphasis lies in the realm of contemporary art, it's a versatile choice for crafting diverse online stores that break free from convention.
Tonda rises to meet any challenge, delivering on the promise of swiftly realizing your dream website.
With its graceful and understated design, Tonda excels in driving robust sales. It eliminates unnecessary distractions, ensuring that visitors are fully immersed in the products on display.
This theme enables you to showcase your products in a creative manner. Allowing potential buyers to explore your offerings without the need to navigate away from their current page. Tonda is designed with responsiveness in mind, ensuring seamless purchasing experiences on any device.
39. The Hanger – WooCommerce WordPress Theme
Hangar is one of the best e-commerce WordPress themes that adapt quickly to your project needs. Its sleek and minimalist design is highly customizable to perfectly showcase the range of products you plan to offer in your online store.
Whether you're selling something as straightforward as T-shirts dealing with substantial and weighty items like furniture, or even offering digital downloads, The Hanger is well-equipped to cater to a diverse array of merchandise.
When you choose The Hanger, you gain access to a wide variety of homepage designs, along with two additional "coming soon" pages. These coming soon pages can be effectively utilized to build anticipation and excitement for the grand launch of your brand-new online shop.
40. APRIL – Fashion WordPress Theme
April is a sleek WordPress theme specifically crafted for e-commerce ventures, ideal for businesses dealing with lifestyle products such as apparel, furniture, and jewelry.
This theme boasts a versatile and minimalistic design philosophy with a strong emphasis on showcasing products effectively. It offers extensive customization options to cater to a wide range of requirements, including a plethora of pre-designed elements. Among its offerings are over 10 unique homepage designs, 8 shop page layouts, and 8 product page templates.
Furthermore, April provides the flexibility to tailor layouts, incorporating features like banners, galleries, and user login accounts. It seamlessly integrates premium third-party plugins, enhancing functionality at no additional cost.
41. Artemis
Artemis, a versatile WordPress theme, boasts an array of impressive features. With just one click, you can access numerous demos and homepage options. It also comes equipped with premium plugins and a live customizer for a seamless user experience. This theme is one of the e-commerce WordPress themes that has a lot of charm on its users.
Artemis ensures a responsive design that adapts seamlessly to all types of devices, prioritizing mobile-friendliness. The theme also integrates the premium Slider Revolution for creating stunning galleries and posts. In terms of layout, it offers dynamic sidebars and a variety of page templates to suit your needs.
For eCommerce enthusiasts, Artemis includes a wishlist, cart, and full shop functionality, along with special product views. Additionally, it provides support for sharing buttons, enabling easy social media integration across multiple platforms.
42. Konsept – Furniture Store Theme
Creating a furniture website, whether you're reselling products or establishing your own brand, can be effortlessly achieved using Konsept. This WordPress shop theme offers a wide array of contemporary features and functionalities for you to leverage.
You have access to all the essential front and internal page layouts, allowing you to customize and combine them as needed. Additionally, you can infuse your unique creative flair into Konsept, tailoring it to your exact preferences.
43. June – WooCommerce Theme
June is a WordPress eCommerce theme designed to provide a seamless online shop creation experience, catering to both beginners and experienced users.
It comes equipped with the WPBakery page builder, offering over 200 professionally crafted pre-made blocks, pages, and elements that can be effortlessly imported into your online store with just one click.
44. Byanca – Modern WooCommerce Theme
Launching an online store for fashion, accessories, bags, jewelry, or any other niche becomes a breeze with the Byanca eCommerce WordPress theme. Byanca boasts an impressive array of professional design elements and features. This theme is one of the fantastic e-commerce WordPress themes.
Within this theme, you'll discover a comprehensive selection of pre-designed templates for both your homepage and inner pages, allowing you to customize your online store to suit your preferences seamlessly.
Byanca offers a range of essential features, such as product quick view and zoom, order tracking, one-click demo installation, seamless social media integration, and a plethora of custom widgets and elements. All of these elements combine to create a top-notch eCommerce experience for your customers.
45. Lotus – Modern Minimal WordPress Theme
Lotus is a straightforward and elegant WordPress eCommerce theme with a prominent full-width header slider. It excels at showcasing your most visually captivating products, ensuring they take center stage and capture visitors' attention.
This theme seamlessly integrates with WooCommerce, and it includes a dedicated testimonials section on the homepage. This valuable feature helps bolster your business's credibility by displaying genuine positive feedback from satisfied customers.
For online stores with numerous product categories, Lotus offers a mega-menu functionality, enhancing the convenience of browsing through your product offerings
Conclusion
When it comes to selecting the best eCommerce WordPress themes for your online store, options like DIVI, Flatsome, Uncode, and Bridge stand out as exceptional choices. These themes offer a blend of stunning design, robust functionality, and flexibility to create a unique and user-friendly shopping experience.
Whether you're a beginner or an experienced webmaster, these themes provide the tools and features you need to build a successful eCommerce website. So, explore their features, assess your specific requirements, and choose the one that best aligns with your vision for a thriving online store.