Did you find the perfect WordPress Theme for your Pet store? Well if you haven't found it let us help you to find the best Pet WordPress theme.
In a competitive market, there's still a place for your business. Take a look at pet store WordPress themes today and choose the one that suits you best. There are several compelling reasons to consider these options. Firstly, they enable you to kickstart your online presence quickly and present yourself professionally. These premium pet store WordPress themes are designed to bridge any skill gaps, even if you have no prior coding experience.
As a pet store owner, it's essential for your website to capture a wide audience. Your site should be responsive and adhere to the latest SEO guidelines, and the premium themes listed here offer these features right from the start.
Additionally, the inclusion of WooCommerce functionality will streamline your operations and save you valuable time. A robust digital marketing strategy is crucial, and you don't need to hire professionals for it. Everything you need is readily available, so seize the opportunity to promote your brand in this thriving market and achieve online profits.
Best WordPress Themes for Pet Store
If you're in the business of selling pets or the essential supplies that ensure their well-being and happiness, you'll find these WordPress themes particularly appealing for crafting an attractive website.
Here are my top selections for the finest pet store WordPress themes in 2023.
1. Pawsitive – Best Pet Store Theme
The Pawsitive theme is an exceptional option for any pet store website. This theme is one of the best pet store WordPress Themes. It includes a page builder developed by the same creators of the theme, ensuring a seamless and dependable site creation process. Moreover, it boasts an appealing and playful design that will quickly appeal to pet owners.
With Pawsitive, you can effortlessly import beautifully designed pages, as showcased in the provided screenshot. The page builder allows you to easily customize text and images with your own content. Additionally, you have the flexibility to rearrange, delete, or add new sections to your pages, thanks to a variety of modules available, such as sliders, hero images, pricing tables, reviews, and more.
2. Grooming – Veterinary Physician WordPress Theme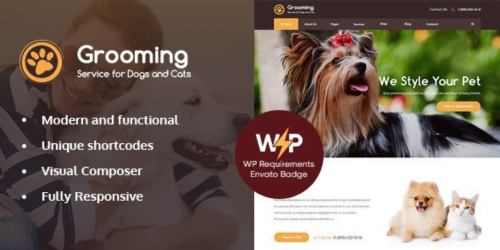 et Grooming stands out as one of the top-notch pet store WordPress themes capable of driving both revenue and customer engagement. It's an excellent choice for websites related to grooming salons, adoption centers, or veterinary clinics, and it's versatile enough to suit various other corporate businesses and communities seamlessly. Thanks to its comprehensive WooCommerce support, setting up an online store to sell a wide range of products is a breeze.
One notable feature is its excellent adaptability to various smart devices, ensuring your website looks great now and in the future. Even if you're a beginner, you needn't worry, as the theme comes with comprehensive documentation that can be a valuable resource. When it comes to crafting and customizing pages, WPBakery is your go-to tool, making the process smooth and user-friendly.
3. Kreme – Pet & Shop WordPress Theme
Kreme, among the numerous pet store WordPress themes available, stands out for several compelling reasons. One notable advantage is its ability to save you time and effort in website development. Thanks to its fully responsive design, your website will appear visually appealing and functional on various devices used by your audience. Additionally, Kreme offers a choice between two captivating homepage styles, allowing you to determine which one aligns best with your vision.
When it comes to customizing your pages, the inclusion of the WPBakery page builder simplifies the process, sparing you from the complexities of coding. Even if you're a newcomer to website design, you can still exercise creativity in crafting your page layouts without the need for coding expertise. Furthermore, to enable you to generate online revenue, Kreme incorporates WooCommerce functionality seamlessly into its features.
4. Petio – Pet Store WooCommerce Theme
This theme is another one of the best pet store WordPress themes. Petio, a WordPress theme designed for pet stores, pet food shops, veterinarians, and WooCommerce websites, utilizes Bootstrap as its core framework. Its striking design is perfect for your website and shouldn't be overlooked.
This pet store theme not only prioritizes showcasing products within categories but also includes special features to spotlight particular items. The tailored design incorporates elements that are designed to capture attention and highlight these specific products.
5. Pet World – Animal Care WordPress Theme
There are numerous WordPress themes tailored for pet stores, and Pet World is a noteworthy option among them. It is versatile and suitable for various pet-related niches such as adoption, veterinary services, or grooming. Pet World provides four pre-designed demos that serve as an excellent starting point for your website. Its visually appealing design is fully responsive, ensuring a seamless experience on all smart devices. Moreover, its SEO-optimized code is designed to maintain high search engine rankings for your site.
This theme also seamlessly integrates with essential plugins like All in One SEO Pack and Tribe Events, expanding its functionality. Additionally, you have the freedom to be creative with your header styles, with four different options to choose from. Effectively showcasing the value you offer can help you grow your audience and customer base.
6. VETS – Veterinary Medical Health Clinic WP Theme
Consider including VETS among the top choices for pet store WordPress themes in this list. This powerful option is versatile and suitable for a wide range of pet care websites right from the start. Notably, it's a multilingual theme with support for RTL (Right-to-Left) languages. Additionally, VETS is compatible with the Gutenberg editor, allowing you to switch to it whenever you prefer.
Take advantage of the robust admin panel to gain more control over your website and experiment with theme settings. If you plan to sell products online, seamlessly integrate a shopping cart into your page to start generating profits. VETS is Ecwid-ready, making the online selling process straightforward.
7. Pets Club – Best Pet Shop WordPress Theme
If you're in search of a pre-designed WordPress theme tailored for websites related to animals, Pet Club is an excellent option. It boasts complete responsiveness, and multifunctionality, and offers three pre-designed demo skins. This beginner-friendly WordPress theme is crafted using the Elementor page builder, ensuring ease of use.
With full compatibility with WooCommerce and integration with a pet store skin, it stands out as the top choice for creating e-commerce sites. Pet Club is packed with features and provides all the necessary elements to kickstart your website.
8. Pet Store – WordPress Theme
If you're aiming for a speedy website launch, Pet Store is another excellent choice among pet store WordPress themes. It boasts a clean and attractive design that looks fantastic on smartphones, ensuring your visitors have a great experience on mobile devices. With WooCommerce shop plugin compatibility, you can showcase your pets and collections in a visually appealing manner.
Enhance the uniqueness of your pages by utilizing custom page widgets and shortcodes. Moreover, this theme supports the WPML plugin, allowing you to create multilingual websites, and expanding your reach to a broader audience. Additionally, you can take it a step further by starting a blog, which serves as a valuable tool for promoting your business and sharing lesser-known benefits.
9. Petz – Pet Care & Veterinary Theme
Looking to effectively expand your business's reach? One of the top WordPress themes for pet stores integrates Elementor as its primary page builder. With Petz, you'll experience user-friendliness right from the start, making it suitable for a wide range of pet and animal care websites. Its extensive array of features and customization options will enable you to effortlessly transform the appearance of your theme.
Petz is fully responsive, ensuring that your website looks fantastic on all modern devices. Moreover, it's optimized for speed, enhancing the overall browsing experience for your visitors. You can boost your online profits with ease, thanks to its compatibility with WooCommerce. Best of all, you don't need to be a technical expert to harness the power of Petz for your business.
10. Viva – MultiPurpose WordPress Theme
Utilize the Viva theme to craft a modern and welcoming website for a pet shop, veterinarian clinic, or any other animal care service. The design is sleek and straightforward, making it ideal for showcasing high-quality images and capturing leads. However, don't be deceived by its simplicity; there's a wealth of features available.
With Viva, you don't receive just a single theme – you receive a versatile website-building solution. Viva comes bundled with a page builder plugin and boasts a selection of 30+ complete demo sites. Each demo features a customized homepage, an eCommerce storefront, a blog, and more. You can effortlessly import any of these demos to replicate them on your own site. In essence, you're just a few clicks away from replicating the design illustrated here.
11. OnLeash – Pet Service WordPress Theme
If your pet store's website is experiencing issues such as slow loading times, difficulty in making updates, or a lack of mobile-friendliness, it may be time for a website redesign. OnLeash is here to assist you in creating a website for your pet store that will be beloved by both you and your customers. In essence, it stands out as one of the finest pet store WordPress themes that you should consider trying.
To begin with, it boasts a clean and appealing design that is suitable for a wide range of animal care businesses. Additionally, it offers a selection of pre-designed pages that can serve as a foundation for your website, allowing you to present your business's story in a more engaging manner.
Furthermore, you can easily incorporate product pages into your site, enabling your users to purchase your products or services. You can also facilitate seamless communication with potential customers through the use of advanced contact forms.
12. Woof – Pet WordPress Theme
To maximize the potential of your website, consider choosing Woof! This versatile option is perfect for any pet or animal care business, as it offers full responsiveness and various page layouts to effectively showcase your brand. Whether you prefer customization through the WPBakery page builder or WP Customizer, you can tailor it to your specific needs without requiring advanced skills.
The user-friendly design ensures an enjoyable experience while working on your website, and the robust admin panel gives you control right from the start. Additionally, the shortcode generator is a time-saving tool at your disposal. With WooCommerce integration, you can start selling online and generate profits from day one. Take a closer look at the theme's features to determine if it's the right fit for your needs.
13. PawFriends
The PawFriends WordPress theme boasts a professional aesthetic that prioritizes showcasing your products prominently in its design. This theme stands out among pet store WordPress themes due to some of its effective features. As you scroll down the homepage, you'll immediately notice a product grid featuring prices and convenient "Add to cart" buttons.
PawFriends stands out with its premium design quality, thanks to the skillful utilization of icons, spacing, and images by the designers, resulting in a visually stunning theme. With the included WPBakery page builder, you can effortlessly arrange these pre-designed elements by simply dragging and dropping, allowing you to construct your website with ease. Additionally, there's a convenient importer feature to kickstart your journey with a fully pre-built website.
14. WelshCorgi
Streamline your website development process and reduce expenses with the Welsh Corgi theme. This versatile theme is suitable for various animal care websites, whether it's an online store or a blog. With the inclusion of the WPBakery page builder, you can create your website visually, eliminating the need for complex coding that can be overwhelming.
Enhance the presentation of your work and projects with the Essential Grid plugin, adding a touch of elegance to your content. You can also prominently feature your top-selling products on your homepage sliders to capture your visitors' attention. Don't forget the importance of testimonials, which can help you build trust with your audience.
15. LovePet – WordPress Theme for Veterinary
Great news! LovePet offers you the opportunity to effortlessly create a website, providing you with a wide array of options. this theme is considered a pet shop and veterinary theme among pet store WOrdPress themes. You'll have access to eight stunning demos that can serve as a solid foundation for your website design. However, don't limit yourself there; feel free to let your creativity flow when designing your page layouts. And if your aim is to sell products online, LovePet seamlessly integrates with WooCommerce, making it incredibly convenient.
Furthermore, establishing a fresh and relevant blog can be a smart move for engaging your target audience. LovePet is optimized to adhere to the best SEO practices, increasing the likelihood of your website appearing prominently in search engine results. It's worth noting that the sooner you build your online presence, the more it will benefit you in the long run.
16. Dr.Patterson – Medicine & Healthcare Theme
f you're aiming to capture the attention of potential customers, Dr. Patterson emerges as the ideal choice. While originally tailored for medical websites, this theme can be effectively utilized for various purposes. What sets it apart, first and foremost, is its distinctive design, which distinguishes it from the plethora of pet store WordPress themes available today. Furthermore, it serves as a versatile solution for pet veterinary websites.
Initiating your project with a pre-designed demo is a wise move as it affords you the time and flexibility to customize it to your liking. Dr. Patterson offers the powerful Booked plugin, enabling you to effortlessly manage your online bookings with professionalism.
Additionally, you can infuse extra energy into your homepage slider using the Revolution Slider plugin. Last but not least, this theme includes essential features such as GDPR Compliance and the Gutenberg editor, ensuring that your website remains both compliant and user-friendly.
17. Numbat
Numbat stands out as the most versatile WordPress theme among its peers. Thanks to its wide array of features, customizable options, and the numerous website configurations it offers.
Created by Model theme, Numbat incorporates top-notch customizable WordPress features, including an array of infinite color skins, access to over 600 free fonts from Google Fonts, and a set of handy shortcodes to infuse captivating and dynamic elements into your posts or pages.
Numbat boasts full responsiveness and provides users with three distinct homepage choices and more than twenty unique elements. This theme offers a robust appearance that can be tailored to suit the specific needs of both pet shop owners and their customers.
18. Pabu – Animals and Pets WordPress Theme
Discover why Pabu stands out as one of the top pet store WordPress themes today. Pabu is a versatile theme suitable for a wide range of pet-related topics, offering numerous premium features. Whether you're looking to create an elegant online store for pet food and equipment using the WooCommerce plugin or showcase other aspects of your pet-related business, Pabu has got you covered.
With Pabu, you don't need to be a web design expert to craft stunning designs. The WPBakery page builder simplifies the process and offers ample customization options. Additionally, take advantage of the robust layout builder to tailor your header and footer areas to your specific needs.
If you're keen on expanding your email subscriber list, Pabu provides convenient solutions like pop-up sign-up forms and seamless integration with MailChimp for email newsletters. And this is just the beginning of what Pabu has to offer for your pet-oriented website.
19. Whiskers – Pet & Vet WordPress Theme
Embarking on the journey of starting a pet care business is truly exhilarating, especially when it's built upon your passion. Enter "Whiskers," a must-consider option among pet store WordPress themes. This theme is designed to make your pet-related venture easy and enjoyable. Whiskers is perfectly tailored for a range of pet-related businesses, including pet stores, clinics, animal shelters, fundraisers, and activism websites. With this theme, you have the power to inspire others to support your pet care initiatives and contribute to fundraising efforts.
One standout feature of Whiskers is its seamless integration with a custom CMSMasters WordPress donation plugin, specially crafted for welfare and social programs. This feature streamlines the process of raising funds and garnering support for your pet care projects. Additionally, the theme includes the Events Calendar functionality, allowing you to keep your audience well-informed about your latest news and upcoming events.
20. Pets Land – Domestic Animals Shop WordPress Theme
With Pets Land, you can rest assured about your website's SEO performance. This versatile theme offers everything you need to stay at the forefront of search engine rankings. Setting it apart from other pet store WordPress themes. Pets Land includes comprehensive WooCommerce support for creating a thriving online store. Additionally, it boasts online appointment booking functionality, simplifying reservation management.
You'll appreciate the assortment of pre-designed pages, designed to save you time. These can serve as a foundation for your website, allowing for easy customization, even if you're not an expert. Pets Land is packed with valuable features to assist you in building a remarkable website.
21. Petenica – Pet Sitter and Adoption WordPress Theme
It's time to embark on the design journey for your new pet store website, and Petenica is here to simplify the process. You'll have access to four captivating homepage designs, ensuring that you find the perfect fit for your passion and vision. What's more, Petenica fully supports WooCommerce functionality, enabling you to effortlessly sell your products online. But there's an additional feature that sets Petenica apart – it comes with built-in donation functionality. This means you can engage your users by encouraging them to donate and vote for various pet projects that you showcase on your website.
Additionally, Petenica is compatible with both the Elementor and WPBakery page builders. Allowing you to choose the best tool for your website-building needs. To manage reservations effectively, you can make use of the Booked plugin. Furthermore, establishing trust and fostering better business relationships is made easy with the inclusion of contact forms that enable seamless communication with your prospective customers.
22. Tails
If you're interested in selling online, Tails is a fantastic choice to consider. It ranks among the top pet store WordPress themes available today for several compelling reasons, with the primary one being its tailor-made design for animal care websites. This means you can anticipate having all the necessary elements to establish a fully functional online presence for your pet-related business.
What's even more convenient is that there are no restrictions on the number of page layouts you can create with Tails. Thanks to the user-friendly WPBakery, you can effortlessly add as many new layouts as you desire using its drag-and-drop functionality. Furthermore, Tails boasts a fully responsive design, ensuring that your website can be accessed flawlessly on any modern smart device. Lastly, the theme is designed in accordance with the latest SEO guidelines, ensuring that your website remains at the forefront of search engine results.
23. VetBox – Veterinary WordPress Theme
Enhance your pet care website's speed and functionality with Vet Care. This theme is crafted in accordance with the latest web design trends, ensuring that your online presence is top-notch. Right from the start, it boasts a responsive design that looks fantastic on all types of devices, platforms, and browsers.
Vet Care is a versatile theme suitable for a wide range of pet and animal care web projects. It comes WPML-ready and supports the RTL feature, making it an excellent choice for those targeting international audiences. If you're running a pet blog or a magazine website, you'll appreciate that it seamlessly integrates with the Gutenberg editor, simplifying your content-editing workflow.
What's great about Vet Care is its flexibility – every aspect of the theme is customizable, allowing you to tailor it to your specific needs. Should you encounter any issues, you can refer to the comprehensive documentation or reach out to our customer support team for assistance.
24. Chinchilla – Pet Shop WordPress Theme
Chinchilla offers you the opportunity to create a website that effectively communicates your brand's narrative. This means you can have a website that adapts seamlessly to different devices. Includes the necessary features, and is optimized for search engines to deliver noticeable results. As of today, Chinchilla stands out as one of the most up-to-date WordPress themes designed specifically for pet stores.
It is constructed using Elementor, which simplifies the customization process, eliminating the need for coding skills, and allowing you to create stunning designs with ease. Furthermore, Chinchilla comes with full support for WooCommerce functionality, enabling you to generate profits online.
Regardless of your passion or niche, you can present it in a more engaging and appealing manner. To achieve this, harness the power of the Essential Grid plugin. Additionally, Chinchilla provides features to host events or workshops and ensures your audience is informed about your latest news.
25. CarePress – Petcare WordPress Theme
Taking a look at Petcare won't cost you anything, and it's a fantastic choice among pet store WordPress themes. The theme boasts an appealing design and impressive flexibility, which can elevate the professionalism of your website while saving you and your clients valuable time.
Crafting pages is a breeze thanks to the Visual Composer page builder, where you can effortlessly create layouts by dragging and dropping elements.
Whether you're selling products or services, you can do it like a pro with WooCommerce plugin support. Need to book appointments online? It's a cinch with the Booked plugin's powerful capabilities. Explore the theme settings to craft a stunning online business presentation.
Conclusion
Selecting the perfect WordPress theme for a pet store website requires striking a balance between aesthetics, usability, and flexibility.
For instance, themes such as Pawsitive offer visually appealing designs and tailored features specifically designed for pet stores, while options like Pet Grooming excel as versatile themes capable of catering to a range of website needs. Without the right choice, you may not achieve the desired results.
You can also Visit our collection of the Best Wiki WordPress Themes for Wiki websites and if you are looking for the Best Real estate WordPress Themes you can check our pack as well.