Here are the short collection of popular prestashop modules which will go a long way to providing many o those common feature requests. These modules give you the ability to customize every corner of your online business. Enjoy this article!
See also:
PrestaShop Fashion Themes & Templates 2014
Welutions Size Chart for PrestaShop

Welutions Size Chart is a PrestaShop module for displaying the measurement of a product. It allows you to create visual size guides for products and you can easily manage them from the administration panel. This module is working based on product attributes. This module helps customers to choose the size that fits them perfectly.
Features
Visual size guide for each product
Limitless rows and columns
deal for fashion stores
Multi language support
Specify the attribute you want to display (1.5)
Display image, table or both
Unlimited number of charts
Easy installation
MIGS Prestashop

This plugin is needed to integrate MIGS Payment Gateway into Prestashop to accept payments from international customers.
This plugin supports banks : CommWeb (Commonwealth Bank),Bendigo Bank , ANZ Bank
Supports Merchant Hosted (2-Party Payments)
Feature
This plugin using for : CommWeb (Commonwealth Bank),Bendigo Bank , ANZ Bank
Supports Merchant Hosted Mode (2-Party Payments)
Enter MerchantId, AccesCode and Secure Secret
No empty cart on cancel
Offers Test and Debug mode
You DON'T need to pay monthly payments
Compatible with Prestashop 1.5.x , 1.6.x
Easily integrate MIGS Prestashop Payment Gateway in your site
Very Easy Installation & Config
Export catalog in CSV format

he catalog CSV export is almost an indispensable tool for the management of your shop. It allows you for example to check your inventory in Excel or any other spreadsheet. But not only.
Features
This module allows you to export manually or automatically ( fixed days and hours ) all or part of your catalog.
You can define as many export models as you want.
Each model allows you to define
The information to be exported amongmany opportunities. There is no limit on the number of columns to be generated.
The CSV file format ( encoding, separator )
The products to be exported. It is possible to export or not, attributes, out of stock products and/or inactive ones, and filter by categories, suppliers and/or manufacturers.
The language and currency
The client group, which can affect the price and the exportable categories
The country of delivery, which influences shipping
The shop for the supporting versions of PrestaShop
Slider Revolution Responsive Prestashop Module

Create a responsive(mobile friendly) or fullwidth slider with must-see-effects and meanwhile keep or build your SEO optimization (all content always readable for search engines). See the heaps of custom transitions/animations for each object on the page! Customize this slider with our convenient drag&drop backend to your very needs.
Advanced Product List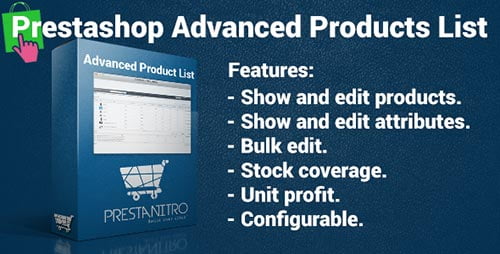 This module improves Prestashop product list allowing edit products and attributes easily and quickly , Prestanitro Advanced Product List also add new cells to show the unit profit and the stock coverage of each product in the product list.
Compatible with Prestashop 1.6
Features
– Show and edit products
Show and edit attributes
Sort and filter by column
Bulk edit of products and attributes
Show unit profit
Show stock coverage
Edit prices by % or absolute
Configurable
Available in English and Spanish
Real time Web Analytics, Customers Click HeatMap
Welutions Friendly URLs for PrestaShop

PrestaShop Friendly URL module allows you to create SEO friendly URLs for your store URLs includes products, categories, CMS pages, manufacturers and suppliers. This plugin will remove dynamic id from the URLs. Friendly URLs will make meaning for the URL and these are more valuable for search engines, and will be shown in top search results.
PrestaShop – Simple Blog

We create a lot of PrestaShop stores and we have many requests ons imple and SEO Friendly mechanism to create more contentin stores. Something like Simple Blog, they don't want to install WordPress, they want to have something simple and here it is PrestaHome SimpleBlog.
PrestaShop CloudFlare Manager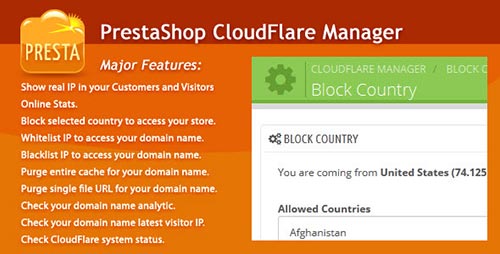 CloudFlare Manager is a module for PrestaShop. It can integrate your PrestaShop to CloudFlare platform.
Major features in CloudFlare Manager include:
Show real IP in your Customers and Visitors Online Stats.
Block selected country to access your store.
Whitelist IP to access your domain name.
Blcklist IP to access your domain name.
Purge entire cache for your domain name.
Purge single file URL for your domain name.
Check your domain name analytic.
Check your domain name latest visitor IP.
Check CloudFlare system status.
PrestaShop Smart Prices – Dynamic Pricing System
Increase your profit with Smart Prices!
It allows you to adapt automatically your prices using smart pricing algorithms.
Prices calculation is based on the analysis of several factors such as the distance between sales or abandoned carts.
Thanks to the differents algorithms available you can configure each product depending on your needs. Compatible with Prestashop 1.6
Features
Analyzes your sales behaviour.
Maximize your profit.
Can adjust prices automatically depending your stock level, abandoned carts and more.
Multiple algorithms: Adaptable to your needs.
Configurable algorithms for each product.
And much more.